Pat Riley Admits LeBron James Was Right to Return to Cavs
The LeBron James character arc has been tumultuous for the last two decades, spanning from hero, to villain, and back again.
Going back to before he was even drafted out of high school, James was thought to be the NBA's next major star. Fortuitously, the Cleveland Cavaliers — the professional team closest to his hometown of Akron, Ohio — were able to draft him and add a new layer to the narrative: Hometown savior.
James would take the Cavs to the NBA Finals in 2007, but ultimately the San Antonio Spurs swept Cleveland.
In the 2010 offseason, James was a free agent with a big decision to make. He opted to leave his hometown team to sign with the Miami Heat, partnering with Dwyane Wade and Chris Bosh to create a "Big Three" with the goal of competing for NBA titles. Betrayal was the narrative theme from Cleveland's perspective at the time. James, however incidental, took up a villain role.
After years of success with Miami — leading the team to four straight NBA Finals, culminating in two NBA Finals wins over the OKC Thunder and San Antonio Spurs — LeBron made a shocking decision to return to Cleveland where he would finally lead them to a title in 2016, their first in franchise history. Redemption.
Pat Riley was furious about LeBron James leaving Miami Heat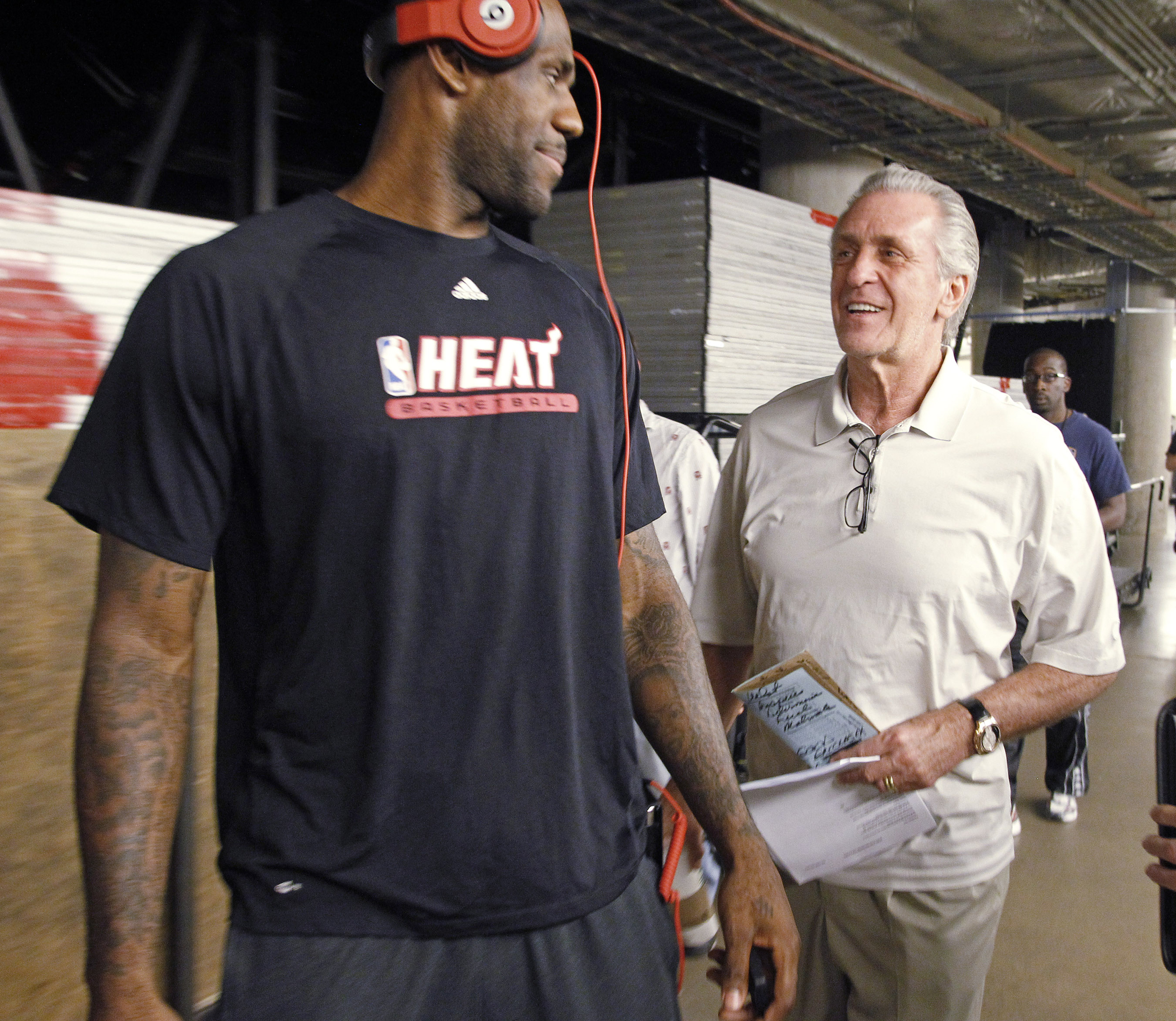 Pat Riley, President of the Miami Heat, was the architect of the Big Three era in Miami and has created years of competitive basketball teams in South Beach before and after the LeBron era.
Riley was understandably angry when LeBron decided to head back to Cleveland after his four-year stop in Miami, taking the decision extremely personally.
"I was silent," Riley said. "I didn't say anything. My mind began to just go. And it was over. I was very angry when LeBron left. It was personal for me. It just was. I had a very good friend who talked me off the ledge and kept me from going out there and saying something like Dan Gilbert. I'm glad I didn't do it."

Pat Riley, to ESPN The Magazine's Wright Thompson
A lot of chips had been put in the table with the assumption that James would be sticking around for the long haul in South Florida. The team even traded for rookie Shabazz Napier, which ended up being a misfire. Coincidentally (or perhaps not), James was vocal about Napier being his favorite prospect in the draft that season.
Riley, certainly biased, was vocal after LeBron's departure with his opinion that he gave up an opportunity to leave a truly historic and dynastic legacy with the Heat.
Pat Riley has gained perspective on LeBron's decision years later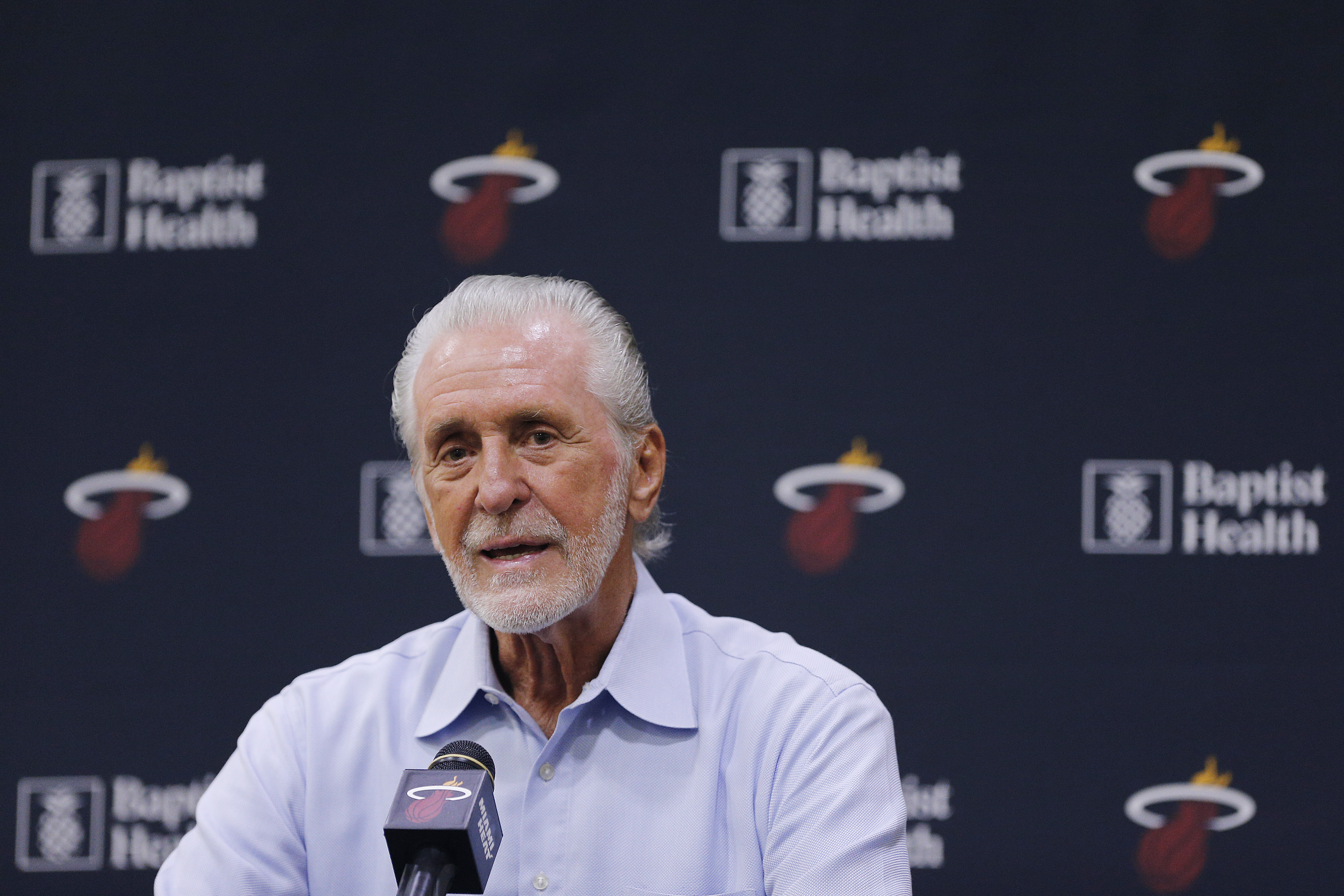 Riley has not been a perfect executive with the Heat, and he's willing to admit to that.
One of the mistakes he owns up to is letting Dwyane Wade, the franchise's all-time best player, leave in 2016.
Along the way, he's also gained perspective and appreciation of LeBron's decision to leave the Heat to go back to Cleveland for a shot at redemption with his hometown team. Speaking to The Athletic recently, Riley had this to say:
"I thought it was the most normal thing for him to do," Riley said. "Somewhere in your life, you have to clean up something and be able to move on. I always felt that even after he left Cleveland and came to Miami for professional reasons, he's going to have to go back to his hometown one day, or he's going to have a scarlet letter on him for the rest of his life.
In recent months, Riley has even compared James to Michael Jordan, an extremely high honor for the 19-year veteran.
LeBron leaving and going back to Cleveland allowed him to close the "Ohio's Chosen One" storyline to satisfaction. Of course, LeBron would opt to exercise his free agency rights once more and take his talents to the Los Angeles Lakers in 2018, where he's won another NBA Championship for a third team.
Maybe it's proof that time heals all wounds.
LeBron's legacy spans across three franchises
LeBron is in his 19th year, and is far closer to the end of his career than the beginning. How will he be remembered?
While the legacy of someone like Michael Jordan — often compared to James — is fairly clear in retrospect, James' career took a much different look. While Jordan played his peak years all with one team, James spread them out across three teams.
This uniquely-shaped narrative makes for a highly subjective measuring stick when trying to assess his ultimate legacy. One perspective might tell you LeBron's legacy is strengthened by his ability to adapt to three different franchises and very different teams, winning at least one title for each club. Another perspective might view his jumping from team to team as opportunistic and less challenging than sticking it out with one team regardless of the circumstances.
LeBron's career is not over, at least not yet. The Lakers are entering the All-Star break 9th in the Western Conference standings, placing them on the bubble for the play-in tournament, and he's under contract with LA for one more season. Winning a second title with the Lakers would shake the narrative up even more.
RELATED: Rob Pelinka Completely Dropped the Ball Prioritizing a Future 1st-Round Pick Over LeBron James' Ticking Clock