Pat Riley Was 'Very Angry' When LeBron James Left the Heat, Said 'It Was Personal'
There are plenty of storylines heading into the 2020 NBA Finals. The biggest one, though, is this: LeBron James vs. Pat Riley. If James were to win his fourth NBA championship, it would come with some extra satisfaction as he would be winning a title over his former team, the Miami Heat. However, if the Heat were to win, it would give Riley the satisfaction of winning over James. In fact, when James left the Heat to return to the Cleveland Cavaliers, Riley was very angry and said it was personal.
LeBron James left the Heat after having a ton of success in Miami
After spending the first seven seasons of his career with the Cleveland Cavaliers, James went to the Miami Heat in 2010-11, creating a super team with Dwyane Wade and Chris Bosh. The Heat ultimately had a ton of success too.
In 2010-11, James, Wade, and Bosh led the Heat to the NBA Finals, but they ultimately lost to the Dallas Mavericks. However, in 2011-12, James won the league MVP award by averaging 27.1 points per game, 7.9 rebounds, and 6.2 assists. He then led the Heat to an NBA championship, as they defeated the Oklahoma City Thunder in five games.
James and the Heat didn't stop there, though. In 2012-13, James won an MVP with the Heat again. He averaged 26.8 points per game, eight rebounds, and 7.3 assists. He then led Miami to a second consecutive NBA championship that year.
Miami ultimately went to the NBA Finals again in 2013-14, but they ended up losing to the San Antonio Spurs in five games.
Following that season, James decided to return to the Cavaliers.
Pat Riley was very angry when James went back to the Cavaliers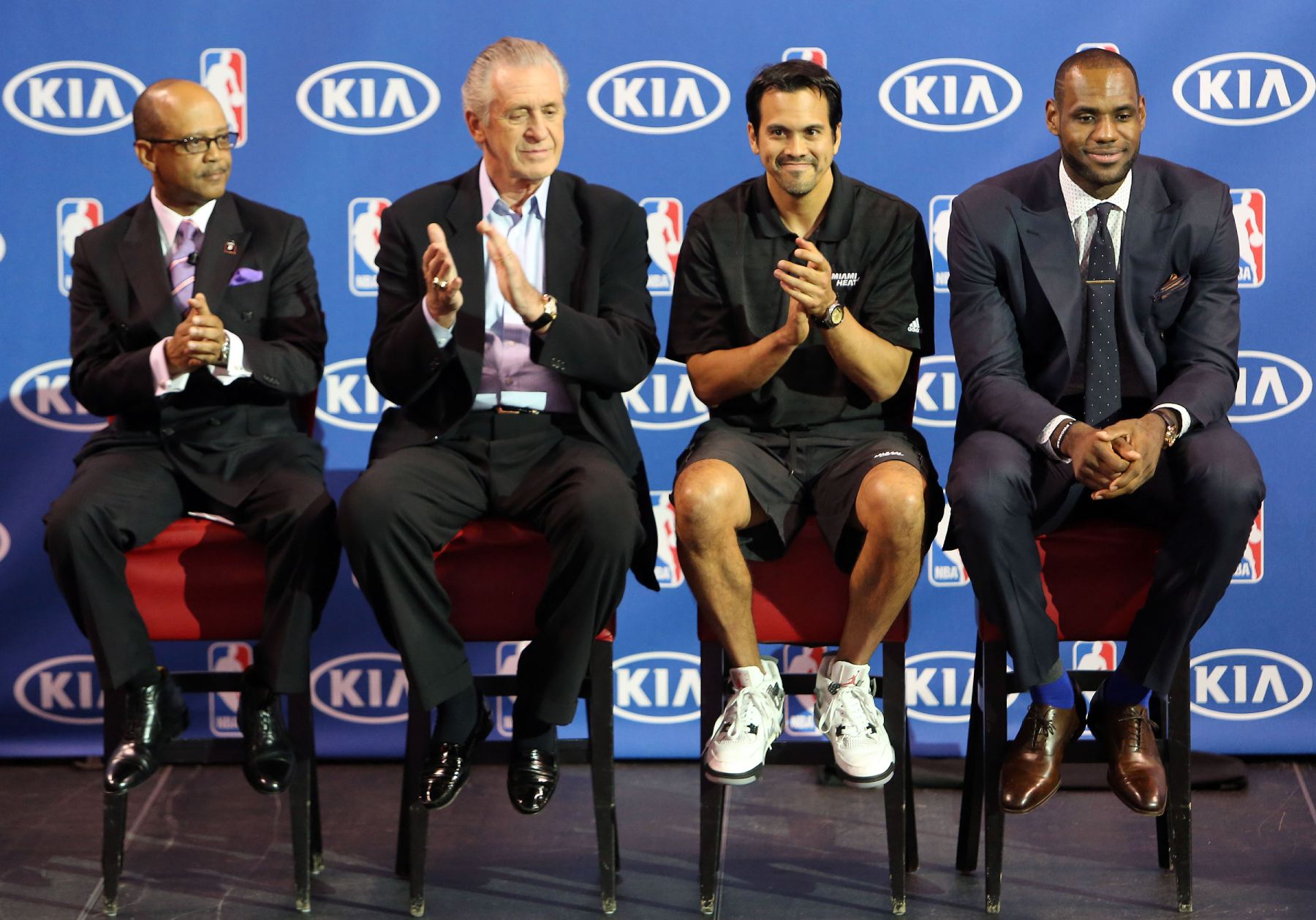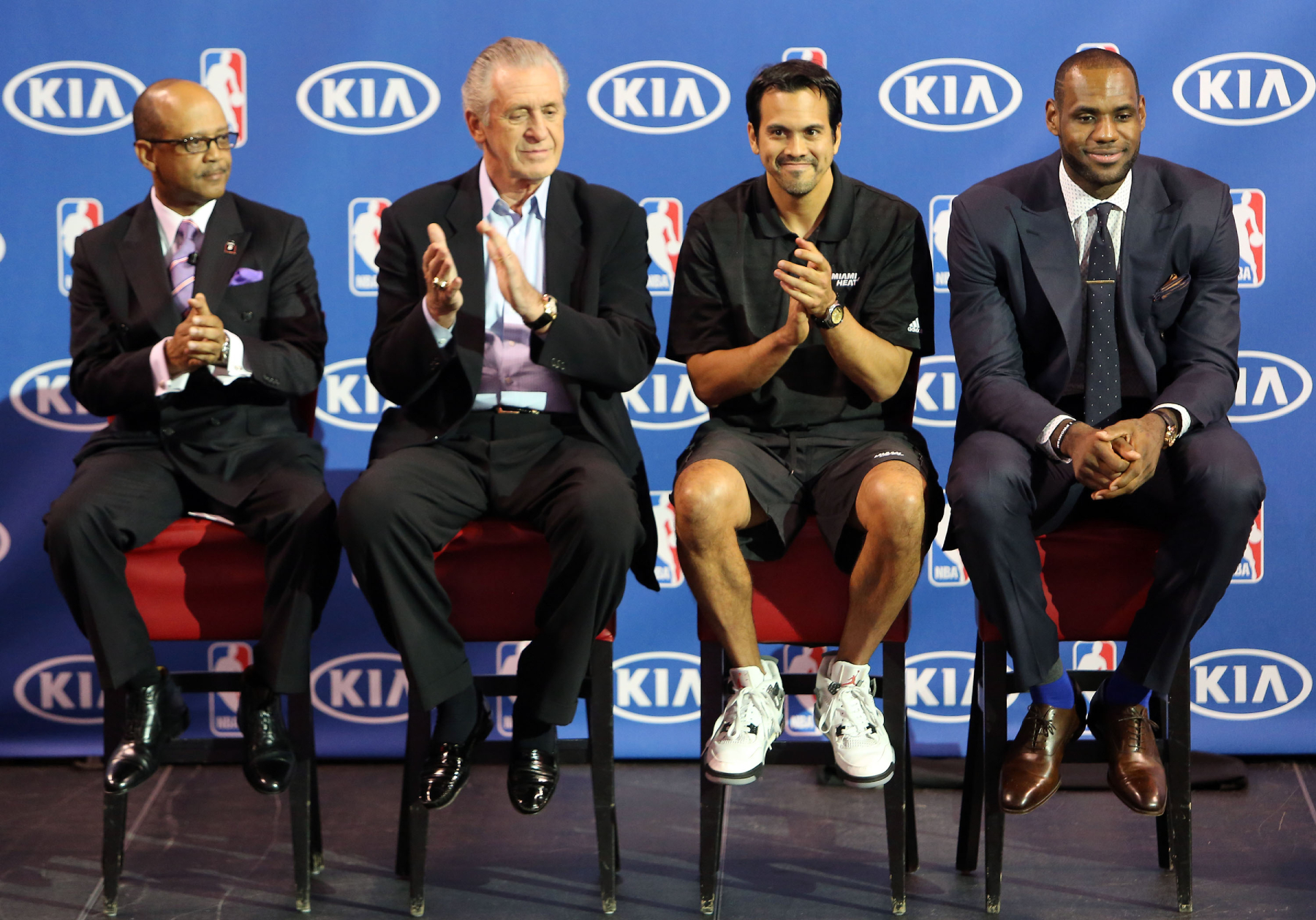 Since James' departure from Miami, Heat president Pat Riley has admitted that he was very angry when James left.
"I was silent," Riley said in 2017, according to ESPN. "I didn't say anything. My mind began to just go. And it was over. I was very angry when LeBron left. It was personal for me. It just was. I had a very good friend who talked me off the ledge and kept me from going out there and saying something like Dan Gilbert. I'm glad I didn't do it."
Riley also said this in the book, The Soul of Basketball, according to Yahoo Sports: "I was absolutely livid, which I expressed to myself and my closest friends. My beautiful plan all of a sudden came crashing down. That team in 10 years could have won five or six championships."
James then went to four more consecutive NBA Finals with the Cavaliers and won one championship with them in 2016.
He had this to say after winning his championship with the Cavs.
"When I decided to leave Miami — I'm not going to name any names, I can't do that — but there were some people that I trusted and built relationships with in those four years [who] told me I was making the biggest mistake of my career," James said to ESPN, according to Yahoo Sports. "And that s*** hurt me. And I know it was an emotional time that they told me that because I was leaving. They just told me it was the biggest mistake I was making in my career. And that right there was my motivation."
While it appears that the two still don't have the greatest relationship, Riley did ultimately say that James did the right thing.
"While there may have been some carnage always left behind when he made these kinds of moves, in Cleveland and also in Miami, he did the right thing," Riley said in The Soul of Basketball, per ESPN. "I just finally came to accept the realization that he and his family said, 'You'll never, ever be accepted back in your hometown if you don't go back to try to win a title."
The Heat and Lakers are facing off in the NBA Finals
The Riley-LeBron storyline will certainly make the NBA Finals interesting. However, so will the players who are playing in the series.
The Lakers are led by James and Anthony Davis. James averaged 25.3 points per game, 7.8 rebounds, and he led the NBA with 10.2 assists. Davis, on the other hand, averaged 26.1 points per game and 9.3 rebounds. They are easily one of the most talented duos of all-time.
Miami, however, has Jimmy Butler and a bunch of young, talented stars around him. In addition to Butler (19.9 points per game), the Heat have Bam Adebayo (15.9 points per game and 10.2 rebounds), Goran Dragic (16.2 points per game), Duncan Robinson (13.5 points per game), and Tyler Herro (13.5 points per game).
With the storylines surrounding this NBA Finals matchup, and the talent playing in it, get your popcorn ready because this will be a very entertaining series.
Stats courtesy of Basketball Reference