Patrick Beverley Claims Russell Westbrook's Past Comments 'Damaged' His Career
Russell Westbrook has become the butt of every joke this season and has ridiculously been the Los Angeles Lakers' scapegoat. He even recently revealed that some fans have taken the animosity too far, making him want to keep his family away from games.
However, before his comments about his family, Westbrook's longtime NBA foe Patrick Beverley took a shot at him on Twitter. And when explaining the meaning behind his tweet, Beverley made an eyebrow-raising claim about Russ, saying he damaged his career.
Russell Westbrook and Patrick Beverley have been longtime rivals
Russell Westbrook and Patrick Beverley have had a running beef for nearly a decade.
During a 2013 NBA playoff series between the Oklahoma City Thunder and Houston Rockets, Beverley collided with Westbrook after the latter's OKC team had called a timeout. The incident resulted in Westbrook tearing his meniscus and having multiple surgeries.
The two then exchanged words during a 2018 meeting between the Thunder and Los Angeles Clippers following a play in which Beverley dove for the ball and crashed into Westbrook's legs. But, according to Beverley himself, a 2019 incident had the most significant impact on the defensive-minded guard's career.
Westbrook's Houston Rockets took on Beverley's Clippers in the game, and James Harden dropped 47 points on LA that night. So, Russ then made some comments about Pat's defense after the contest.
"Pat Bev trick y'all, man, like he playing defense," he said, per ESPN. "He don't guard nobody, man. It's just running around, doing nothing. … All that commotion to get 47."
That was certainly quite the shot given the fact that Beverley takes pride in his play on that end of the court, and the three-time All-Defensive Team honoree still has the receipts.
Patrick Beverley blames Russell Westbrook for damaging his career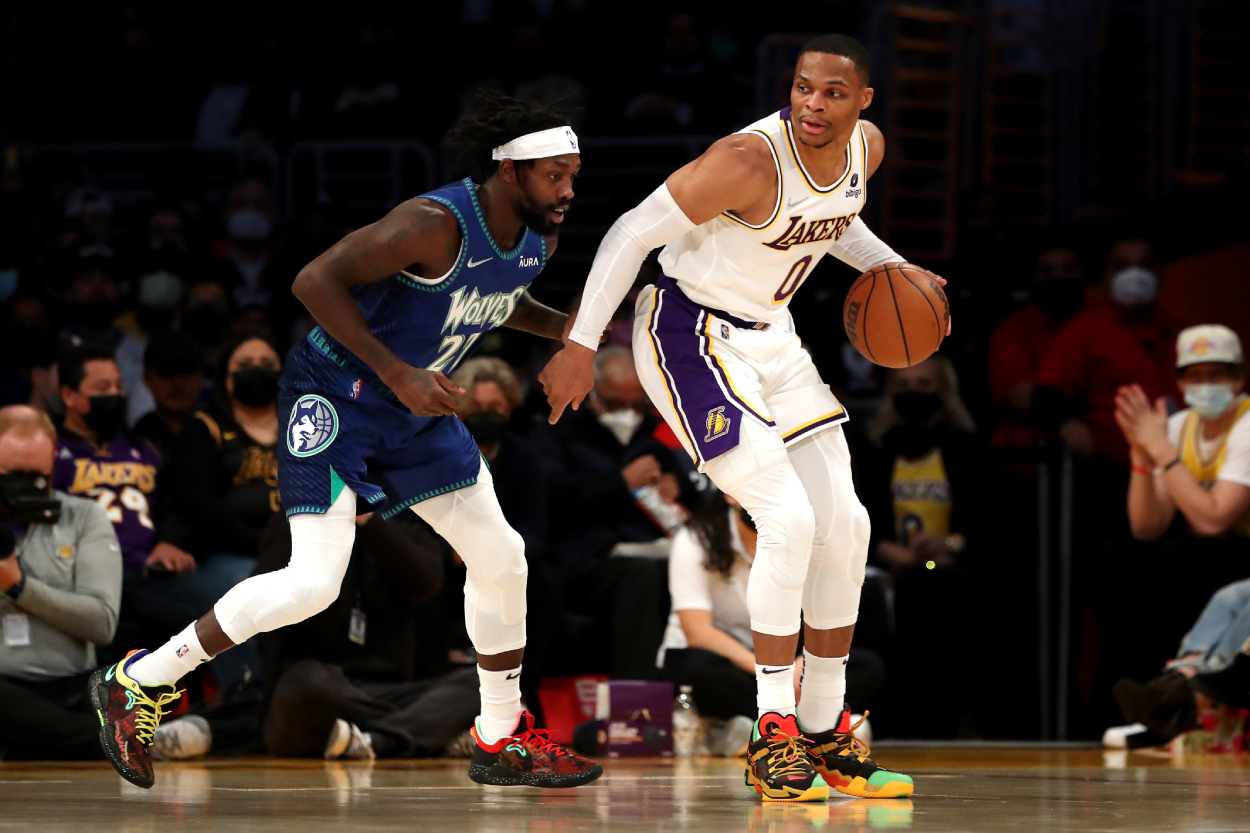 Russell Westbrook has struggled significantly this season. His athleticism isn't quite what it used to be, and he just hasn't figured out how to click with LeBron James and the Los Angeles Lakers.
So, in response to Westbrook's struggles, Beverley took a shot at him on Twitter last month.
"I remember when somebody said all I do is run around and I trick y'all," he tweeted on Feb. 10. "Well my boy is The Real Magician this year."
Beverley then explained his post on a recent episode of JJ Redick's The Old Man and the Three podcast.
"People looked at me differently (after Westbrook's comments)," Beverley said on the March 11 episode. "…After that, people were just taking the ball, just going at me. I'm like, 'What the f***?' All because of what one person said. … People were like, 'Yeah, maybe this motherf***** don't play defense. Only thing he does is run around.'"
So, due to the impact he says Westbrook's comments have had on his career, he decided to send a "real humble tweet."
"Perfect timing too, huh? Trade deadline," Beverley said. "Maniac. 'Patrick Beverley is a maniac.' I am; I don't give a f***. So what?"
The Arkansas product then took it a step further.
"He damaged my career," Beverley said. "Coaching staffs and players, fans, they looked at me way different. They looked at me like, 'You know what? He don't play defense. He just yells and runs around.' And held on to that, and held on to that. And some people still do."
Patrick Beverley showed no self-awareness with his comments
Maybe, Russell Westbrook did impact Patrick Beverley's career. But it didn't come out of nowhere. Beverley hurt his first.
The incident that resulted in Westbrook's torn meniscus may not have been malicious, but it kept Russ from playing in the remainder of the 2013 playoffs. That season, the Thunder went 60-22 but failed to make it past the conference semifinals without their point guard.
What would have happened had he stayed healthy? They were the No. 1 seed in the Western Conference and had just made the NBA Finals the year before. Perhaps they would have made it to the Finals again with a healthy Westbrook. They then would have had a decent shot against the Miami Heat, given that the San Antonio Spurs took them to seven games that season.
Had Beverley not accidentally hurt Westbrook's knee, the latter could possibly be a champion right now. Instead, the 2016-17 NBA MVP is now chasing a ring as his career nears its end.
Sure, Russell Westbrook may have "damaged" Patrick Beverley's career with his 2019 comments, but we can't forget how their feud started. Any beef Westbrook has with Beverley is warranted.
RELATED: Magic Johnson Blasts Russell Westbrook Prior to Lakers' Win: 'Take Ownership and Accountability'