Patrick Ewing's Son Grew Up Around Michael Jordan but Had a Bold Reason for Never Requesting an Autograph
Michael Jordan valued winning over everything else, but certain opponents — including New York Knicks legend Patrick Ewing — earned his respect.
Between their clashes in the Eastern Conference playoffs and their time together on the U.S. Olympic Dream Team, Jordan and Ewing spent plenty of time with one another during their playing days. So much so, in fact, that Jordan became an honorary uncle of sorts to Ewing's son, Patrick Jr.
Patrick Ewing's son never asked Michael Jordan for an autograph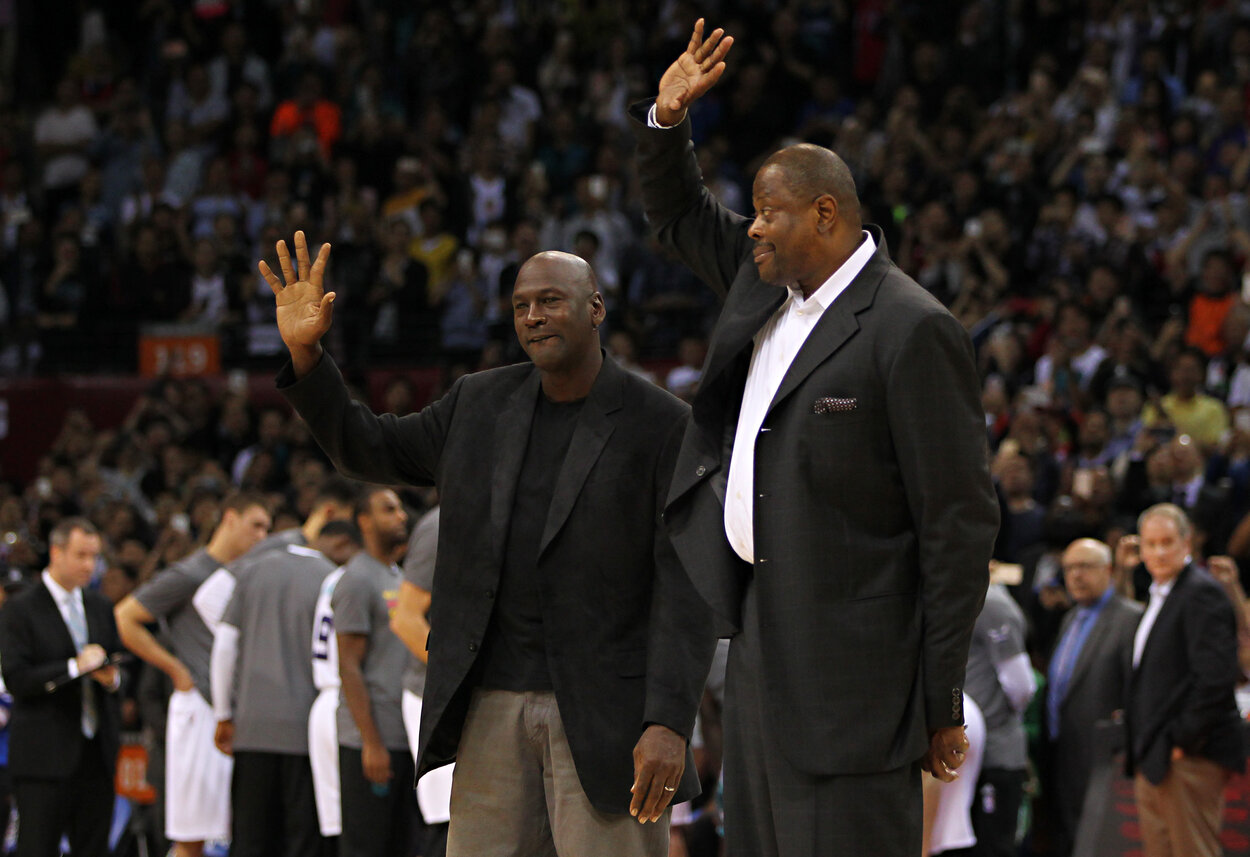 RELATED: Michael Jordan Autographed and Game-Worn Air Jordan 1 Shoes Go Up for Auction
Patrick Ewing Jr. grew up viewing Michael Jordan as someone to love away from the court and someone to root against during games.
Jordan was around the Ewing family enough in the 1990s that the younger Ewing could seemingly do anything he wanted with His Airness. In an interview earlier this year with the Ottawa Sun, Ewing Jr. — who now works as a basketball coach in Canada — explained why he never requested Jordan's signature.
"I didn't look at him like Michael Jordan, the great basketball player; he was more like an uncle Michael Jordan. You don't go asking an uncle for autographs. I see it in my kids now. [Brooklyn Nets forward] Jeff Green is one of my best friends. My kids can see Uncle Jeff on TV all the time, but they don't care because they see Uncle Jeff when he comes over."

Patrick Ewing Jr.
There is something incredibly heartwarming about Ewing Jr. never asking Jordan to sign something. Jordan's signature on anything can go for thousands of dollars, but Ewing valued his relationship with the NBA legend more than he did a potential boost to his bank account.
Michael Jordan and Patrick Ewing had a friendly rivalry
RELATED: Why Patrick Ewing Refuses to Watch Most of Michael Jordan's 'The Last Dance'
Even in 2021, Michael Jordan is known for being a tough and competitive figure, which often didn't go well with teammates during his playing days.
Jordan had his feuds, but he's built strong relationships with some of his foes over the years. Despite the Bulls and Knicks having plenty of fierce on-court battles, Jordan and Patrick Ewing have always had a friendly rivalry.
Ewing has long said that Jordan, the ultimate trash talker, made jokes about the Knicks legend's lack of titles in the NBA. Jordan, of course, retired with six NBA championships to his name.
Jordan and Ewing are still active in the basketball community
RELATED: Georgetown Legend Patrick Ewing Lost Two Priceless Pieces of Gold When Burglars Robbed His House: 'Sometimes It Sucks to Be Well Known'
It has now been over 18 years since either Michael Jordan or Patrick Ewing played in an NBA game. Fittingly, Ewing was an assistant coach for the Washington Wizards in 2002-03, which is the last team that Jordan played for in his historic career.
Both remain extremely active in basketball. Jordan has owned the Charlotte Hornets since 2010; of course, they were the Bobcats at that time. Although Charlotte has had some down years of late, they have developed a young core with LaMelo Ball and Terry Rozier.
Ewing spent several years as an NBA assistant coach and even worked on Jordan's Hornets from 2013 through 2017. He took over Georgetown before the 2017-18 season and is 62-59 through four years at his alma mater.
Georgetown went 13-13 last season and, by winning the Big East Conference Tournament, reached the NCAA Tournament. Colorado defeated Georgetown, 96-73, in the Round of 64.
Like Sportscasting on Facebook. Follow us on Twitter @sportscasting19.