Patrick Ewing Thinks the Dream Team Might Have Something to Do With Team USA Basketball's Current Struggles: 'It Wasn't Like That Back Then'
The Olympics just started, but it already feels like Team USA basketball is in trouble as it fell to France 83-76 in its opening contest. It may have technically just been the team's first loss of Olympic play, but the game followed two other Ls in exhibition matchups, making for some pretty nervous basketball fans across America right now.
So, why are some of the best players in the world struggling so much? NBA and 1992 Dream Team legend Patrick Ewing might have an idea.
Team USA basketball has struggled in international play so far
After going 2-2 during exhibition play, Team USA lost its first game of the Olympics to France, 83-76.
Not having Bradley Beal, the NBA's second-leading scorer in 2020-21, certainly hurts, as he will miss the Olympics due to health and safety reasons. The other stars, though, did not play well in his absence.
Damian Lillard scored 11 points on 3-of-10 shooting while Kevin Durant had 10 on 4-of-12 shooting. Jayson Tatum also only scored nine and shot 3-of-9 from the field.
The U.S. also had a hard time stopping Evan Fournier of France. He scored 28 points and made a 3-pointer with a minute left to give his squad the lead.
It was indeed a tough way to start the Tokyo Olympics, but head coach Gregg Popovich made sure France got the credit it deserved.
"When you lose a game, you're not surprised," he said, per ESPN. "You're disappointed, but I don't understand the word 'surprised.' That sort of disses the French team, so to speak, as if we're supposed to beat them by 30 or something. That's a hell of a team."
Team USA's play has certainly been underwhelming thus far, especially since it had won 25 straight games at the Olympics going back to 2004. So, what's the reasoning for its struggles?
Patrick Ewing thinks the 1992 Dream Team has something to do with Team USA's struggles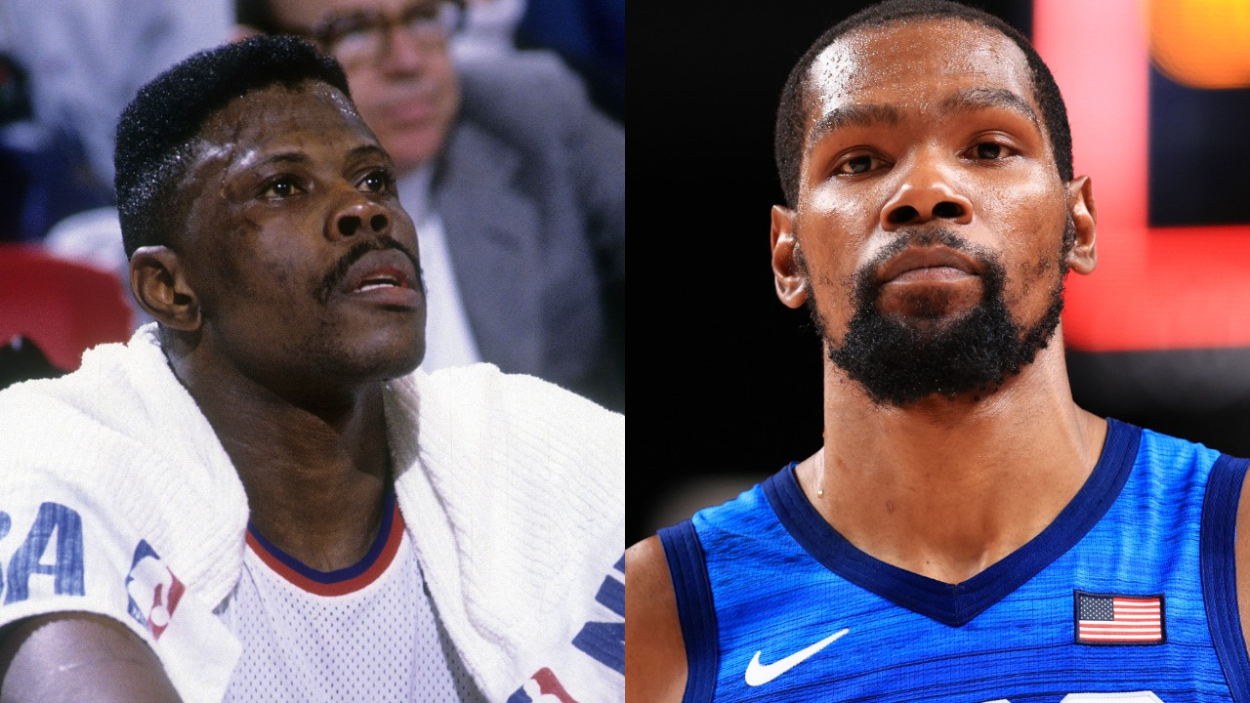 Ewing was on the iconic Dream Team that dominated at the 1992 Olympics. So, as he follows this year's version of Team USA basketball, he had an interesting opinion as to why it's now harder for the Americans to have success.
"I'm rooting for coach Popovich and the U.S. Team," Ewing said to the New York Post. "It's an unfortunate time we're living in right now — losing players to COVID-19 protocols. It's harder to play now because of the Dream Team. All of the current players grew up looking up to us and watching us dominate the rest of the world. But the rest of the world caught up."
He continued: "There are so many talented players. Some of the NBA's top players today come from all over the world. It wasn't like that back then."
Ewing essentially seems to be saying the Olympic basketball pool is more competitive now thanks to the Dream Team's global appeal, and he might have a point. Some of the NBA's best stars are from across the world, as guys like Luka Doncic (Slovenia), Giannis Antetokoumnpo (Greece), and Nikola Jokic (Serbia) have all taken the league by storm. That widespread talent has ultimately led to more difficult matchups for the current USA squad than Ewing and his Dream Team peers faced in 1992.
To put it simply: Kevin Durant and company have Ewing and the Dream Team to blame for (some of) their struggles.
Patrick Ewing and the 1992 Dream Team were unstoppable
The Dream Team was as popular as it was because of its stars and the way it dominated at the 1992 Olympics, the first games in which NBA players were eligible to play. Team USA ultimately went 8-0 to win gold, and it dominated its competition with an average margin of victory of 43.8 points, per NBA.com.
The roster consisted of these superstars:
Michael Jordan
Charles Barkley
Magic Johnson
Larry Bird
Scottie Pippen
Patrick Ewing
Karl Malone
Clyde Drexler
David Robinson
John Stockton
Chris Mullen
Christian Laettner
Playing with all these great players was ultimately what Ewing enjoyed most.
"My favorite memory from the Dream Team days — forget the games, we were punishing everyone," Ewing said, per the New York Post. "But practicing against all those great players. All of us working hard every single day. That was the best. Those practices were unforgettable. The friendships and bonds we created — myself, Larry Bird, Chris Mullin. Those are memories I will never forget."
Team USA won't have as easy of a path in 2021 as the Dream Team did nearly 30 years ago. But it still has some elite talent. Maybe, it will get it together and win another gold medal for America.
Stats courtesy of FIBA basketball