Patrick Ewing Trashes Today's NBA: 'I'd Be Michael Jordan in This Era'
Like many retired NBA players, Patrick Ewing believes he'd still be dominant if he were playing in today's era of the NBA. The Hall of Fame big man took that claim a step further. Not only would Ewing be as good as he was back in the 1980s and 1990s, but he believes he'd be an unstoppable force the likes of which the league has rarely seen.
There's no question Ewing was one of the best big men in NBA history. Coming out of Georgetown as the No. 1 overall pick in the 1985 NBA Draft, he had a reputation as a defense-first center. As it turns out, Ewing could score with the best of them. He topped 20 points per game in his first 13 seasons and retired after the 2001–02 season with an average of 21.0 points a night.
Patrick Ewing led the New York Knicks for more than a decade
From 1989–98, Patrick Ewing churned out nine straight seasons averaging at least 20 points and 10 rebounds per game. He's seventh all-time with 2,894 blocked shots and was a legitimate two-way superstar.
But Ewing could never get the Knicks over the topv. He led them to the NBA Finals in 1994, losing a dual for the ages to Hakeem Olajuwon and the Houston Rockets. A torn Achilles' sustained during the Eastern Conference Finals in 1999 sidelined the Hall of Famer when New York reached the Finals as a No. 8 seed in 1999.
A glance at the statistics shows Ewing didn't have the 3-point shooting prowess for the modern era. But he also played when big men didn't look for the deep ball. Coming up in this era would likely mean Ewing, who had a decent mid-range game and was a solid foul shooter, could have extended his range to fit the times.
But the question of how good Ewing would be in this era is open to interpretation. Suffice it to say; he likes his chances.
Ewing's confidence knows no bounds
Now the head coach at his alma mater, Patrick Ewing led Georgetown to a surprising NCAA Tournament appearance last season. As for how well he'd do against today's crop of big men in the NBA, he said in an interview shared by YouTuber YounGala that he would be historically dominant.
"There's not that many great centers. I'd be Michael Jordan in this era. It's definitely changed, the way that teams play, the way that everybody spreads the floor. Most big guys now, instead of posting up, they want to get out there and shoot 3s."
And therein lies the flaw with Ewing's logic. One need only look at the faltering careers of traditional centers like Andre Drummond or old-school power forwards such as Kenneth Faried to see that a low-post presence might not be a great fit in the modern NBA.
A big body under the basket on offense means another giant human lurking nearby on the defensive side. That limits the space in the lane essential to the modern drive-and-kick game. Ewing could be a devastating pick-and-roll man who could develop pick-and-pop chops, but parking himself on the low block and demanding the ball is not the 21st century way.
Patrick Ewing sounds like a prototypical retired player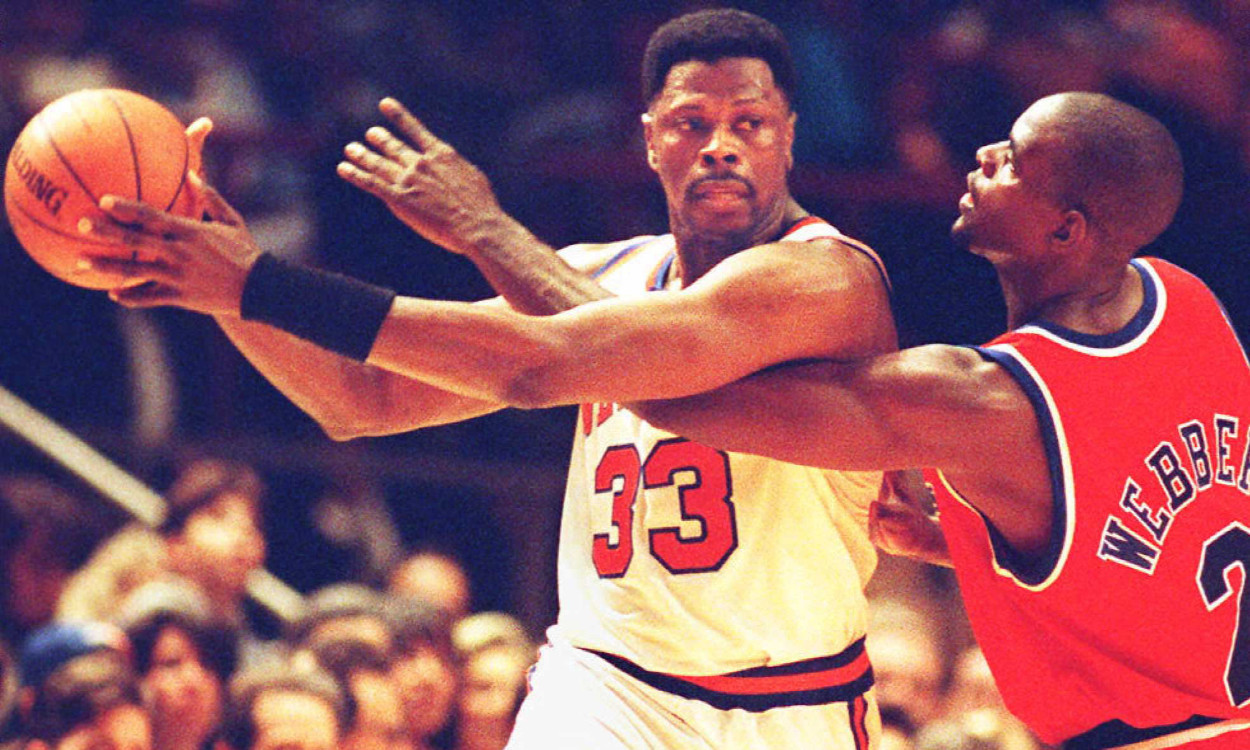 In Michigan's Upper Peninsula, the Finnish heritage is strong, and a phrase resonates among the older population. No matter the topic, a large segment of the people will always decry the fact that things "ain't like they usta was."
"Usta" is best described as a Finnish American slang term for "used to." Ultimately, it's another cultural turn of a phrase on the old "get off my lawn" sentiment.
Ewing was a great basketball player suited for his era. He's likely to be great during any period. But a premise that a 1990s game transfers seamlessly to the 2020s is not rooted in anything but nostalgia and ego. It's a different game now, and Patrick Ewing couldn't dominate unless he were a different sort of player. The tools are there, but his development curve wouldn't be nearly the same as it was.
Statistics courtesy of Basketball Reference.
RELATED: Patrick Ewing's Supporting Cast on the New York Knicks Was Bad for One Reason in Particular