Patrick Ewing's Supporting Cast on the New York Knicks Was Bad for One Reason in Particular
For all the superteam talk in today's NBA, it wasn't uncommon for multiple All-Stars or Hall of Famers to play together in the league of old. The Lakers had Magic, Kareem, and Worthy. The Celtics had Bird, McHale, and Parrish. The Bulls had Jordan, Pippen, and Rodman. Meanwhile, the New York Knicks had Patrick Ewing and … well, Patrick Ewing.
The seven-time All-NBA selection led the Knicks to two NBA Finals and 13 straight playoff appearances. However, Big Pat never won a ring in his 17-year career. Much of that has been attributed to the competition surrounding them, but a further look back reveals how Ewing could have prevailed if he had just a little more help around him.
Patrick Ewing's New York Knicks failed to win a title
When Ewing was selected first overall in the 1985 NBA Draft, New York was coming off of a 24-58 season. By his third year, the former Georgetown Hoya helped lead the Knicks back to the postseason, where they would remain every year until Ewing's trade to the Seattle SuperSonics in 2000. But nowhere during Ewing's tenure did the Knicks end on top of the NBA, keeping their championship drought from 1973 alive.
It wasn't as if the team wasn't close, however. The Knicks made it past the first round in all but two of Ewing's postseason appearances. They made it to four Eastern Conference Finals in an eight-year span. And they made two NBA Finals appearances, losing to the Houston Rockets in 1994 and the San Antonio Spurs in 1999.
One big reason for coming up short is the era Ewing and the Knicks played in. The 1990s were dominated by Jordan's Bulls, who knocked out New York five times including a span of three times in a row from '91 to '93. But the Knicks also played — and lost to — Bird's Celtics in 1988 and the defending NBA champion Pistons in 1990. The teams New York typically lost to in the playoffs featured multiple All-Stars, something Ewing's Knicks just didn't have.
Ewing rarely had All-Star teammates
Pat made 11 All-Star teams in his Hall of Fame career. But the 7-footer rarely got to see another one of his teammates alongside him.
From 1985 to 2000, Ewing's tenure with the team, New York sent four players besides its center to the NBA's premier midseason event: Mark Jackson in '89, Charles Oakley and John Starks in '94, and Allan Houston in '00. That means for all the effort Ewing put into making the Knicks a championship contender year in and year out, he had just four teammates make a single All-Star Game in 15 years. In fact, only Houston made an additional All-Star game in general, going again right after Ewing left the Big Apple.
"When you look at Patrick's teams in New York, he never really had that great player to work with," said Doc Rivers, who coached Ewing on the Orlando Magic in the center's final season. "I know, because I was his teammate and I know the kind of talent we had in New York."
For context, Jordan had a seven-time All-Star Pippen. Just three of Isiah Thomas' 12 All-Star games weren't accompanied by one of his teammates. Even the Miami Heat, a team who came into the league in 1988 and had several late '90s battles with New York, had a pair of multiple-time All-Stars in Tim Hardaway and Alonzo Mourning anchoring their roster.
Although they weren't perennial All-Stars, Ewing still loved his teammates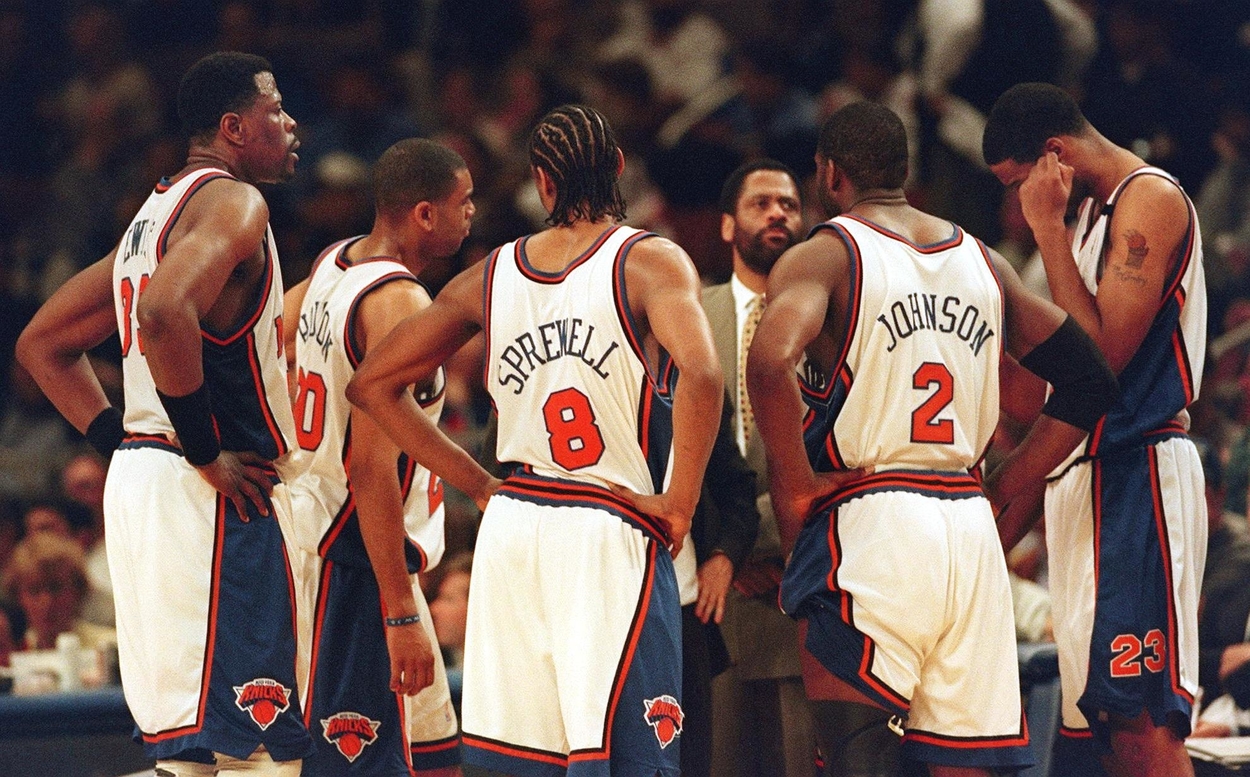 Ewing was never surrounded by the Hall of Fame sidekick or multiple-time All-Star. But the players he did play with hold a special place in his heart.
On Knuckleheads with Quentin Richardson & Darius Miles, Ewing, now the head coach for Georgetown, talked about the four teammates he loved playing with the most. It's no surprise that each of his All-Star teammates were mentioned.
"John Starks, because I loved his toughness," Ewing said. "He was a good athlete, a streaky shooter, but when you go to war, that is the kind of dude you want in your foxhole."
"Charles Oakley is the hitman," Ewing continued. "We played for about 10-12 years together. He was physical, and if anybody messed with anybody on the team, he would be the first one to step to him."
Ewing concluded, "By the time Larry Johnson came to the Knicks, he had reshaped his game. He became a great three-point shooter and a great leader. Allan Houston was also a great shooter. We are also gonna need someone to bring the ball up so you can flip the coin. It's either Charlie Ward or Mark Jackson."
While Ewing had good teammates, he needed great ones to win. And sadly for him, he'll always be considered one of the best players to never win a ring because of it.
All statistics courtesy of Basketball Reference.