Patrick Mahomes Almost Teamed up With an NFL Legend if Not for the Kansas City Chiefs' Extremely Risky Trade
Patrick Mahomes is the face of the Kansas City Chiefs. On top of that, he's largely considered the face of the entire NFL. He's broken a plethora of records since debuting for the Chiefs in 2017 and already has a Super Bowl trophy and MVP to his name.
However, there was a genuine scenario — which nearly happened — which would've seen Mahomes throwing passes in a different red-colored uniform.
Patrick Mahomes was nearly drafted by the Arizona Cardinals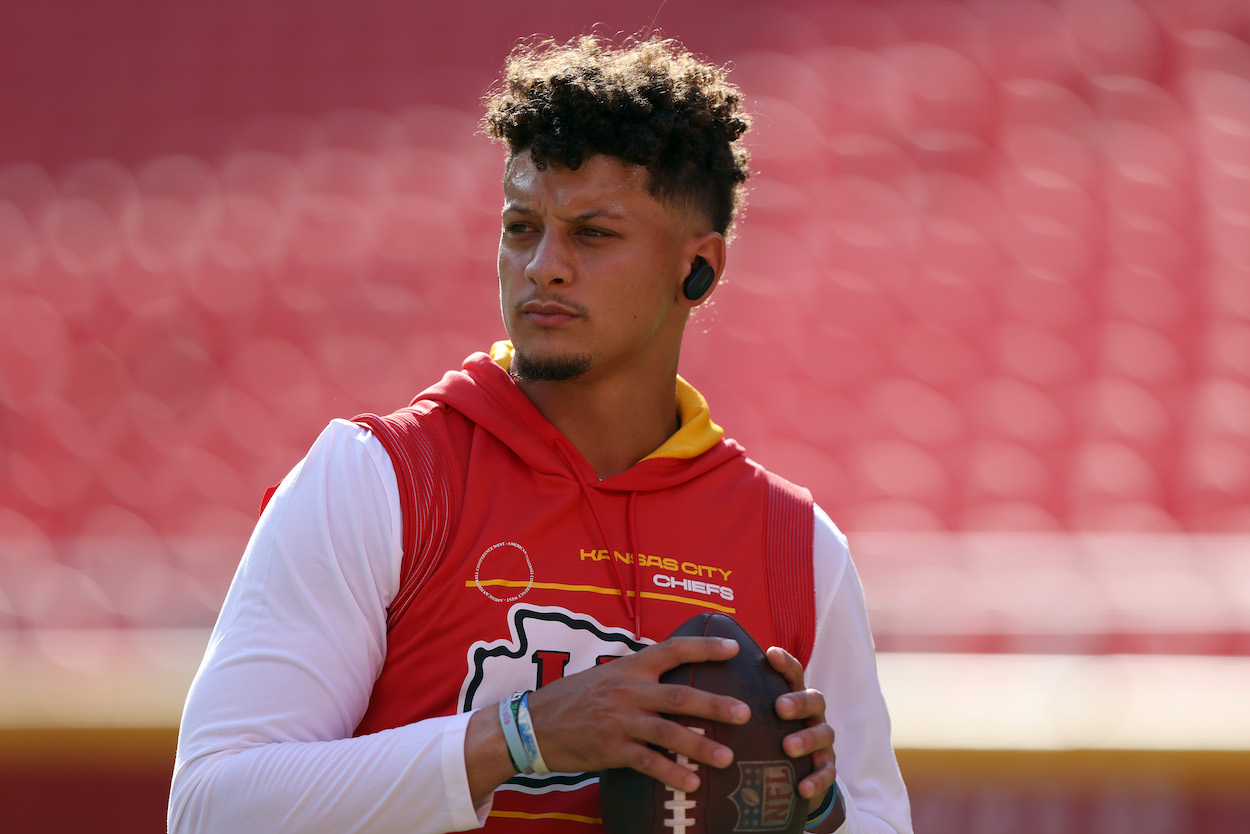 According to former Arizona Cardinals head coach Bruce Arians, the Cardinals thought they were going to have the opportunity to draft Mahomes in 2017:
"We thought last year sitting there (at No. 13) we were going to have a shot at Deshaun Watson and Patrick Mahomes," said Arians. "I loved both of them" (Arizona Sports 98.7 FM).
While the Cardinals ultimately ended up with Kyler Murray in 2019, it's hard to ignore the potential upgrade that Mahomes represents. Murray is a solid starter in the NFL, but he's nowhere close to the caliber of QB that Mahomes is.
Additionally, the Cardinals would have been pairing Mahomes with one of the greatest wide receivers in NFL history.
Patrick Mahomes and Larry Fitzgerald would've been an all-time great duo
Regardless of who's been under center for the Cardinals over the past 17 seasons, Larry Fitzgerald has found a way to be historically productive. He's recorded 1,432 receptions for 17,492 yards and 121 touchdowns since debuting.
Fitzgerald is also an 11-time Pro Bowler and led the league in receptions and receiving touchdowns twice.
Just imagine what Mahomes could do with a WR of that caliber.
For what it's worth, Mahomes has had zero problems scoring points with Tyreek Hill and Travis Kelce at his disposal. It's also worth mentioning Fitzgerald was 34-years-old when the Chiefs first drafted Mahomes. Still, "Fitz" is an NFL legend who knows a thing or two about getting open.
The connection he could have formed with Mahomes would've been elite.
Specifically, during the later stages of his NFL career in Arizona, Fitzgerald starting playing more like a tight end. He relied on his strength and physicality at the line of scrimmage and wasn't afraid to fight for contested catches. Seeing how well Mahomes utilizes Kelce these days leads one to believe he would have thrived with Fitzgerald just the same.
A lack of urgency ultimately killed the Cardinals' dream
According to Arians, the Cardinals wanted to stay put at pick No. 13, hoping that Mahomes or Watson would fall to them. Neither did, and it was Arizona's lack of overall aggressiveness that ultimately killed their chances of landing a future franchise QB.
The Texans traded up to acquire Watson, and the Chiefs moved up to pick No. 10 to select Mahomes. The Cardinals ultimately settled on drafting linebacker Hasson Reddick — a noticeable drop-off in talent.
Mahomes is presumably happy with his landing spot in Kansas City. However, a potential Mahomes-Fitzgerald combo easily goes down as one of the more intriguing "what if?" scenarios in football history.
Fitzgerald is currently a free agent — maybe he should consider signing a one-year deal with the Chiefs?
All stats courtesy of Pro Football Reference.
RELATED: Can Patrick Mahomes and the Kansas Chiefs Dominate Their Way to a 20-0 Season? At Least 1 NFL Analyst Thinks So