Patrick Mahomes Among Top 3 NFL MVP Frontrunners
The first month of the 2019 regular season is in the books, which has seen the league begin to take shape. This has also been the case for the MVP award, with several players making early strong bids for the honor. With the reigning league MVP Patrick Mahomes putting himself in the mix behind his hot start, here are a few other early frontrunners joining him for the award ahead of Week 5 action.
3. Shaq Barrett
Through his first four seasons in the league with the Denver Broncos, outside linebacker Shaq Barrett established himself as a productive and reliable factor.
However, Barrett has taken his play to a completely different stratosphere in his first year with the Tampa Buccaneers after surpassing his total sacks in the last three seasons (8.5) in just the first four games in 2019 (nine). He also leads the NFL in pressures (28), pressure rate (18.8%), disruption rate (20.8%), and turnovers caused by pressure (four), according to Marc Sessler of the NFL Network.
What makes this even more impressive is that he has more pressures than the Indianapolis Colts (26), New York Jets (22) and Los Angeles Chargers (21) while being just two fewer than the Broncos. The 26-year-old will more than likely fall well below the ridiculous 36-sack pace, but the fact that he's producing at this rate puts him deservingly in this conversation.
2. Christian McCaffrey
Heading into the NFL, there were questions around Christian McCaffrey about whether he could be a three-down back with the ability to run between the tackles.
In his third campaign, he has completely silenced those doubters as he's currently leading the league with 411 rushing yards on 86 attempts for 4.8 yards per carry along with four touchdowns. He has also racked up 25 catches on 31 targets for 218 receiving yards.
McCaffrey has already tallied two 100 rushing yard performances along with recording at least 10 catches twice. His 179 total scrimmage yards in the win over the Houston Texans put him alongside Hall of Famer Jim Brown as the only players to have three games of at least 175 scrimmage yards and a touchdown in his team's first four games of a season.
The 23-year-old is the definition of a dual-threat that has elevated his game to be in the thick of the conversation as possibly the best running back in the game and one of the best picks of his draft class. At his current pace, McCaffrey is set to finish with 1,644 rushing yards and 16 touchdowns along with 100 receptions for 872 receiving yards, which would set the all-time record for the most total scrimmage yards in a single season.
If he keeps up anywhere near this trajectory, it will be quite hard to choose anybody else but him for the MVP award.
1. Patrick Mahomes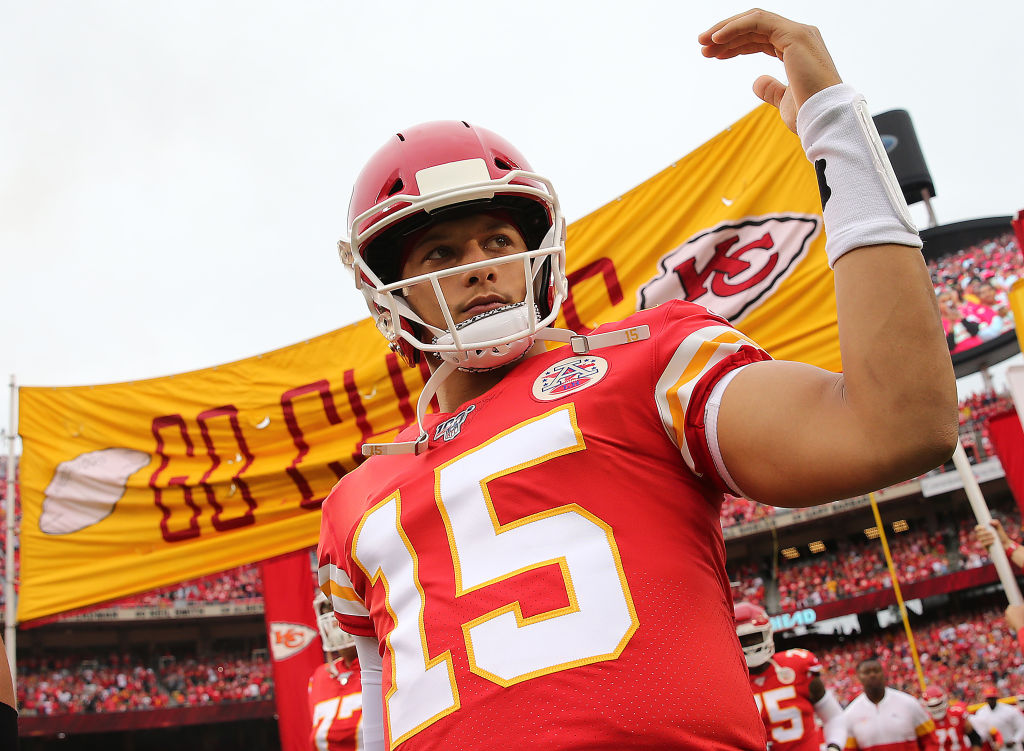 Coming off a historic breakout campaign, Mahomes has continued his torrid pace in the 2019 campaign by racking up impressive numbers while guiding the Kansas City Chiefs to an undefeated 4-0 mark.
The 24-year-old currently leads the league with 1,510 yards along with 10 touchdown passes to zero interceptions, a 67.8% completion rate, and a 120.4 passer rating. That has put Mahomes on a trajectory to finish with an NFL-record 6,040 passing yards with 40 touchdowns while already setting historic marks along the way.
It's clear that his performance last season was no fluke as he has continued to improve as a passer while leading Kansas City to much success. His huge impact on the game was evident in the 34-30 comeback win over the Detroit Lions in Week 4 as he made game-changing plays with his legs as he ran for 54 yards on six carries and still passed for 314 yards despite not throwing a single touchdown.
At this point, it's hard to put any other player above Mahomes for this honor as he's far away the top early favorite to earn it again in 2019.