Patrick Mahomes and Lamar Jackson Are Changing the Game for African-American QBs
Black quarterbacks have always been in a difficult place in the NFL. Age-old racist stereotypes about the talents of black people have led to many players never getting the credit or opportunities they deserve. This status could finally change, thanks to Patrick Mahomes and Lamar Jackson.
The plight of the black quarterback
Black quarterbacks have struggled in the NFL. A few got a start here and there over the years, but progress came slowly. An African American QB did not go in the first round of the NFL draft until the Washington Redskins selected Doug Williams in 1978.
Williams made history again 10 years later by becoming the first black signal-caller to win a Super Bowl. But it says a lot about prejudices against African American quarterbacks that it took so long for one to accomplish that feat, especially in a league with a substantial black population.
This issue connects to America's racial problems that have existed for centuries. People consider quarterbacks to be leaders whose intelligence and poise under pressure can guide a team to victory. These qualities go against the stereotypes that people have about black people in general.
It's rarely a case of outright racism. It's more about the subconscious bias that leads people to make decisions. African American QBs are often defined by their athleticism and can be overly criticized when they struggle. The sentiment has existed for decades, but a new generation is not letting these ideas get in the way of the game. 
Lamar Jackson and Patrick Mahomes disprove assumptions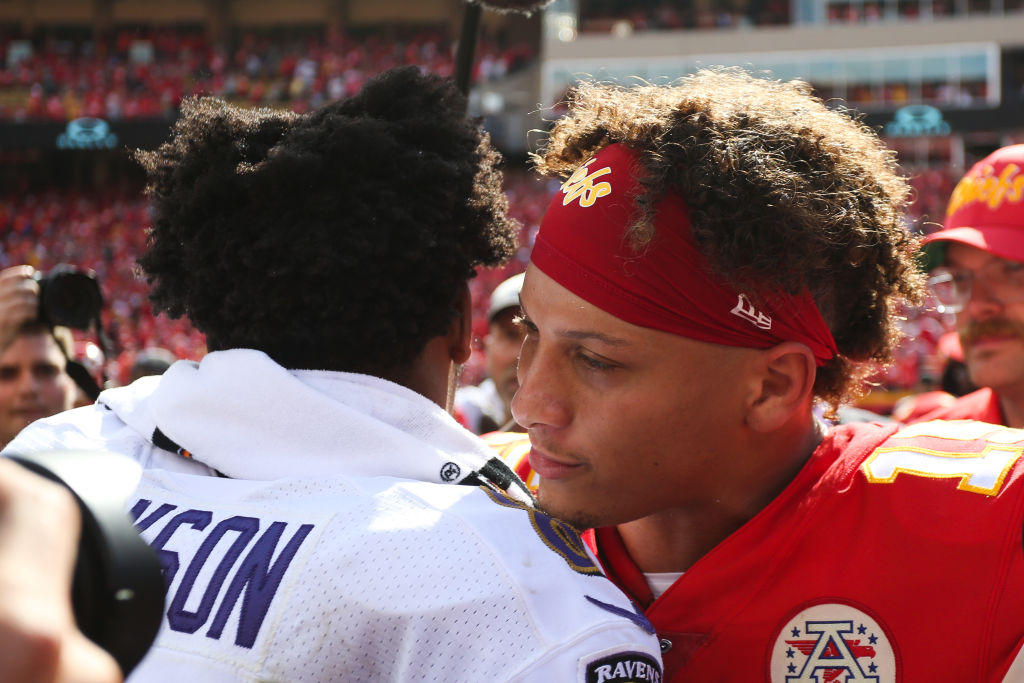 Black quarterbacks have never been as successful in the NFL as they are now. It's possible that the three most exciting young QBs are all African American. (And that's without talking about Russell Wilson, who was fantastic last season but a few years older than these other players.) 
Jackson won the MVP award in the end. The beloved superstar has done little to court controversy, but he's faced divided opinions since his time in college at the University of Louisville.
Many analysts, most notably former Colts GM Bill Polian, said Jackson would never be an NFL-level passer and should be a wide receiver. He did little to discredit doubters when he got the starting role in the middle of the 2018-19 season. Jackson completed only 58% of his passes in a run-heavy offense.
His struggles through the air made his transformation last year all the more exciting. Jackson wasn't just a quarterback; he was a phenomenon. He started the year with a perfect passer rating and five touchdowns and somehow got better from there.
The Ravens' innovative offense allowed him to thrive. He threw for a league-high 36 touchdowns, became the first quarterback since Michael Vick to rush for 1,000 yards in a single season, and was the second player ever to earn MVP unanimously. 
But while Jackson's playoff run ended soon after it began, Mahomes put up a postseason for the ages. His brilliance was already known after throwing 50 touchdowns and winning MVP a season prior. This past regular season was more lowkey by Mahomes' standards; he only threw for 26 touchdowns and missed two games with a knee injury.
Mahomes was everything but quiet in the postseason. Facing off against Watson's Texans, Mahomes led the Chiefs to score 41 unanswered points — including four TDs in nine minutes — en route to a 51-31 victory. Kansas City fell behind again in the next round against the Titans, but Mahomes got his team over the line with a thrilling mix of passing and running:
Mahomes didn't have his best game in the Super Bowl, but he was still the catalyst for defeating the San Francisco 49ers. He became the youngest player to earn Super Bowl MVP — and he still thinks he has room to improve. 
These three players proved two things last season: First, black quarterbacks should not be underestimated because of their race. And second, the NFL is more open to different styles than traditionalists think. 
Will the NFL consider different styles of QBs?
Mahomes, Jackson and Watson's successes aren't just good for their franchises. They help other players get recognized during the draft process.
Jordan Love, a Utah State quarterback prospect, has drawn comparisons to Mahomes because of his arm strength and athleticism. Love didn't have a great final college season, but his slight resemblance to the best NFL quarterback will probably help him go higher in the draft.
African American quarterbacks have rarely, if ever, got this sort of benefit of the doubt. NFL.com draft analyst Bucky Brooks discussed this with Yahoo Sports:
"Some of the things that we used to have said about them like, 'Oh, you can't play that style and succeed … oh those guys can't pass, oh they don't have the IQ to be able to run the game' … now that a bunch of different style of quarterbacks who happen to be African American have had success, it has kind of opened up the floodgates for the next generation of guys."
The NFL is a copycat league. Franchises constantly look at the work of others to see what works. For the first time, this notion might make it easier for black quarterbacks.