NFL: This is Why Patrick Mahomes Might Be Even Better in 2019
Kansas City quarterback Patrick Mahomes had a historic season in 2018. He threw for more than 5,000 yards and 50 touchdowns, and he helped lead the Chiefs to the AFC championship game. Along with becoming a household name for NFL fans after a quiet rookie season, he also made the Chiefs and their rabid fanbase incredibly happy he chose football over baseball.

In only his second pro season, Mahomes was fantastic. But is there even more to come next year? Mahomes could wow with his 2019 performance, though it almost seems impossible based on how good he was in 2018. Here's why Patrick Mahomes might be even better in 2019.
Quarterbacks only get better with Andy Reid
Mahomes benefits from playing under Andy Reid, who is known as one of the league's best developers of quarterbacks from a coaching standpoint. Look at some of his other great QBs and how they improved.
In his second full season under Reid, Donovan McNabb went from 21 to 25 touchdowns.
In his first two full seasons starting under Reid, Michael Vick threw for 3,000 yards both years — a feat he had yet to accomplish in his previous five full seasons with Atlanta.
During his five seasons under Reid in Kansas City, Alex Smith threw over 20 touchdowns three times and passed for more than 3,000 yards every season. He had not accomplished either in his previous starting experience in San Francisco.
Sure, he's had some misses (Kevin Kolb, anyone?). But Mahomes has already flourished in Reid's system. He's played at a level so high it's clearly no fluke. Expect Reid to help Mahomes improve in 2019.
The Chiefs have added more weapons via free agency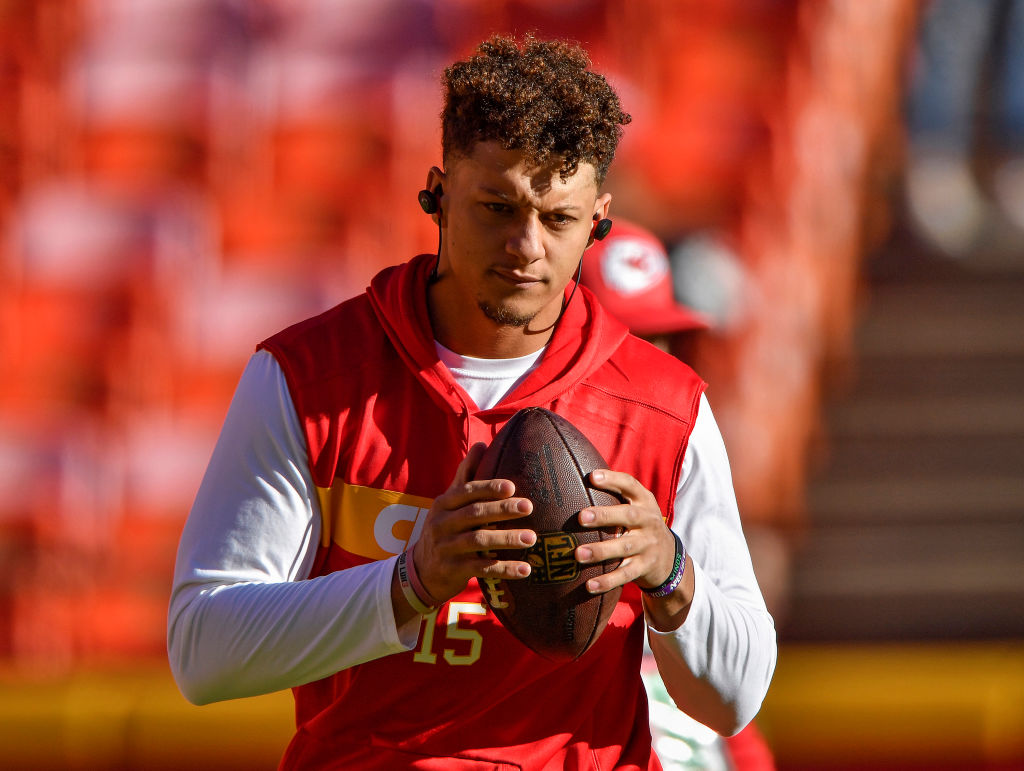 The Chiefs have made great strides in free agency. Most of their additions are on the other side of the ball and may not impact Mahomes directly, but the new players should do a better job protecting his leads.

On offense, the Chiefs signed Carlos Hyde, the former 49ers, Browns, and Jaguars running back. Hyde isn't necessarily an every down back, but he has rushed for more than 900 yards twice in his career. He's reminiscent of former Giants running back Rashad Jennings — not outstanding or an All-Pro level player, but a solid and dependable journeyman back who can produce.

The Chiefs have done more work in free agency on the defensive side of the ball. They've added cornerback Bashaud Breeland, safety Tyrann Mathieu, and linebacker Damien Wilson. Again, these players won't aid Mahomes in scoring more, but shoring up the defense will only translate to good things for Mahomes' field position.
He's putting in the offseason work
Once the season was over, Mahomes was already putting in the work needed to get better. Patrick Mahomes has been working with his trainer, Bobby Stroupe at the Athlete Performance Enhancement Center located in Tyler, Texas. Stroupe has mentored Mahomes since eighth grade. He's certainly done a great job getting the QB in playing shape so far. It would stand to reason that continued work will only see more progress.
Patrick Mahomes is working to be better in 2019
It's impossible to predict if Mahomes will repeat or even improve the success of last year. The NFL is an exciting and unpredictable league. With the gaudy numbers — 5,000 yards and 50 touchdowns — Mahomes put up last year, repeating them will be difficult.

Even if Mahomes doesn't equal those statistics, pay attention to some of his other numbers next year, such as his completion percentage and red zone efficiency. Look at his win totals and how far the team advances in the postseason. Mahomes can certainly get better in all of those respects.

Patrick Mahomes was great last season, but he has room for improvement. Based on the signs from this offseason, he's looking like he may be better next year in more ways than one.