Patrick Mahomes and the Chiefs' Offense Just Received Another Dose of Troubling Preseason News
Patrick Mahomes and the Kansas City Chiefs had high expectations when young running back Clyde Edwards-Helaire arrived on the scene in 2020. 
At times, the LSU product dazzled and showed why the Chiefs selected him 32nd overall last year. However, the Chiefs might need to quickly abandon their hopes for Edwards-Helaire in favor of concerns and doubt. 
Clyde Edwards-Helaire suffered an ankle injury in the preseason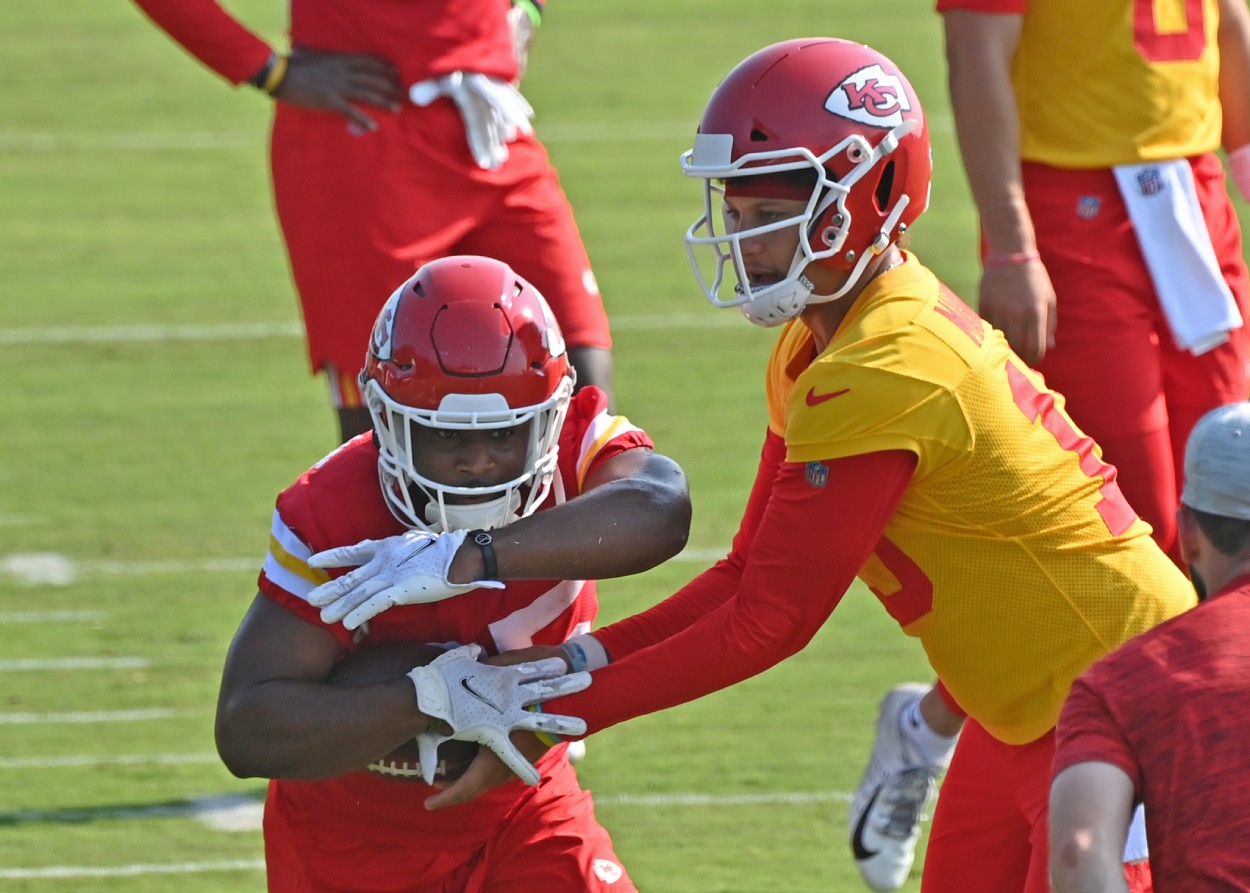 Aside from the cliche that preseason games are meaningless, the knock against teams playing their starters in the preseason has been the injury risk. Longtime Packers receiver Jordy Nelson, who tore his ACL in the summer of 2015, will attest to that argument.
The Chiefs played their starters in each of the team's first two preseason games. That meant Edwards-Helaire, who figures to the team's lead back this fall, carried the ball and needed to hit his blocks.
Luckily for the Chiefs, Mahomes avoided any significant injury in those outings. The same can't be said for Edwards-Helaire, who suffered a right ankle injury in a 17-10 victory over Kyler Murray and the Arizona Cardinals on Aug. 20.
According to ProFootballTalk, Chiefs head coach Andy Reid says the team is optimistic about the young running back's health.
"It doesn't look like a high-ankle sprain, so that's always a good thing, but they'll double-check it."

Andy Reid
Edwards-Helaire had three carries for 13 yards and one catch for 10 yards before leaving the game.
The Chiefs should already be concerned about Edwards-Helaire's durability
We won't fault Reid for being overly optimistic about Edwards-Helaire's prognosis. With that said, we're leaning in a far different direction.
Edwards-Helaire missed three games at the end of last season, including the AFC Divisional Round, with hip and ankle injuries. He returned in the AFC Championship Game and mustered just seven yards on six carries against the Buffalo Bills.
Lower-body injuries like hip and ankle problems can linger for running backs. Those are the ailments that can gradually sap a young player of his effectiveness and ability to be a lead back.
Remember, most running backs have relatively short shelf lives. Adrian Peterson and Frank Gore are the exceptions, but both of them are also likely headed to the Pro Football Hall of Fame, so they're not exactly the best comparison.
Even if Edwards-Helaire is ready to play against the Cleveland Browns in Week 1, there's no guarantee he'll be healthy enough to become a game-changer at running back. These injuries are bound to take a toll on him at some point, and that time may come sooner rather than later.
The Chiefs' offense is already dealing with a rash of preseason injuries
The injuries are mounting for Mahomes and the Chiefs' offense at the wrong time.
Even if Edwards-Helaire is active on Sept. 12, fellow running back Darrel Williams may not be able to say the same. Williams, who broke out last postseason and ran for 130 yards in the AFC Playoffs, entered the concussion protocol after playing the Cardinals.
All-Pro receiver Tyreek Hill missed the Cardinals game with a hamstring injury. Considering Hill's biggest asset is his speed, any type of hamstring or leg injury should be extremely concerning. As of publication, the Chiefs had not ruled Hill out for Week 1.
Earlier this preseason, Chiefs right guard Laurent Duvernay-Tardif suffered a broken bone in his hand during practice. Even if Duvernay-Tardif returns in time for the opener, the Chiefs are expected to start Trey Smith, a sixth-round rookie from Tennessee, at that position.
If the Chiefs want any good news, it's that Mahomes is healthy and ready to go. For everyone's sake, let's hope the single inclusion of that sentence doesn't jinx the All-Pro quarterback.
Like Sportscasting on Facebook. Follow us on Twitter @sportscasting19.