Patrick Mahomes' Concussion Controversy Can Teach NFL Fans a Valuable Lesson
Dr. Brian Stutterer has become an unofficial expert when it comes to NFL injuries. While fans might know the terminology often associated with football injuries, the science behind it is a mystery to those not involved in the medical world. Dr. Sutterer uses his YouTube show to highlight some of the league's biggest medical news. Recently, he put to rest concerns about Patrick Mahomes' concussion. 
Patrick Mahomes scares Chiefs fans 
RELATED: What Does a Concussion Feel Like for an NFL Player?
In the third quarter of the Chiefs' playoff game against the Browns, Mahomes scared fans. Running forward, Mahomes crashed forehead-first into the grass and immediately showed signs of trauma. He was quickly escorted off the field. Coach Andy Reid gave a rundown to CBS Sports in the moments after the game:
"He got hit in the back of the head and kinda knocked the wind out of him and everything else with it. He's doing great right now, which is a real positive as we looked at this. Passed all the deals that he needed to pass so, we'll see where it goes from here."
However, Mahomes was cleared to play in the next game not long afterward. Many believed both the team and league were protecting its young star, ensuring he was on the field. It's not an unfounded concern. Goodell's NFL has been punished many times over for the way it handles such situations. According to Dr. Sutterer, however, these concerns may be unfounded. 
A doctor's take on Mahomes' concussion
RELATED: Jamal Lewis Made Over $46 Million and Is Now a Concussion Advocate
Dr. Sutterer acknowledged the concussion, noting that no concussion is 100% provable, in a Youtube video breaking down what happened. He explained:
"Mahomes could have clearly had a concussion and then cleared the subsequent protocol steps to come back and play, so I don't know what everybody was so afraid of and has been so afraid of to be so vocal and outspoken, saying, 'It's not a concussion."
Dr. Sutterer believes that Mahomes did have a concussion, given all of the information he saw and heard. Armchair experts theorized that Mahomes could only have returned if it was not a concussion or the team was lying about its severity. Dr. Sutterer believes Mahomes could have had a concussion that wasn't as severe as people feared. 
The Chiefs never confirmed or denied the concussion reports. The NFL has to be careful about concussions. For years, its poor handling of the brain trauma made it a lightning rod for criticism. Dr. Sutterer believes that Mahomes' posture at the time shows someone who was not fully aware of what his body was doing — a telltale sign of a concussion. 
Despite this clear sign that something was wrong, Dr. Sutterer does not believe that the Chiefs did anything wrong by bringing him back onto the field. Instead, he sees it as a success story from the league that is often criticized for poorly handling such situations.
The big game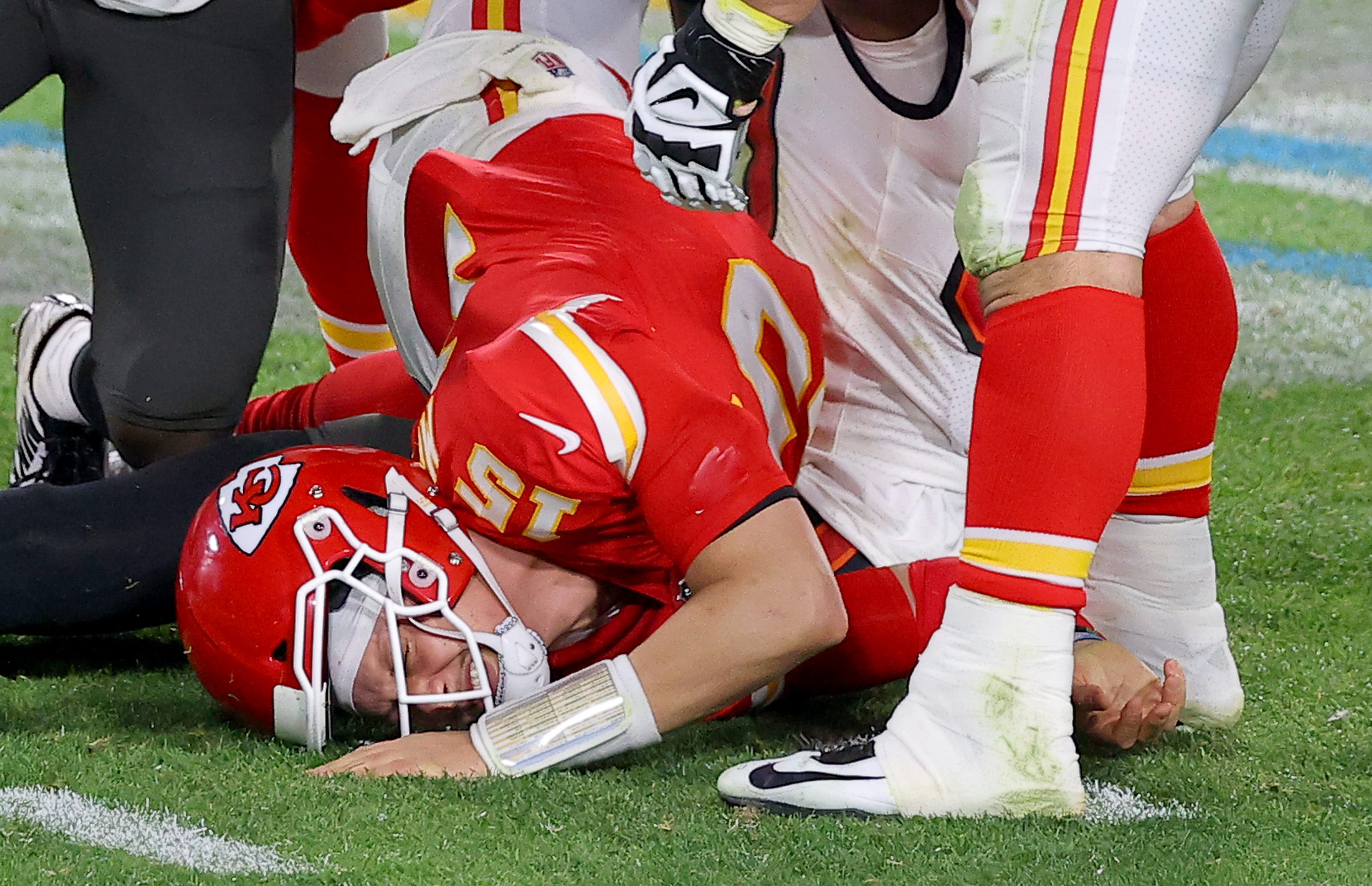 This year's Super Bowl came with a plethora of side plots that intrigued fans and casual observers. Tom Brady's pursued his sixth, which he rightfully earned, and Mahomes hoped for his second. Even the game itself, a rare home Super Bowl for the Tampa Bay Buccaneers, capped off a genuinely unprecedented NFL season.
Mahomes was on the field whether the fans were comfortable with it or not. Although he didn't win a second Super Bowl, he did earn an offseason surgery on his toe, which suffered from a turf-related injury.