Patrick Mahomes Deserves To Make More Than $1 Billion, According To an NFL Coach
Patrick Mahomes has quickly become one of the best quarterbacks in the NFL for the Kansas City Chiefs. His play has been incredible and something that no one has really ever seen before. It ultimately led to him getting a massive contract from the Chiefs this offseason. Is he underpaid, though? Baltimore Ravens defensive coordinator Don Martindale thinks that he is.
Patrick Mahomes has had an incredible start to his career
RELATED: Patrick Mahomes Just Made a $503 Million Financial Mistake
During his college career at Texas Tech, Mahomes put up some incredible numbers, which ultimately led to him going to the Kansas City Chiefs with the 10th overall pick in the 2017 NFL draft.
Mahomes actually sat behind Alex Smith in his first season, and only played in one game the entire year. In that game, Mahomes completed 22-of-35 passes for 284 yards and one interception. The Chiefs ultimately went 10-6 overall that year but lost in the Wild Card Round to the Tennessee Titans.
During the 2018 season, though, Mahomes became the starter and took the NFL by storm. He threw for 5,097 yards and an NFL-leading 50 touchdown passes, which helped him earn the NFL's MVP award. The Chiefs also ended up going 12-4 that year, and Mahomes almost led them to the Super Bowl as they lost 37-31 in the AFC Championship Game to the New England Patriots.
In 2019, Mahomes ended up missing two games, so his numbers weren't as incredible. He still had a good year, though. He ended up throwing for 4,031 yards, 26 touchdowns, and only five interceptions. Mahomes became a legend in the playoffs last season too. He threw for 901 yards, 10 touchdowns, and two interceptions in three playoff games for the Chiefs. He also helped lead them to a 31-20 Super Bowl win over the San Francisco 49ers, and won Super Bowl MVP.
The Kansas City Chiefs signed him to a 10-year contract extension
RELATED: Patrick Mahomes Wants To Take a Page Out of Colin Kaepernick's Playbook in the Future
On July 6, 2020, the Chiefs announced that the team reached an agreement with Mahomes for a 10-year contract extension. The deal keeps him with the team through the 2031 season, according to ESPN.
Additionally, Adam Schefter of ESPN reported that it is worth $450 million over those 10 years. It could be worth up to $503 million.
This is a huge pay raise for Mahomes. In his first three seasons, Mahomes made an estimated $13.72 million, according to Spotrac. He only made an estimated $1.95 million in 2019, though, which was 667th in the NFL, also according to Spotrac.
A Ravens coach thinks that Patrick Mahomes is underpaid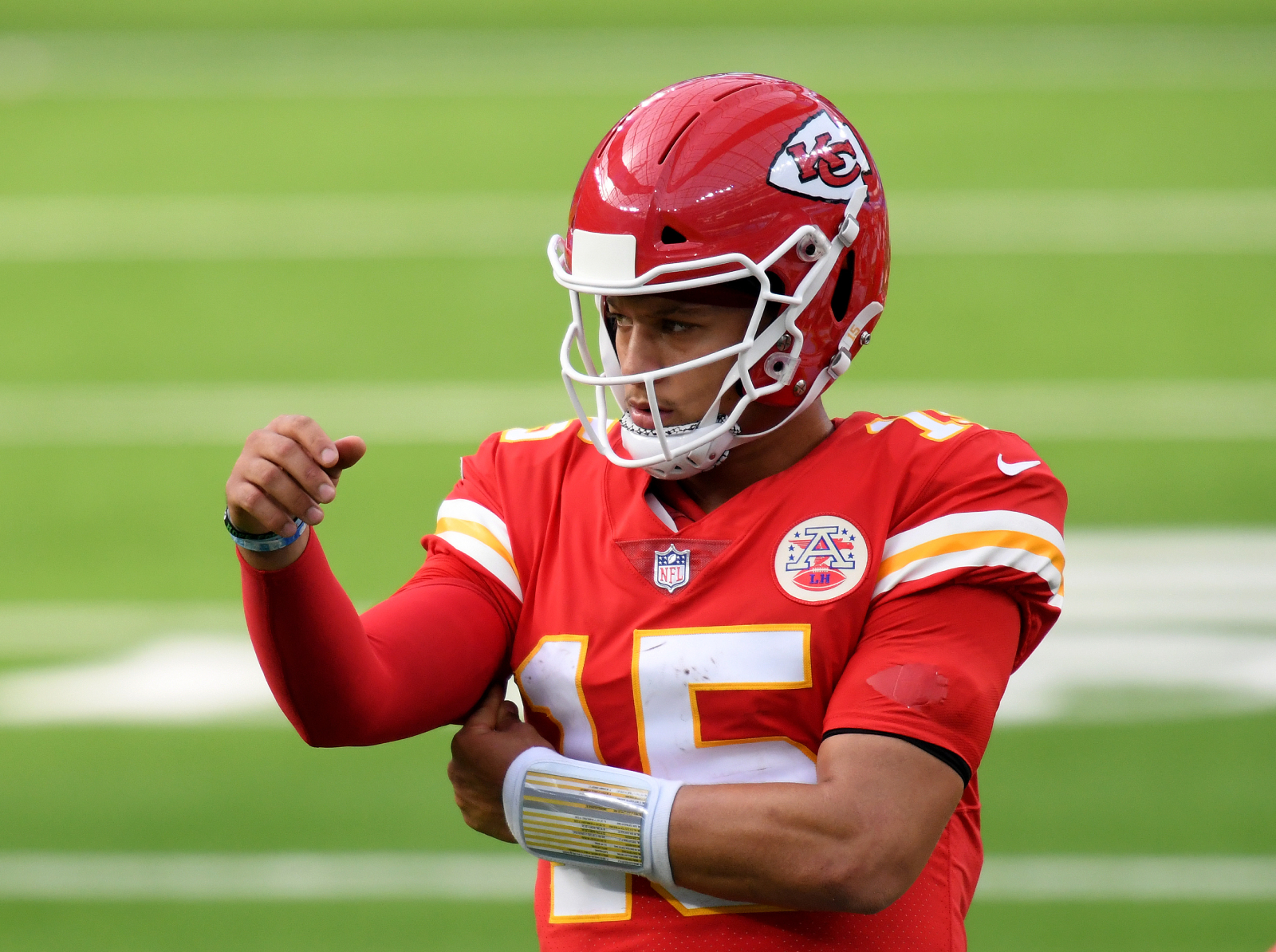 RELATED: How Good Was Patrick Mahomes' Dad as a MLB Pitcher?
The Chiefs play the Baltimore Ravens in Week 3 of the 2020 NFL season, and ahead of the game, Baltimore Ravens defensive coordinator Don Martindale alluded to Mahomes' contract being a bargain.
"They could've paid him a billion," Martindale said, according to ESPN. "I'd still think he's underpaid."
The Ravens defense has been dominant under Martindale. It has only allowed over 350 passing yards three times since the start of the 2018 season. Two of those times came against Mahomes, though, per ESPN. He threw for 377 yards in 2018 and 374 in 2019.
"The mobile-type quarterbacks, you have to defend the first play, the second play and sometimes the third play," Martindale said, according to ESPN. "With the way he throws the football, you have to stay on your coverage no matter what. He can be on one side of the field and throw all the way across the other."
Martindale also had one more gigantic statement about Mahomes: "He has that football IQ level of [Tom] Brady and [Peyton] Manning."
Patrick Mahomes is one of the best quarterbacks in the NFL and might go down as one of the best ever. Sometimes, it can be hard to find the right amount of money that equals the talent that transcendent athletes like Mahomes have.
Stats courtesy of Pro Football Reference