Patrick Mahomes' Diet Isn't as Strict as You Might Think
Patrick Mahomes, the celebrated 26-year-old quarterback of the Kansas City Chiefs, has quickly become a fan favorite in the NFL. Now entering his fifth professional season, it's not hard to see why, thanks to his outstanding record so far. Naturally, his excellence on the field has garnered immense interest in how he trains and what he eats. Unlike predecessors like Tom Brady, Patrick Mahomes' diet isn't quite as strict. Keep reading to learn more about the QB's eating habits.
Mahomes has already won a place in the football record books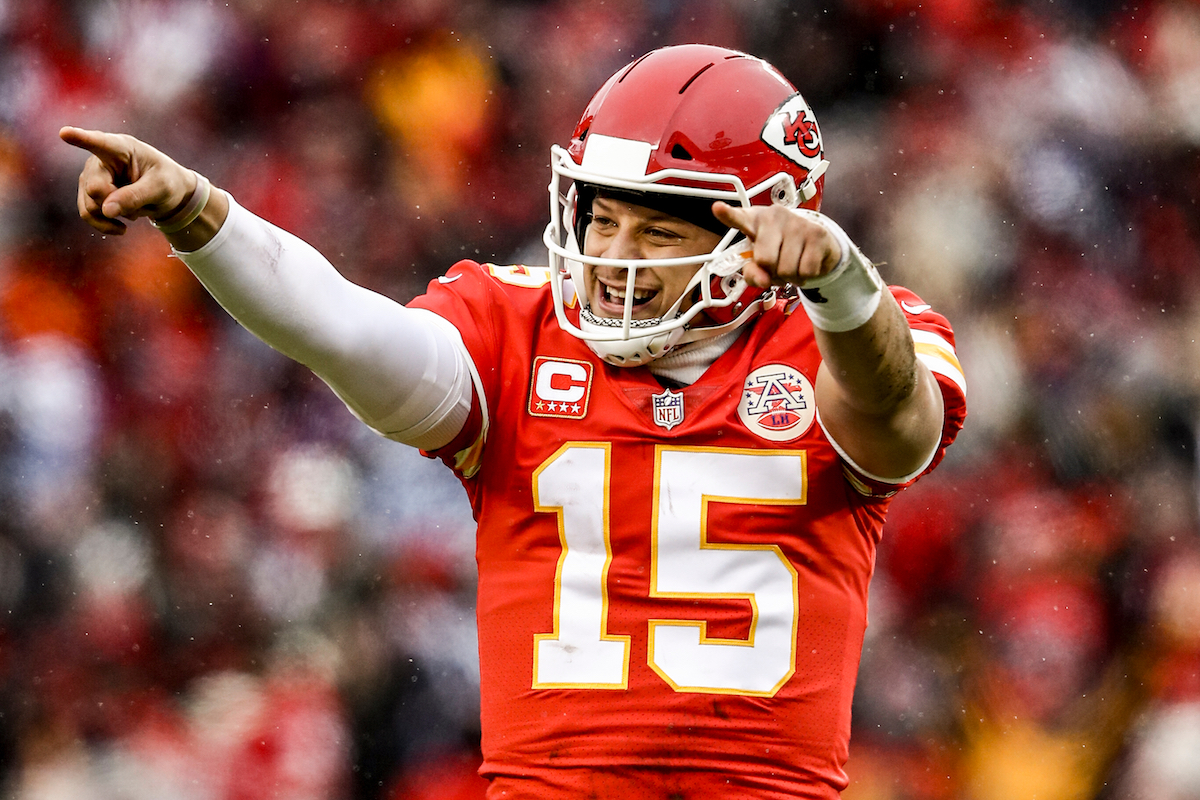 Mahomes got his start in Tyler, Texas. He was a committed and talented athlete at football, baseball, and basketball. Given this fact, it should be no surprise that athletic prowess was all in the family; Mahomes' father is a former MLB pitcher. He has noted that his father taught him the value of hard work in sports. "You have to grind every day," Mahomes says. "You can't just show up and play on game day. You have to prepare throughout the week to get ready for the game."
Mahomes also played baseball for much of his life, eventually putting it aside during college to focus fully on football. While he received offers from Texas Tech, Houston, and Rice to play college football, he ultimately committed to Texas Tech. As a freshman starter, he would obtain a Big 12 record with 598 yards thrown and six touchdowns against Baylor. His college career would solidify him as one the best quarterbacks in Texas Tech history, and end with him getting drafted to the Kansas City Chiefs as a first-round pick in 2017.
Since then, Mahomes has more than risen to his potential. He is the youngest quarterback in NFL history to start in two Super Bowl games and also to be named Super Bowl MVP, and fans are excited to see what's next. In fact, he even holds the record for the most expensive football rookie card ever sold at $861,000. The previous record was held by Tom Brady, at $555,988.
Patrick Mahomes' diet is structured, but not super strict
In order to perform, Patrick Mahomes' diet consists of four to five meals per day, including breakfast, lunch, and spread out dinners. He has admitted to enjoying beer and chicken wings after his Super Bowl win, and his favorite sandwich is from a Kansas City barbecue joint with brisket, barbecue sauce, and onion rings. He also loves putting ketchup on many of his meals — so much so that he has officially started working with Hunt's Best Ever Ketchup.
While he loves to eat, Mahomes has mentioned that he has started to hone in more closely on his nutrition. This includes eliminating fast food and emphasizing healthy foods like chicken and salmon. Luckily, he has an advocate and ally in his fiancée Brittany Matthews, who helps him meet his goals. In fact, Matthews is a former professional soccer player herself, as well as Certified Personal Trainer with her own business. Not a bad partner for someone who has made sports their profession.
Mahomes focuses on key training principles to keep him performing at the highest level
According to Men's Journal, he has a focused shoulder routine to keep his throwing arm in shape. "Shoulder care is definitely something I'm doing more than I used to," he told the publication. "My trainer, Bobby Stroupe, takes me through a routine where my shoulder is in awkward positions while gaining strength. I throw from so many awkward positions on the field, so it's an important part of my routine." He likewise puts a lot of emphasis on mobility, particularly with his joints, hip flexors, and legs.
For a normal workout session, Mahomes does foam rolling and works with a Hypervolt to warm up. He also alternates between legs one day, and arms the next. This is in conjunction with the above-mentioned mobility exercises that he uses. He has also leaned on his baseball background to round out his workout regimen. He does "long toss," as well as using different bands for his arm workouts.
Mahomes seems to have a bright future ahead of him, thanks to his raw talent and hard work. Hopefully, his continued efforts on and off the field allow him to bring even more success to the Kansas City Chiefs.
RELATED: Are Patrick Mahomes and Aaron Rodgers Really Friends or Is It Just for Show?