Patrick Mahomes Is Doubling Down on His Aggressive Style of Offense Despite the Chiefs' Embarrassing Struggles: 'I'm Gonna Take Shots'
After back-to-back Super Bowl appearances, Patrick Mahomes and the Kansas City Chiefs entered 2021 with lofty expectations. They had plans to get back to the big one and recapture their trophy, and most people viewed them as a top contender heading into the regular season.
Surprisingly, the Chiefs' 2021 season is not going according to plan. They're 5-4 and in third place in the AFC West. What makes things even more surprising is that one of the top reasons Kansas City has gotten off to a slow start is their franchise quarterback. The once god-like Mahomes is looking increasingly more human these days.
Patrick Mahomes is struggling
In 2019 and 2020, Mahomes combined to throw 11 total interceptions. He even led the NFL in interception % in 2020 (1.0%). However, here in 2021, it's been a completely different story. Mahomes has already tossed 10 interceptions, only trailing Sam Darnold and Joe Burrow in the lead league.
A few of Mahomes' turnovers weren't entirely his fault. He's been subject to some shaky offensive line play, and his wide receivers are dropping passes at a much higher rate than Mahomes is used to. However, the former league MVP is still being quite reckless with the football.
He's chucking up deep shots into coverage left and right, and he's refusing to bail on plays even if they break down. Mahomes' intense aggressiveness under center is ultimately what's led to the 10 interceptions.
Patrick Mahomes is doubling down on his quarterback style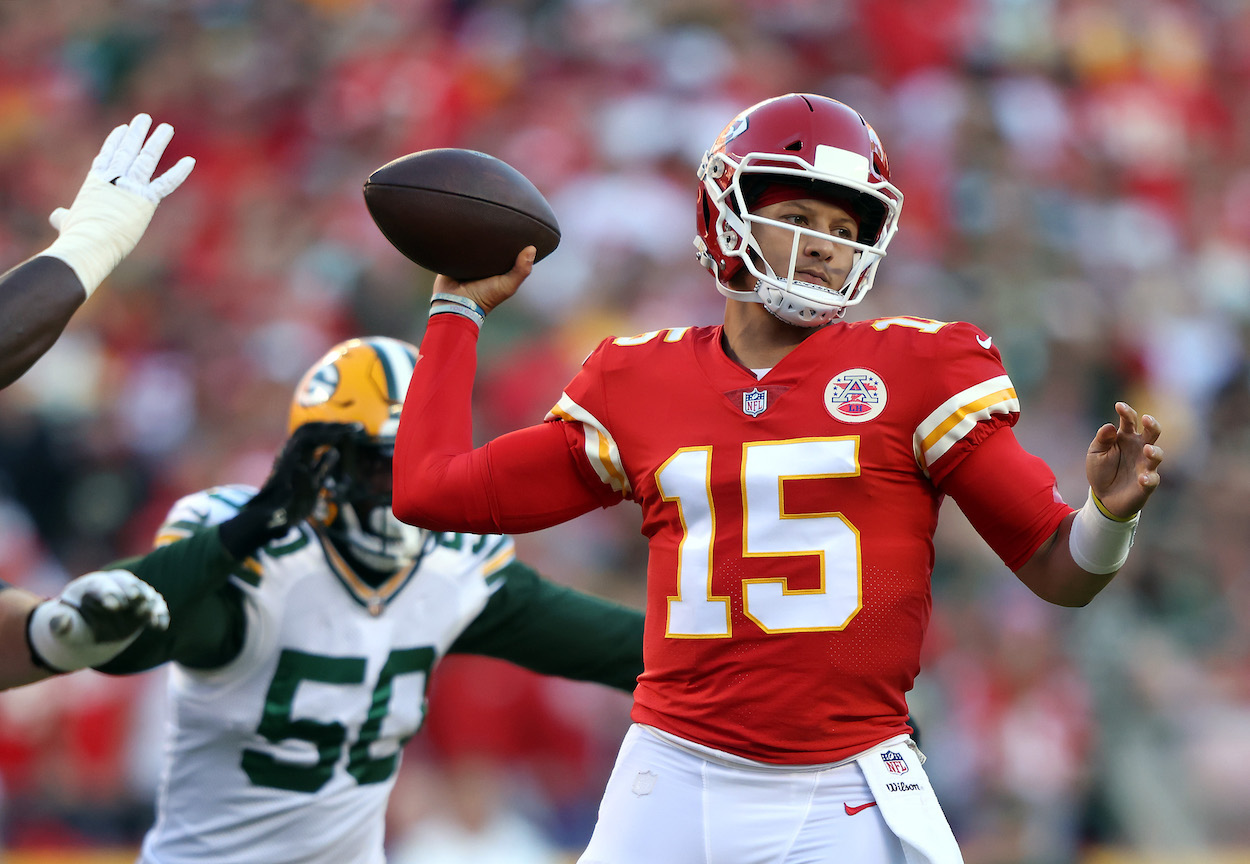 There have been calls for Mahomes to tone down his gunslinger style. However, according to the Chiefs quarterback himself, he has no plans of doing so. He's doubling down on his aggressiveness.
"I mean, I'm gonna take shots," Mahomes said. "The last few years, I've taken those shots, and they've worked. I've taken those shots, and they haven't worked (as well this season), and we've still been able to find ways to score points."
"Whenever I've got a guy with a chance to make a play downfield, I'm going to give him a chance to make a play."
Can the Chiefs save their season?
With Mahomes sticking to his roots and the NFL trade deadline having passed, the Chiefs are pretty much what they are at this point of the season. Barring a cheeky free-agent addition (Odell Beckham Jr., anyone?), the Chiefs are going to have to figure things out with the players already on their roster.
Kansas City did add veteran pass-rusher Melvin Ingram at the trade deadline. However, his presence isn't going to help the team's struggling offense.
With all of that said, it's reasonable to assume Mahomes and the Chiefs are due for some serious positive regression during the second half of the season. Even if he's looked lost at times this year, Mahomes is still an elite talent who's proven countless times he's capable of leading a championship-caliber offense.
Doubling down on his style of football is the correct play here. A few lucky bounces here or there, and the Chiefs should be in a position to make the postseason by season's end.
All stats courtesy of Pro Football Reference.