Patrick Mahomes' Endorsement Gives Him Access to a Private Jet Whenever He Wants
Patrick Mahomes is thriving in a way that few professional athletes his age are capable of. At just 24 years of age, he is already a one-time MVP, a Super Bowl Champion, a two-time Pro Bowler, and an All-Pro quarterback.
As a result of his domination on the field, Mahomes is becoming quite the pitchman for a plethora of different companies and interests. One of these deals, in particular, has Mahomes flying exceptionally high thanks to a clause in his agreement. 
Patrick Mahomes' story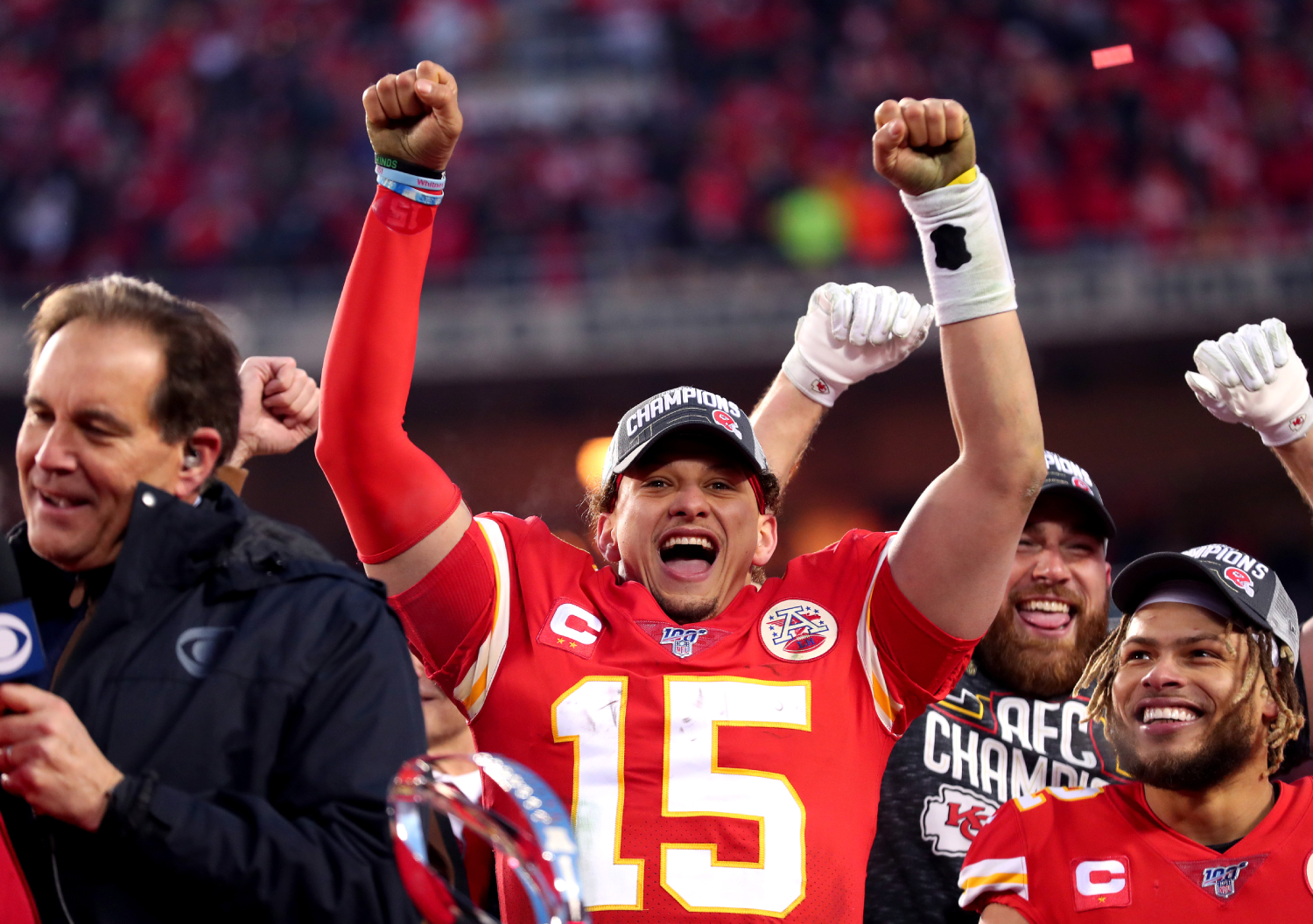 Mahomes first came into the national spotlight at Texas Tech. After spending part of his freshman season as the team's starter, Mahomes became a force to be reckoned with during his second year at the school.
He threw for 4,653 yards that year for 36 touchdowns and 15 interceptions. Then, as a Junior, Mahomes elevated his game even further, throwing for over 5,000 yards, 41 touchdowns, and 10 interceptions. A star was born.
Mahomes' dominant numbers put him on the radar for more than one team. He eventually fell to the Kansas City Chiefs with the 10th pick in the 2017 NFL Draft.
Despite his success in college, however, Mahomes had to wait before acquiring the keys that would change everything. Save for one game, Mahomes spent most of his rookie season coming off the bench behind quarterback Alex Smith. During that game and the season-long practice schedule, however, the team was given the confidence it needed to name him the starter. 
With Smith gone, Mahomes was the team's quarterback going forward. He responded immediately. Mahomes' second season was the type that even veteran superstars can only dream of.
Not only did he throw for over 5,000 yards, but he also did so with 50 touchdowns and only 12 interceptions. This made him a lock for MVP, and while the team eventually caved in the playoffs, the Mahomes show was officially on. 
Getting the keys to the team
RELATED: Patrick Mahomes' Road to the NFL May Have Gotten a Boost From Mother Nature
Mahomes started the 2019 season with lofty expectations. Although he was having a similar, albeit more subdued campaign, he was overshadowed by the rapid rise of Lamar Jackson.
Come playoff time, however, Mahomes would show why it was a mistake to forget what he had already accomplished. He finished the regular season with 4,000 yards and 26 touchdowns, but the playoffs made him special. 
With the early exit of the New England Patriots and the Baltimore Ravens, the Chiefs went through the AFC thanks to Mahomes' heroics. By the end of the big game, they had the Super Bowl trophy that eluded them the year before. Coming off such a season, Mahomes was primed to become the next big name in sports, and with it came the luxuries of holding such a title.
The perks of being a superstar
RELATED: Will the Kansas City Chiefs Sideline Chris Jones in Favor of Patrick Mahomes in Contract Negotiations?
Mahomes seems poised to sign a record-breaking contract soon worth upwards of $200 million due to his meteoric rise. On top of that, he already has an impressive portfolio of endorsement deals, according to CNBC. From Oakley to State Farm, Adidas to Procter and Gamble, Mahomes has become the poster child for a youthful NFL. 
One of his other endorsement deals, Airshare, comes with extra perks besides the money. He has access to the private jet company's airliners whenever he wants to travel as part of his deal.
Mahomes, who does not disclose his endorsement earnings, can fly in luxury while getting paid to do so, and this is all before he turns 25. 
Mahomes has had the type of career that anyone will be jealous of. On the field and off it, his resume is deeper than many people double his age, and it can only grow from here. As he does, he can travel the world in luxury while racking up new and exciting opportunities. Not bad for someone who is about to enter his third year as a starter.
Stats courtesy of Pro Football Reference and Sports Reference