Patrick Mahomes Says He's Fully Vaccinated in Order to Protect Daughter Sterling
Getting a COVID-19 vaccine has been a hot topic in the country for much of 2021, and professional athletes are not immune to those debates. People often have specific reasons as to why they did or did not get vaccinated amid the novel coronavirus pandemic, and some celebrities choose to share those reasons with the public. Chiefs QB Patrick Mahomes is one athlete who has chosen to reveal why he got vaccinated, and he gave one of the sweetest explanations that you are likely to hear.
Mahomes welcomed a baby daughter with fianceé Brittany Matthews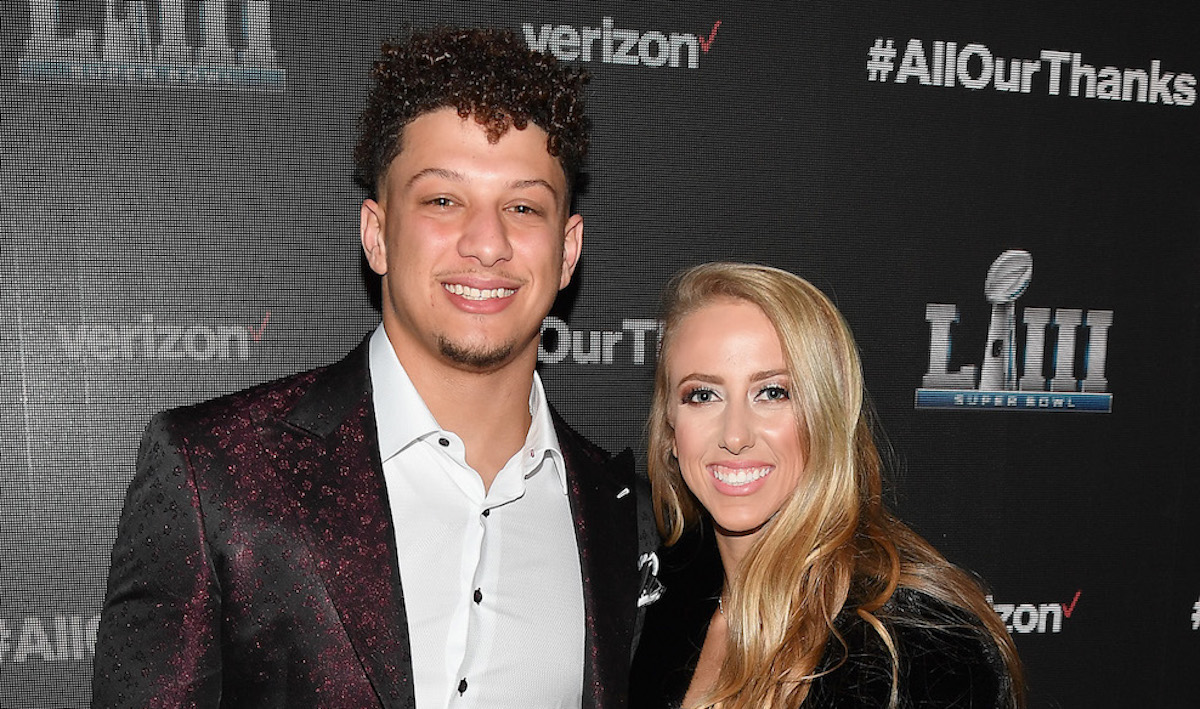 Shortly after the Super Bowl in February 2021, Mahomes and fiancée Brittany Matthews announced the birth of their daughter, as CBS Sports reported. Sterling Skye Mahomes was born on Feb. 20, and her parents introduced her to the world in an Instagram post in which her father was holding her while wearing a necklace that said "Sterling."
The proud parents were inundated with congratulatory messages on social media from family members and other celebrities, including Mahomes' teammates and players from other NFL teams. Mahomes says he has a lot to learn about being a father and gives Matthews a lot of the credit, calling her "a champ," according to The Washington Post. He also compared himself to "a cheerleader on the sideline" supporting the mother of his child.
Patrick Mahomes said he got vaccinated because of his daughter
When addressing his vaccination status with the media, Mahomes revealed not only that he was vaccinated, but also why. In April, KMBC in Kansas City reported that even though the NFL didn't require players to be vaccinated, Mahomes was fully vaccinated.
The former MVP explained that "it's a personal decision for everyone," and he made the decision that he did in order to protect his young daughter. He continued:
"With having a baby girl and knowing that I was going to be around people, I wanted to make sure I could do whatever I could to help keep her healthy."
But Mahomes knows that not everyone on his team is vaccinated, and he seems to be OK with that because, as he says, "Whatever you believe, I think you can do whatever that is."  Without everyone being vaccinated, the Chiefs will "figure out the best way to keep each other healthy by social distancing and doing whatever it is, whenever we can in this building," he said.
The vaccination rate in the NFL is impressively high
Heading into Week 1, things were looking good on the vaccination front overall for the league. According to CBS, 93.5% of players on Week 1 rosters were vaccinated, along with "more than 99% of all club personnel." The Falcons, Buccaneers, and Raiders are all fully vaccinated, and 17 teams are above the 95% threshold. In all, 27 teams have at least 90% of their players vaccinated against COVID-19, which is a good sign that the NFL can get through the season without any major outbreaks.
It's not all good news, though. The team with the lowest vaccination rate is at just 80%, and three teams are between 80% and 85%. The Colts and Vikings dealt with outbreaks among their squads during the offseason, but so far it has been relatively quiet in the early part of the regular season.
The league has announced that, unlike last year, it does not plan on rescheduling games if teams have COVID-19 outbreaks among players. Instead, teams will have to forfeit games if they cannot field a team due to COVID-19, making it crucial for teams to have as many players vaccinated as possible.
RELATED: O.J. Simpson Delivers a Strong Message for Cole Beasley and Other Anti-Vaccine Players: 'Don't Play'