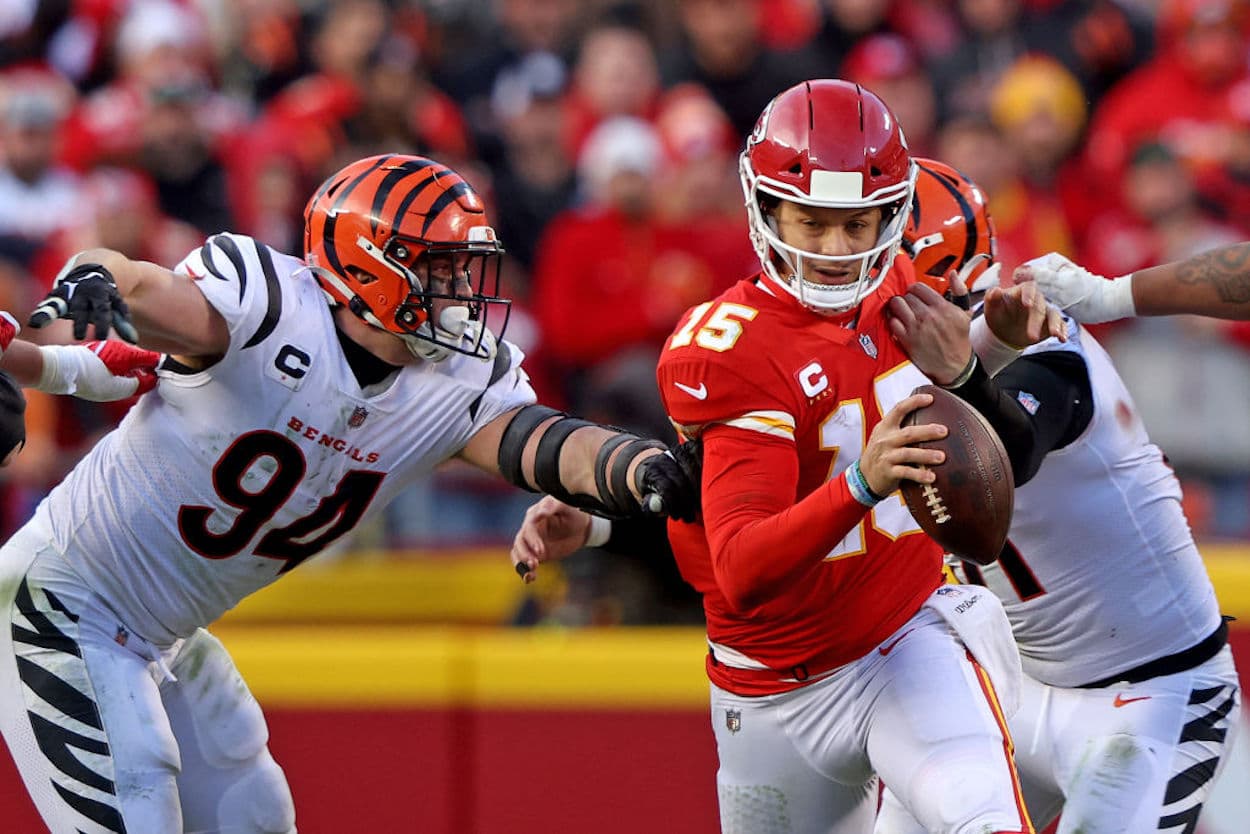 Patrick Mahomes Hopes to Turn the 'Worst Playoff Football' of His Career Into a Positive Ahead of a Challenging Chiefs Season
Patrick Mahomes is already an elite quarterback, but he's still hoping that a painful defeat can make him even better.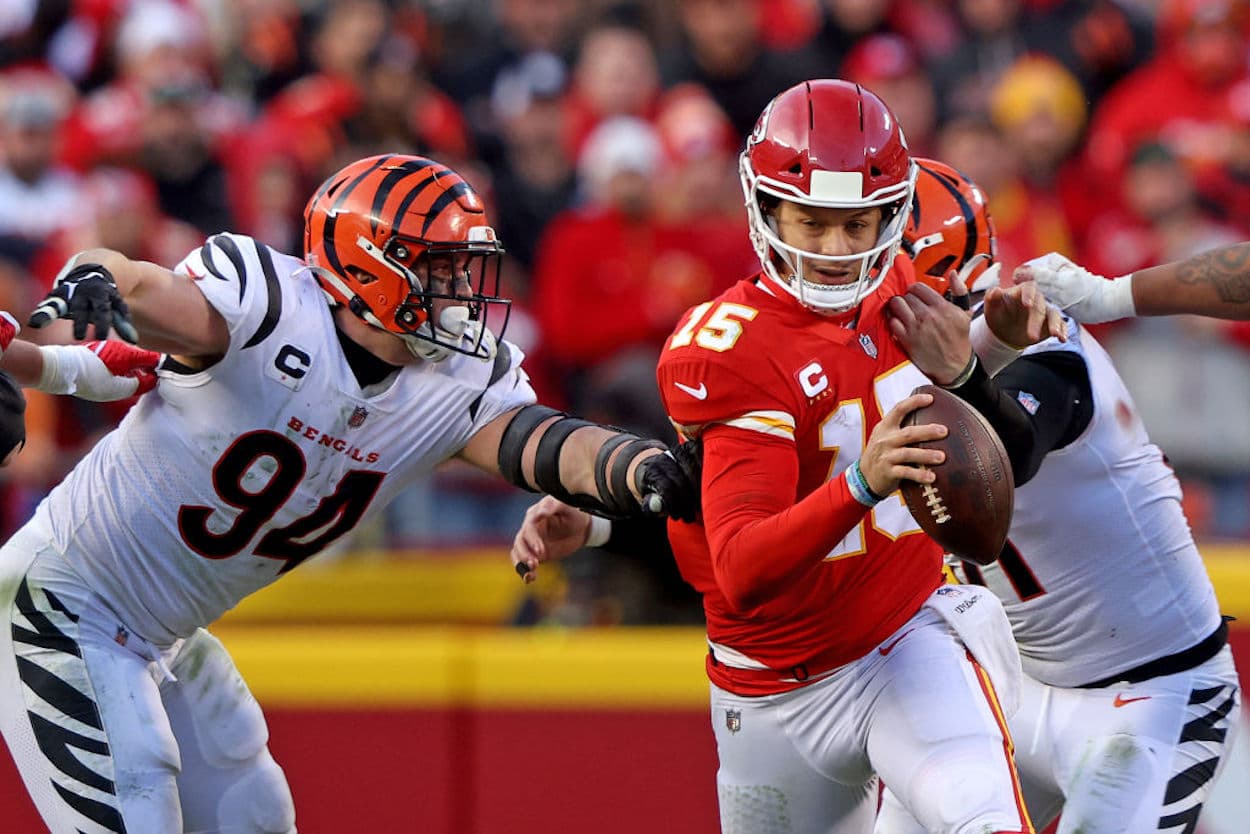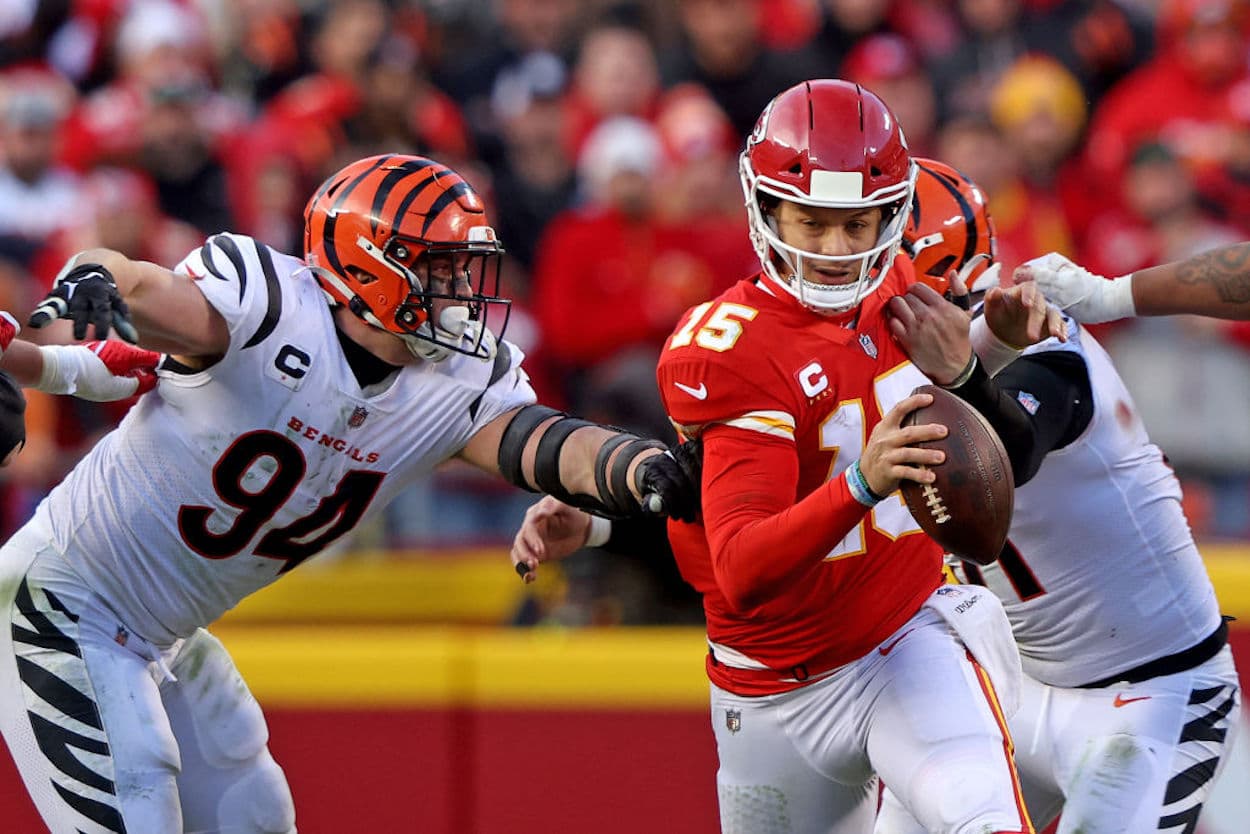 For the most part, professional athletes try to avoid getting too candid about their shortcomings. While there's some value to taking accountability, especially when everyone just saw the collapse with their own eyes, it usually isn't worth it to get into all the gory details. Patrick Mahomes, however, isn't pulling any punches.
As Kansas City Chiefs fans will remember, the team collapsed during the second half of the AFC Championship. Mahomes was at the center of that, struggling to move the chains, let alone orchestrate a win.
With the benefit of hindsight, the quarterback has a bit more perspective on the defeat. While he's admitting that the second half was some of the "worst" playoff football he's ever played, Mahomes hopes to turn it into a positive.
Patrick Mahomes got candid about the Chiefs' AFC Championship defeat
For full disclosure, I was in Arrowhead Stadium in January when the Chiefs fell to the Bengals. On the way out of the parking lot that evening, I remember how dispirited the collective crowd was. Fans on the radio call-in show were discussing disappointment, failures, and the end of a dynasty that never got off the ground.
Unsurprisingly, Patrick Mahomes doesn't have a rosy memory of that night, either.
"That second half I played, I didn't play really good football at all," the quarterback explained, according to ProFootballTalk. "Probably my worst playoff football I've played was the second half of the game."
While just about everyone will remember the performance in question, the numbers do back up what Mahomes said. After lighting up the scoreboard in the first half, KC only posted 35 yards and two first downs across the first five drives of the second half. When the game was on the line, Andy Reid's explosive unit simply couldn't deliver, only mustering a single field goal; his star player posted a 1.4 ESPN Total QBR in the second half and overtime.
With all of that being said, though, the Chiefs signal-caller is hoping that the experience can help him avoid a repeat performance during crunch time.
"So I'm just trying to use that as a learning thing that whenever I'm struggling or a team's struggling, just find a way to get positive plays, because when you have a lead like that, you don't want to lose that lead," Mahomes continued. "We played such a great first half, even if we weren't getting what we wanted in the second half, I have to get better at taking what's there to try to get some points on the board, come away and get to the Super Bowl."
The 2022 NFL season will be a new test for Mahomes and his Chiefs
If you're feeling cynical, you could argue that Mahomes' comments are nothing more than PR. The loss to Cincinnati was potentially a career-defining moment, and he can't sweep it under the rug. This fall, though, we'll be able to see if he's spouting cliches or actually learning from the experience.
As you've surely heard, Tyreek Hill has left Kansas City for Miami. While there's room to argue that the Chiefs needed to make that move, it will undeniably rob Mahomes of one of his most reliable weapons. Can a group effort from Travis Kelce, Mecole Hardman, JuJu Smith-Schuster, and Marquez Valdes-Scantling shoulder the collective load and keep the offense rolling?
In theory, elite quarterbacks can elevate their receiving corps. One of the biggest feathers in Tom Brady's cap, for example, was his ability to post impressive numbers no matter who Bill Belichick cycled through Foxborough. We know that Mahomes has arm strength to spare, but now he'll have a different opportunity with a bigger, more balanced offensive unit.
Things will be further complicated by the overall quality of the AFC. Beyond Buffalo and Cincinnati, who are obvious threats, the Raiders, Chargers, and Broncos have all improved. Facing Lamar Jackson is still a scary proposition, and, despite their postseason failings, the Titans aren't going to suddenly fall off a cliff. Combine that with one of the toughest schedules in the entire NFL, and Patrick Mahomes will need to be at his best in 2022.
Only time will tell if he's up for the challenge.
Like Sportscasting on Facebook. Follow us on Twitter @sportscasting19 and subscribe to our YouTube channel.