Patrick Mahomes Idolized Alex Rodriguez as a Kid, According to His Mom Randi Martin: 'He Thought He Was Alex'
Patrick Mahomes is one of the best and brightest young NFL players. As a high-ranking quarterback for the Kansas City Chiefs, Mahomes burst onto the scene in 2017 when he entered the NFL Draft and was the Chiefs' 10th overall selection. In Super Bowl LIV, Mahomes earned Super Bowl MVP honors for his performance, the second Black quarterback ever to take home the award.
Mahomes is also a beloved figure on social media and in pop culture, with many fans relating to his sense of humor and outspoken personality. But as much as he inspires others, Mahomes has his own athlete obsession. He idolizes the former baseball heavy-hitter Alex Rodriguez.
Patrick Mahomes' obsession with Alex Rodriguez began through his father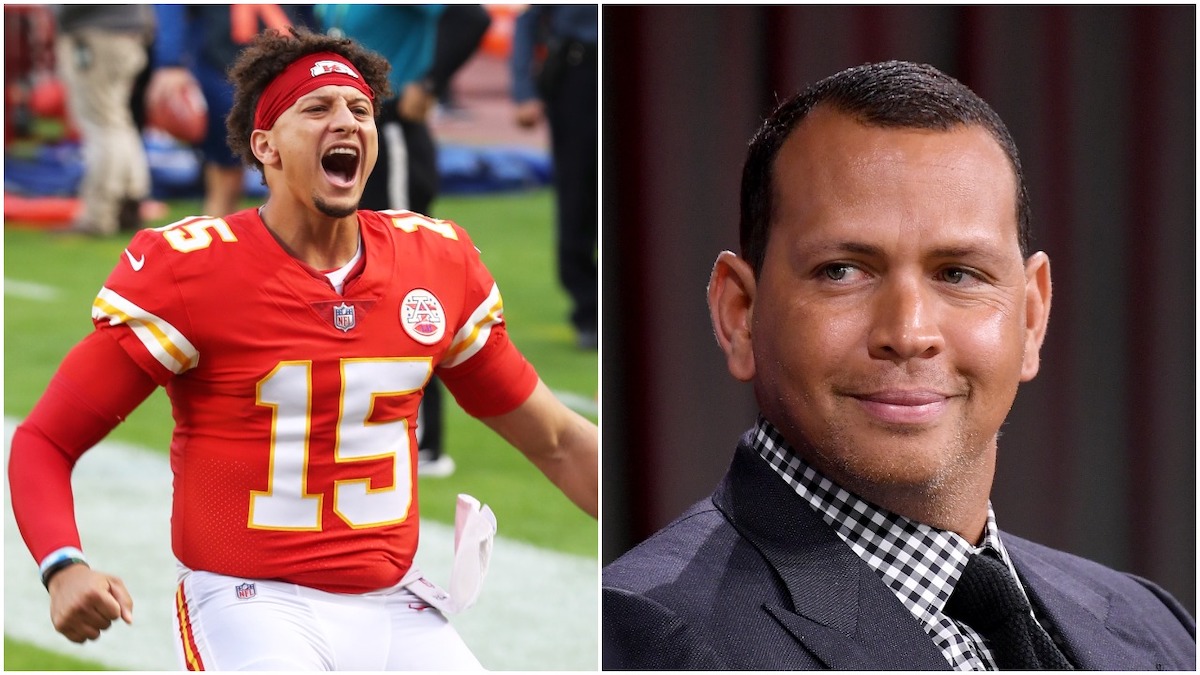 Mahomes isn't the first person in his family to make an impression in professional sports.
His father, Pat Mahomes, was an MLB pitcher for many years, playing for the Boston Red Sox and Texas Rangers. During his stint with the Rangers, he was teammates with Alex Rodriguez, then a young up-and-comer.
According to Insider, Patrick Mahomes began hanging out with his father on the baseball diamond when he was a toddler and quickly became obsessed with Rodriguez.
Though the senior Mahomes and Rodriguez eventually moved on to other teams, the impression that A.Rod had made on young Patrick was indelible.
What did Patrick Mahomes' mother say about her son's love for A.Rod?
Patrick Mahomes took every opportunity to channel his icon as he was growing up. Mahomes' mother, Randi, even detailed how her son dressed up as Rodriguez one year for Halloween, using a pair of his batting gloves, his bat, and his sunglasses to craft the perfect A.Rod-inspired outfit.
"He thought he was Alex," Randi Mahomes recalls, admitting that the rest of the year, Mahomes wore the shortstop's number, 13, on all of his jerseys.
What advice did Rodriguez give young Patrick?
As Mahomes matured, he found himself drawn to football as much as baseball, the sport he had grown up knowing. And as a teenager, Mahomes was uncertain which of the two sports he should pursue. At one point, he even chatted with Rodriguez about what he should do.
A.Rod later revealed that he told a young Mahomes not to even consider a career in football.
"I said, 'Now listen to me. If you don't hear one thing that I ever tell you, you better listen to this,'" Rodriguez recalled. "There is no money, there is no future, there is no history in football. You have to play baseball!' Well, he reminded me of that recently, and, boy, am I glad he did not listen to me!"
Rodriguez noted that he saw great things ahead for Mahomes in baseball. But clearly, the young man felt a stronger pull toward football.
In the years since Mahomes became a newly minted NFL star, many things have changed in his personal life, and he has become successful beyond his wildest dreams. But it seems likely he'll retain the same admiration for his childhood hero.
RELATED: Patrick Mahomes Is Arguably the Best Player in the NFL, but He Might Be Even More Skilled at Another Surprising Sport