Patrick Mahomes Is Complicating Russell Wilson's Chase for NFL MVP
It's difficult to feel sorry for a professional athlete who will make something north of $31 million for the current NFL season. Money aside, Russell Wilson has single handedly taken a mediocre Seattle Seahawks franchise and led it to eight consecutive winning seasons since 2012 (not including 2020). Add to that achievement to 755 career rushing yards, plus two Super Bowl appearances, with a win in Super Bowl 48.
With 92 victories and some hardware, including NFL Rookie of the Year, the regular-season MVP has eluded the former University of Wisconsin (by way of North Carolina State) star. In his eight years as a signal-caller for Seattle, Wilson has never received a single vote for MVP. In 2017, Wilson led the NFL with 34 touchdowns, and in 2016 he led the league with an average of 293 passing yards per game. In 2016, Wilson lost to Matt Ryan of the Falcons, and in 2017, Tom Brady won the coveted award. In 2020, it might be Patrick Mahomes stealing the NFL MVP award away in what is shaping up to be a fine season for Russell Wilson.
Russell Wilson may finally be named MVP
So far, in 2020, Wilson is off to a great start, leading the NFL in touchdown passes and quarterback rating. With 260 yards rushing, and a comeback win against the Vikings, which  marked Russ's 34th come from behind win in 148 regular-season games, it is impossible to think what the Seahawks would be without No. 3 under center.
Wilson's teammates agree it's time for their QB to win an MVP award.
"Just look at his stats," Seahawks wide receiver DK Metcalf said when asked about Wilson's case for MVP, according to ESPN. "He's thrown for 300-plus yards, I think in every game. He has a boatload of touchdowns. He only has two picks — I'm sorry for one of them that he threw today. But his stats speak for themselves."
Make no mistake about it, though. Even with all his success, Russell Wilson wants to win the award.
"I don't want a vote," Wilson said earlier this season, according to ESPN. "I think more importantly, I want to win. Obviously, MVP is a special award."
Not so fast — there's this guy Patrick Mahomes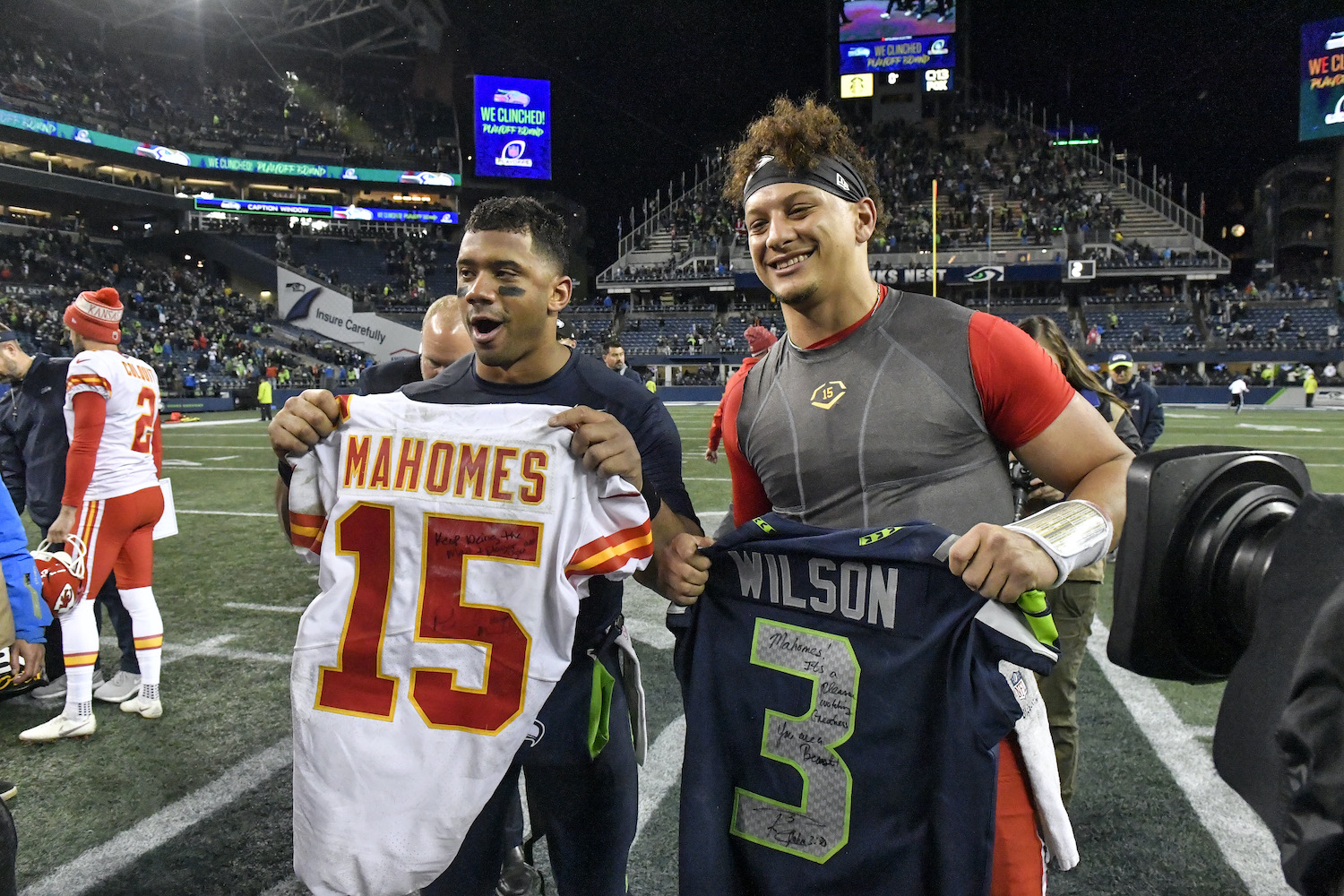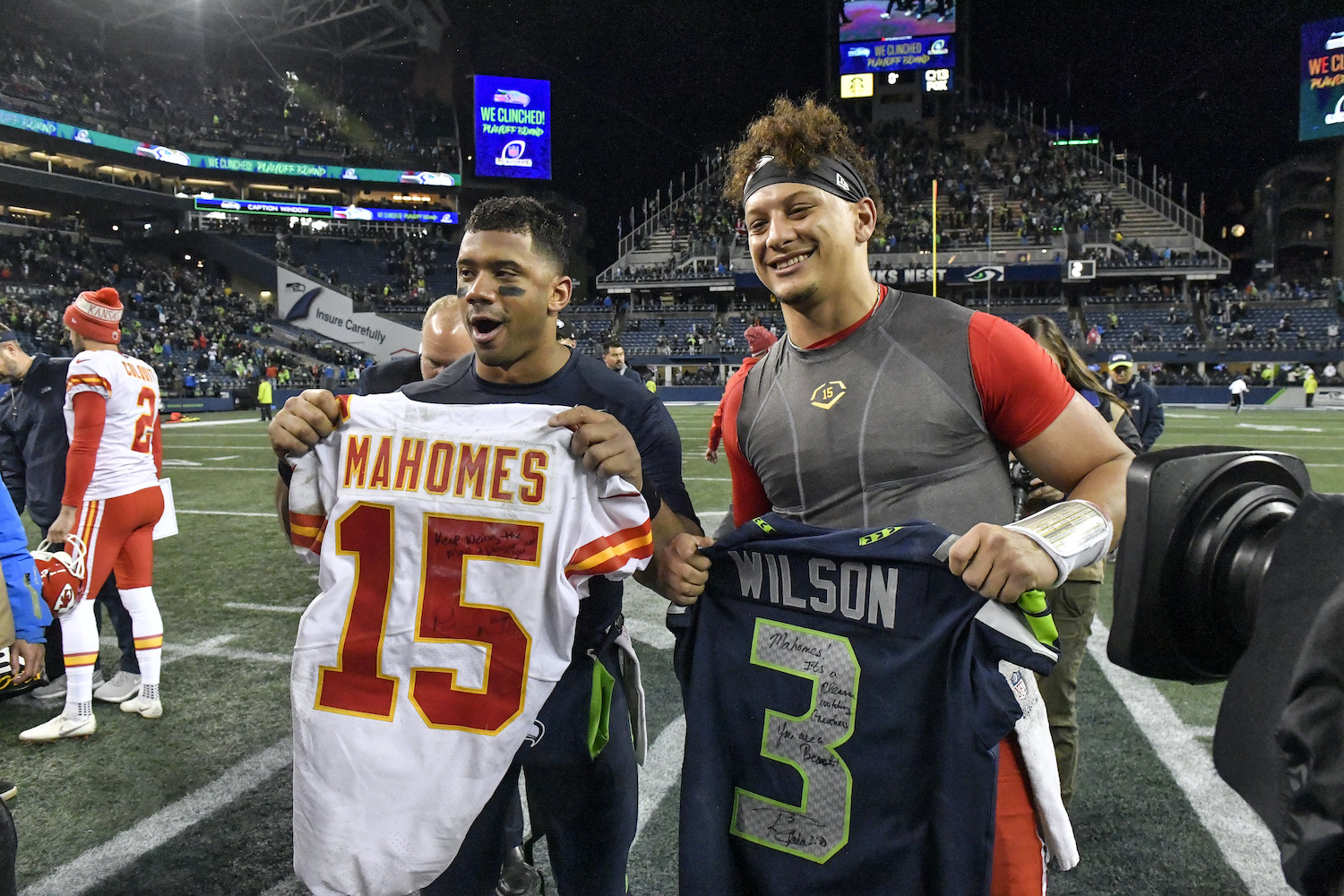 There isn't much of a chance that the 2019 MVP winner Lamar Jackson will stand in the way of Russell Wilson's MVP quest. Jackson's performance is down from his standout 2019 season, and his QB rating sits below 100. Barring a dramatic turnaround, the former Heisman Trophy winner will have to wait another season to get a shot at his second NFL MVP trophy.
But then there's Patrick Mahomes, the 2018 MVP winner. The Kansas City Chiefs quarterback has had a better year than he did when he won the top award. With half of the season completed, Mahomes has 21 touchdown passes with only one interception. He has the league's highest quarterback rating and has the NFL's highest net yards per pass attempt. Add to that 165 yards rushing with two TDs, and you have a serious contender for an MVP repeat.
"If Mahomes continues to play ball at this level, there's no stopping the Chiefs from potentially winning back-to-back Super Bowl titles," Fansided author 's Braulio Perez writes. "And when it comes time to vote for MVP, Mahomes needs to be in the conversation, no doubt about that."
The odds are still in Russell Wilson's favor
At the halfway point in the NFL season, Wilson is the man to beat for the MVP title. According to Oddshark, Russell Wilson is far and away the leader at -190 (which means you would have to bet $190 to make $100). Second is Mahomes at +300 (if you bet $100 on Mahomes, you would win $300), followed by Tom Brady and Aaron Rogers.
Another consideration is value to the team, which is the actual telling of a player's value. For example, in 2019, Mike Trout of the Angels won the MVP award in Major League Baseball's American League. The Angels were 72-90, but without Trout, the team most likely would have lost more than 100 games. The same goes for Wilson and the Seahawks versus Mahomes and the Chiefs.
Mahomes has an embarrassment of riches with Travis Kelce and Tyreek Hill at wide receiver and Clyde Edwards-Helaire at running back while Wilson has DK Metcalf and Tyler Lockett but no running back around in the top 25. When it comes to team value, Mahomes is outstanding, but Wilson, four inches shorter than his Chiefs counterpart, stands head and shoulders above the crowd.All odds courtesy of Oddshark as of Nov. 4, 2020