Patrick Mahomes is the First NFL QB Achieve This 1 Amazing Stat
In his short time in the league, Kansas City Chiefs quarterback Patrick Mahomes has quickly become one of the best talents behind his phenomenal play on the field. With an MVP award under his belt after his first full year as a starter, Mahomes has continued to improve and set jaw-dropping records along the way.
Patrick Mahomes' breakout 2018 campaign
In the months prior to the 2018 season, the Chiefs made the franchise-changing decision to move on from Pro Bowl quarterback Alex Smith by trading him to the Washington Redskins in a blockbuster deal.
This set the table for Mahomes to grab the starting job in his second season while it demonstrated a great deal of confidence from the organization in his ability on the field. In essence, Kansas City was handing the keys to the franchise over to a quarterback who they traded up 17 spots in the first round to snag him at the 10th overall pick.
The risk has certainly paid off tenfold as Mahomes put together a magical 2018 campaign as he passed for a league-best 50 touchdowns along with recording 5,097 passing yards on 66% completion percentage while holding a 113.8 passer rating.
Patrick Mahomes' MVP award and postseason
Mahomes' impressive 2018 season earned him a landslide win for the MVP award as he garnered 41 of the possible 50 votes, with the other nine going to New Orleans Saints quarterback Drew Brees. His breakout year saw him join future Hall of Famers Peyton Manning and Tom Brady as the only players to record 50 or more touchdown passes in a single season.
He reached other impressive feats last year, such as becoming the youngest to throw six touchdowns in a single game. Mahomes was also the first to notch more than 3,000 yards in his first 10 games of a season and the fastest to reach 4,000 in just 13 games.
Mahomes carried that success into the playoffs as he totaled 593 passing yards with three touchdowns on 59.7 percent completion rate with a 98.9 passer rating. The Chiefs may have come up short in the AFC title game against the New England Patriots, but he was huge in the second half recording three touchdown passes that forced overtime where he didn't get a chance to touch the ball.
Patrick Mahomes sets historic feat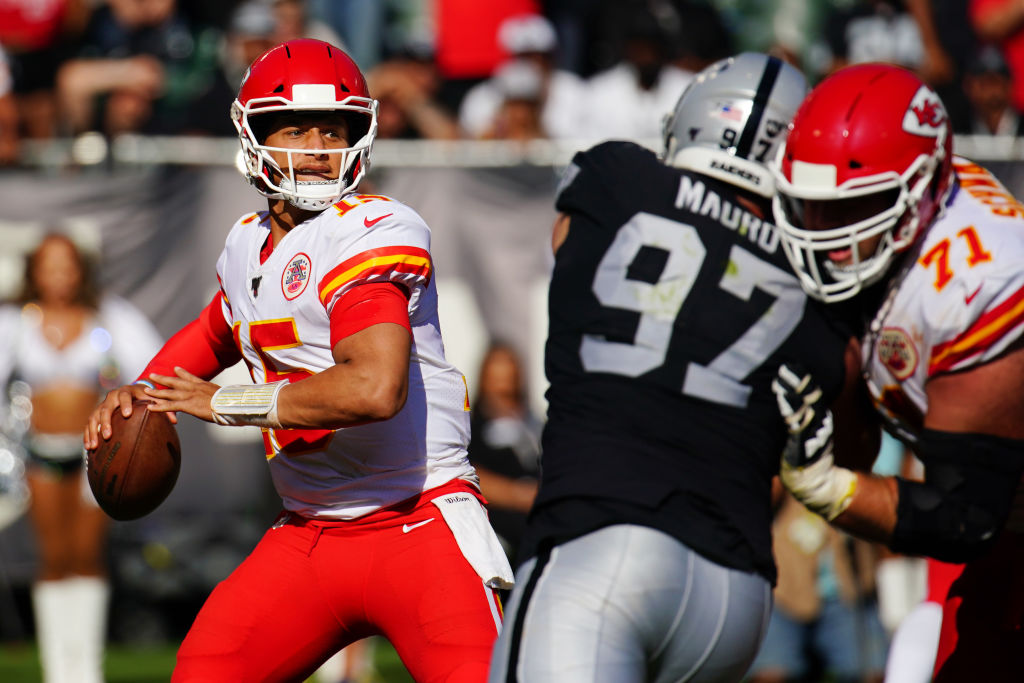 Mahomes has become quite familiar with the NFL record books over the last year. His ridiculous start to the 2019 season has helped him achieve another impressive historic feat.
Following a stellar performance in the 28-10 win over the Oakland Raiders, Mahomes put himself in a category that no quarterback has ever reached before in league history, according to Michael David Smith of Pro Football Talk.
Mahomes had 443 yards and four touchdowns in Sunday's win over the Raiders, the sixth time in his 19-game career that he had at least 300 yards and four touchdowns.

Prior to Mahomes, no quarterback had ever thrown for 300 yards and four touchdowns six times in the first 40 games of his career.


The 24-year-old has been on an increasingly impressive start to his NFL career behind his arm that should erase any doubt about choosing football over baseball.
Expectations for Patrick Mahomes and the Chiefs in 2019
Coming off a trip to the AFC Championship game, the Chiefs have their sights set high on contending for Super Bowl 54. Kansas City has sped off to a quick start behind the stellar play of Mahomes, who has 821 passing yards on a 71.4 percent completion rate and seven touchdowns.
This has him on pace to put up even more ridiculous numbers with 6,568 passing yards and 56 touchdown passes. Mahomes will likely fall notably short of that, but it only further underlines the incredible start he has been off to in 2019.
Beyond that, the Chiefs should once again be among the top teams in the NFL as a legitimate Super Bowl contender. All of this may simply lie on Mahomes' shoulders to push them over the top in the playoffs.