Patrick Mahomes Needs to Call Larry Fitzgerald and Try to Go Ring-Hunting Together
Kansas City Chiefs quarterback Patrick Mahomes and longtime Arizona Cardinals receiver Larry Fitzgerald have plenty in common beyond both being NFL players. And both having signature hairstyles that are as iconic as their play styles, of course.
The two have appeared on the Madden cover and will likely find themselves in the Pro Football Hall of Fame one day. For Fitzgerald, that enshrinement ceremony could come in the coming years — unless, of course, he wants to hold off retirement to join Mahomes and the Chiefs.
Mahomes needs the Chiefs to gauge Fitzgerald's interest in playing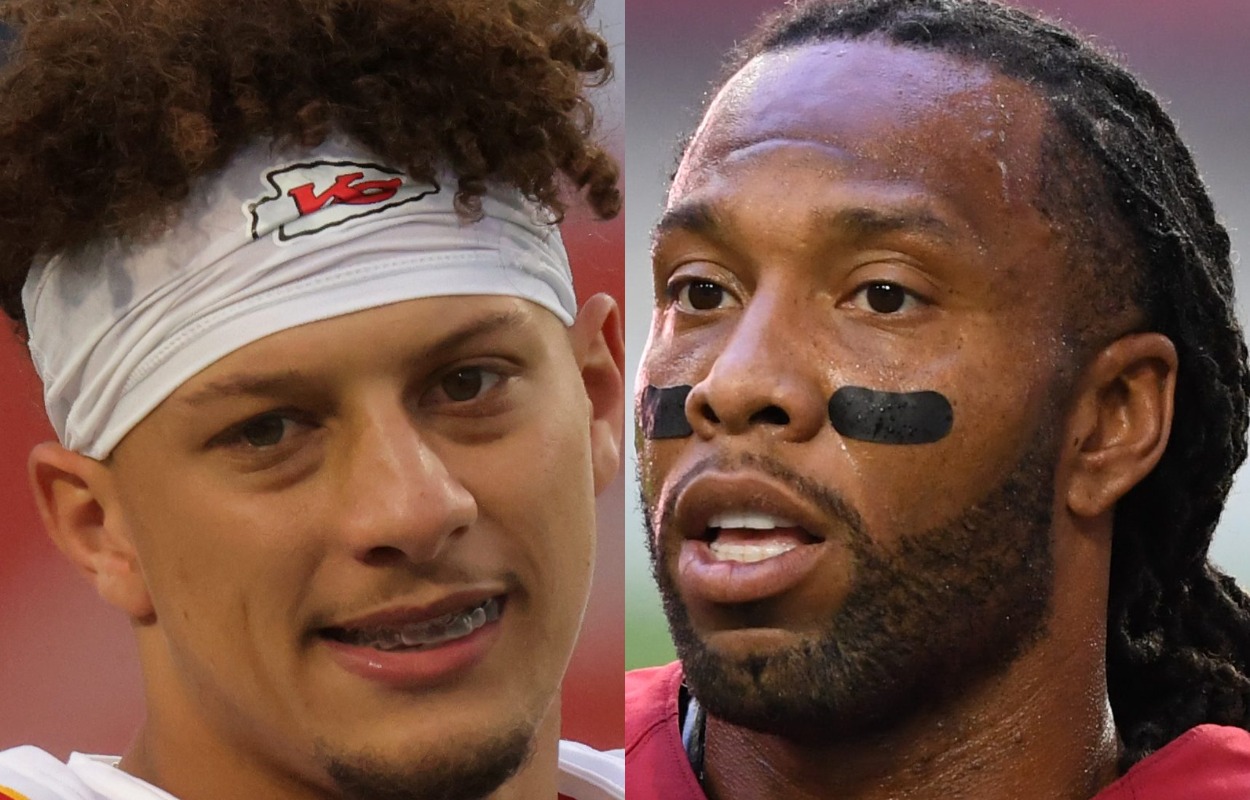 An offense with Mahomes at quarterback, Tyreek Hill at receiver, and Travis Kelce starting at tight end certainly doesn't need more weapons, right? That noise you hear is fans of the Broncos, Chargers, and Raiders rapidly nodding in agreement.
Well, here's an idea. What if the Chiefs added Fitzgerald, the 11-time Pro Bowl receiver and Cardinals legend? The veteran wideout turns 38 in October and hadn't retired as of publication.
According to Over the Cap, the Chiefs had nearly $8 million in salary-cap space as of June 26, 2021. If Fitzgerald wants to keep playing in hopes of winning a Super Bowl ring, he's the type of veteran who would likely happily accept playing for the minimum or signing an incentive-laden deal.
As of publication, Fitzgerald had not been credibly linked to Mahomes and the Chiefs. But the thought is certainly an interesting one, especially with the future Hall of Famer nearing the end of his career.
Fitzgerald would be a perfect rotational receiver for the Chiefs
When the Arizona Cardinals acquired DeAndre Hopkins in the spring of 2020, it all but signaled the end of Fitzgerald's tenure as the Cardinals' top receiver. Indeed, the Cardinals legend had career-lows in catches (54), receiving yards (409), and touchdowns (one) in 13 games last year.
But while he's getting older and slower, Fitzgerald still has incredible hands and awareness. He only dropped a single pass last season and remained in excellent shape despite his age. If he intends to play in 2021, he will not do so without giving his absolute best effort.
Such a player is exactly what Mahomes and the Chiefs need on offense, especially on a cheap salary. So what do they lose by adding a veteran receiver with exceptional catching abilities and who wouldn't need to be anything more than a rotational target?
Even at this stage in his career, Fitzgerald is a better backup receiver than Byron Pringle (13 catches for 160 yards and a touchdown in 13 games last year) and Antonio Callaway, the former fourth-round pick who has served multiple suspensions for violating the league's substance-abuse policies.
Will Fitzgerald ever play in the NFL again?
If Fitzgerald isn't catching passes for Mahomes and the Chiefs this fall, one must wonder if he'll even be on an NFL roster.
Although the Cardinals appear to have moved on, some — including ProFootballTalk founder Mike Florio — have suggested the Minnesota Vikings sign Fitzgerald. The former All-Pro grew up in Minneapolis, and his father, Larry Sr., is a longtime sportswriter in the area.
It is always possible that Fitzgerald could remain a free agent and join a team closer to the postseason. However, teams would likely prefer adding younger receivers, particularly if they're seeking someone with speed.
Fitzgerald is all but guaranteed to enter the Hall of Fame before the decade ends. It might be up to Mahomes to see if the legendary receiver wants to try having a Super Bowl ring on his resume before all is said and done.
Like Sportscasting on Facebook. Follow us on Twitter @sportscasting19.