Patrick Mahomes' Latest Bold Declaration Shouldn't Reassure the Rightfully Panicking Chiefs Fans
Article Highlights:
Patrick Mahomes isn't feeling pressured by the Chiefs' recent defensive struggles
The Chiefs started 2-3 and are allowing a league-high 32.6 points per game
Chiefs fans shouldn't feel reassured by Mahomes' faith in the offense
Patrick Mahomes and the Kansas City Chiefs are in an unfamiliar position, at least for those who have been around during the Andy Reid era.
Of course, an inconsistent offense and a leaky defense are an unwelcome and nostalgic feeling for those who watched the team struggle through Herm Edwards' and Todd Haley's head coaching tenures.
At 2-3 and in last place in the AFC West, the Chiefs are teetering on entering desperation mode. Not that Mahomes, the 2018 NFL MVP, wants people to panic just yet.
Patrick Mahomes said he doesn't feel the offense needs to carry the defense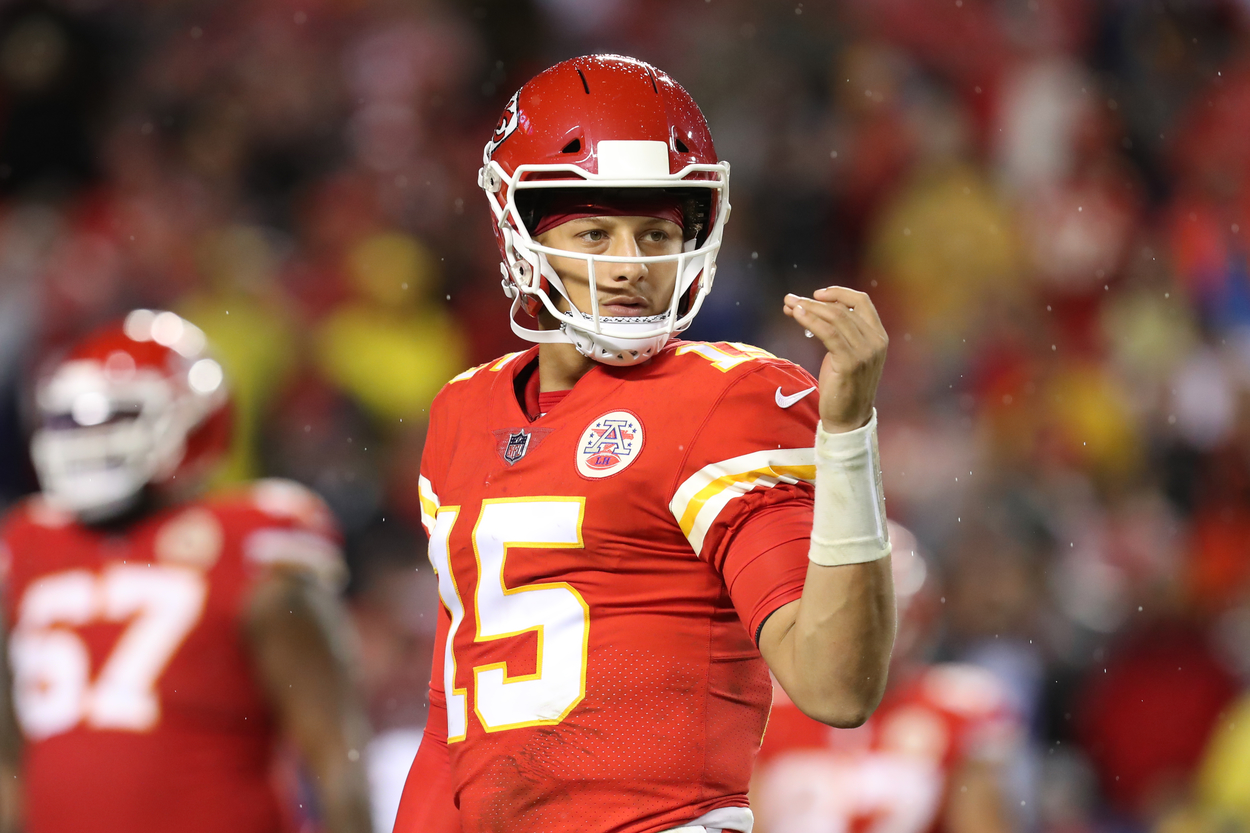 The 2021 Kansas City Chiefs averaged 30.8 points in their first five games, which is good news. However, the two-time defending AFC champions also allowed a league-high 32.6 points per game and have allowed over 430 yards of total offense four times this year.
Teams outscored the Chiefs 163-154 over the season's first five weeks. Compare that to 2020, when Mahomes and the Chiefs' high-octane offense outscored opponents 149-110.
According to ProFootballTalk, Mahomes recently dismissed the idea that the offense needs to carry the Chiefs' defense going forward. The three-time Pro Bowl selection had an NFL-high 16 passing touchdowns through five weeks of play.
"We try to score every single time we touch the football. That's how it's been my entire career here, and that was the precedent that was set before I even started here. … It has nothing to do with whatever is happening on the other side of the ball. It's just our job as an offense on this team."

Patrick Mahomes
Mahomes is trying to look at things calmly and rationally. Good luck convincing Chiefs fans — and anyone bold enough to start Kansas City's defense in fantasy — to have the same outlook.
Mahomes' declaration shouldn't reassure Chiefs fans at all
The reality of the NFL is that a great defense can carry a mediocre or underperforming quarterback. The 2000 Baltimore Ravens famously did it with Trent Dilfer en route to winning the first Super Bowl title in franchise history.
It is far more difficult for a great quarterback to carry a mediocre or underperforming defense. Those are the teams that find themselves in 37-34 shootouts where, analytics aside, it comes down to one clutch throw and one missed read. Elite defenses like Ray Lewis and those 2000 Ravens could get away with flexing their muscles on defense in a 12-0 or 15-10 win.
Mahomes' desire to score "every single time" he touches the football is only reassuring for those who have him in fantasy football or took the over. It won't help the Chiefs keep opposing quarterbacks from averaging 296 yards per game against them.
If the Texas Tech Product was trying to help fans feel more confident, he certainly fell short in that area. The truth is that he will need to try carrying the Chiefs' defense going forward, especially with a challenging schedule ahead.
Mahomes' recent rash of turnovers isn't helping the Chiefs, either
If Mahomes wants to avoid missing the playoffs for the first time as an NFL starter, he needs to do everything in his power to keep the Chiefs in games. In years past, that'd be as trustworthy as watching Cris Collinsworth slide into the NBC broadcast booth.
Collinsworth is happily sliding while Mahomes looks human. He's already matched last season's interception total with six through the season's first five weeks. He's thrown interceptions in four straight games for the first time since 2018, his first season as a starting quarterback.
The Chiefs are entering a pivotal three-game stretch against the Washington Football Team, Tennessee Titans, and the New York Giants, teams that entered Week 6 with a combined 6-9 record. Although Mahomes hasn't yet faced Washington or the Giants, he went 36-of-50 for 446 yards, three touchdowns, and no interceptions in a 35-32 loss to the Titans on Nov. 10, 2019.
Mahomes threw another three touchdowns and ran for a score when the two rematched in that year's AFC Championship Game. Kansas City won 35-24 and defeated the San Francisco 49ers two weeks later in Super Bowl 54.
Mahomes and these Chiefs have a lot to accomplish before they can even think of a third straight Super Bowl appearance. If the star quarterback can limit his interceptions and win all three games of a Week 9 matchup with Aaron Rodgers and the Green Bay Packers, we can get back to understandably imagining him holding the Lombardi Trophy in February.
Like Sportscasting on Facebook. Follow us on Twitter @sportscasting19.
RELATED: The Kansas City Chiefs' Defense Is So Bad, Some Fans Are Shockingly Trying to Fix the Unbearable Problem Themselves Before It Ends in Disaster