Patrick Mahomes Made Chiefs History After Brittany Matthews' Stepfather Died at Arrowhead Stadium the Same Day
Patrick Mahomes has made a ton of great memories at Arrowhead Stadium with the Kansas City Chiefs. However, not all of his memories have been great ones. Mahomes has already broken a ton of records in his NFL career, but soon after breaking a Chiefs record in 2018, Mahomes learned of the death of his now-fiancée Brittany Matthews' stepfather, who died at Arrowhead Stadium that same day.
Patrick Mahomes has become a superstar with the Kansas City Chiefs
After sitting behind Alex Smith during his rookie season with the Kansas City Chiefs in 2017, Patrick Mahomes became the team's starter in 2018. He took the league by storm, too.
Mahomes threw for an incredible 5,097 yards and a league-leading 50 touchdown passes. This led to him earning Pro Bowl and First-Team All-Pro honors, and he also won the league MVP award. The Chiefs became an excellent team with Mahomes that year, too, as they went 12-4 and went all the way to the AFC Championship Game.
Mahomes then missed a couple of games in 2019, so his numbers weren't as great. He threw for 4,031 yards, 26 touchdowns, and five interceptions. He still, however, earned Pro Bowl honors. In the postseason, though, he proved just how great he really is, as he threw for 901 yards, 10 touchdowns, and two interceptions in three games and ultimately led the Chiefs to a Super Bowl title.
Mahomes then continued to become a superstar in 2020. He earned his third consecutive Pro Bowl selection and went 14-1 in the 15 games he played in during the regular season. He also threw for 4,740 yards, 38 touchdowns, and six interceptions, and ultimately led the Chiefs to a second consecutive Super Bowl appearance.
Mahomes has quickly become the face of the NFL. His elite play has ultimately helped him break some records, too.
Patrick Mahomes broke a Kansas City Chiefs record in 2018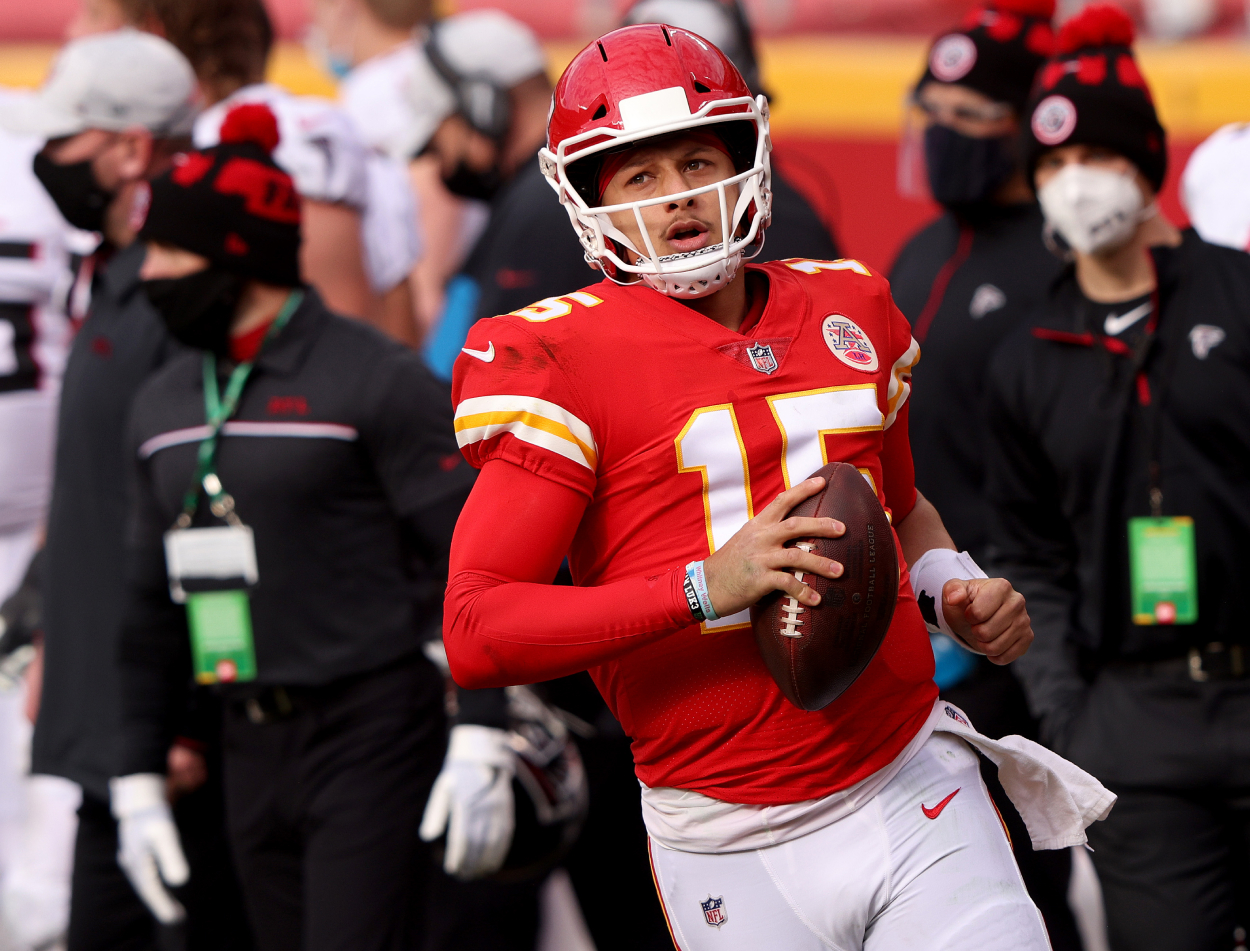 The 2018 regular season was a magical one for Mahomes. His 50 total touchdown passes ultimately tied Tom Brady for second in NFL history in touchdown passes thrown in a single season. The two of them only trail Peyton Manning, who threw for 55 with the Denver Broncos in 2013.
Just 10 games into the season that year, though, Mahomes broke the Chiefs single-season franchise record for touchdown passes.
Len Dawson previously held the record with the 30 he threw for in 1964. However, in a Week 10 win over the Arizona Cardinals, Mahomes threw his 31st touchdown pass of the season to break the record. He has since surpassed that mark again with the 38 TD passes he threw for in 2020.
However, that same day he broke that record, he also had to deal with a horrible tragedy.
Brittany Matthews' stepfather died at Arrowhead Stadium
Following the 2018 game against the Cardinals, Mahomes had to skip his press conference after learning that his now-fiancée Brittany Matthews' stepfather had died at Arrowhead Stadium.
According to CBS Sports, Paul Massey was at the game with Mahomes' father when he reportedly collapsed outside of the stadium. He then later sadly died, as paramedics came quickly but could not revive him.
"Today is a day I will never forget! Directly after this picture I sprinted to the front entrance to see my step dad passed out! He did not come back from this and he was called to heaven today," Matthews posted on Instagram in 2018. "I KNOW 100% he is so happy up there with his kids looking down on us cheering loud that his chiefs won today! Thank you everyone for the prayers and sweet text! We will miss you Paul So So So Much! I will take care of mom for you!"
Mahomes then spoke to the media later that week.
"I actually didn't know about it until after the game," he said, according to The Kansas City Star. "Coach [Andy] Reid actually told me in the tunnel after the game, and it was shocking. He was a great man, and he was a great stepdad for Brittany."
Patrick Mahomes has had some great memories at Arrowhead Stadium. However, that tragic day is probably one that he will sadly never forget.
Stats courtesy of Pro Football Reference