Patrick Mahomes Needs the Chiefs to Get Creative and Desperate if They're to Save Their Nightmarish Season
Despite being a top preseason favorite to win the Super Bowl, Patrick Mahomes and the Kansas City Chiefs find themselves in a nightmare scenario through seven weeks of football. They're 3-4, a full two games behind the Las Vegas Raiders in the AFC West standings, and Mahomes looks like a shell of his former self.
Mahomes currently leads the NFL in interceptions with nine and is well on his way to shattering his career-high for picks thrown in a single season (12 in 2018).
Needless to say, the vibes are terrible in Kansas City.
Patrick Mahomes isn't the Chiefs' biggest problem
While Mahomes' superstar stature continues to attract the most criticism, it's crucial to acknowledge that his newfound turnover problem isn't the only problem in Kansas City at the moment. In fact, it's not even the most prominent one.
The Chiefs' defense is arguably the worst in the NFL, and it's routinely putting Mahomes and the offense in impossible positions. They currently rank dead last in terms of expected points contributed by the defense, behind NFL bottom-feeders like the Detroit Lions, Jacksonville Jaguars, and Miami Dolphins.
The Chiefs also rank dead last in points allowed, yards allowed, yards per play allowed, turnovers, and first downs allowed.
Mahomes' interceptions obviously aren't helping the situation. However, the defense isn't giving him a chance to play conservatively due to how often they allow points. Mahomes has to play hero ball to keep the Chiefs within striking distance.
The Chiefs front office needs to wake up
While the sky may feel like it's falling in Kansas City, it's important to note we're only seven weeks into the season. There is an abundance of time for Mahomes and the Chiefs to get right and sneak their way into the playoffs as a Wild Card team.
However, if that's to occur, the Chiefs' defense needs to improve by a considerable amount. That isn't going to happen without external talent being brought in.
According to ESPN's Ian Rapoport, a few key defensive players are currently being shopped on the trade market. Defensive ends Melvin Ingram and L.J. Collier would help the Chiefs' nonexistent pass rush, while cornerback Kyle Fuller would offer a major upgrade to the team's secondary.
The Chiefs don't need to land all three of these players (Fuller's lofty contract makes him unlikely). However, snagging one could make a noticeable difference. Sometimes all it takes is a new face in the locker room to jolt some life into a unit.
Don't waste a year of Patrick Mahomes' prime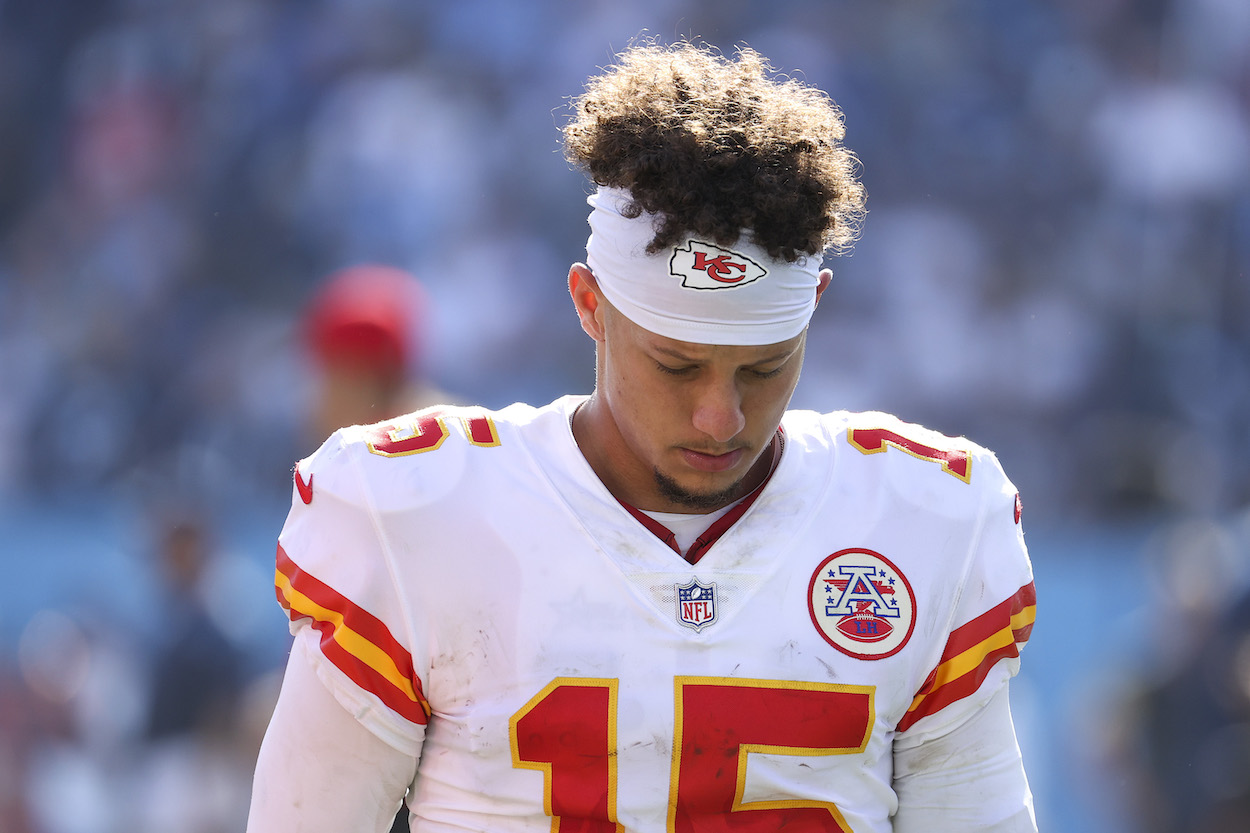 Mahomes isn't playing like we've become accustomed to. However, that doesn't negate his importance to the Chiefs' franchise.
He's already the best quarterback in Kansas City history. Wasting a year of his athletic prime would be incredibly foolish.
Mahomes needs to start playing better, and the assumption is that he will. A number of his turnovers have been rather unlucky, and everyone knows what he's capable of achieving. However, none of that will matter if the Chiefs can't get their defense corrected over the following week. It's an impossible ask of any quarterback to lead the 32nd ranked defense to the playoffs.
All stats courtesy of Pro Football Reference.
RELATED: Mike Florio Prematurely Rips the 49ers for Their Controversial 2021 Draft Pick: 'The Trey Lance Experiment Has Indeed Been a Disappointment'