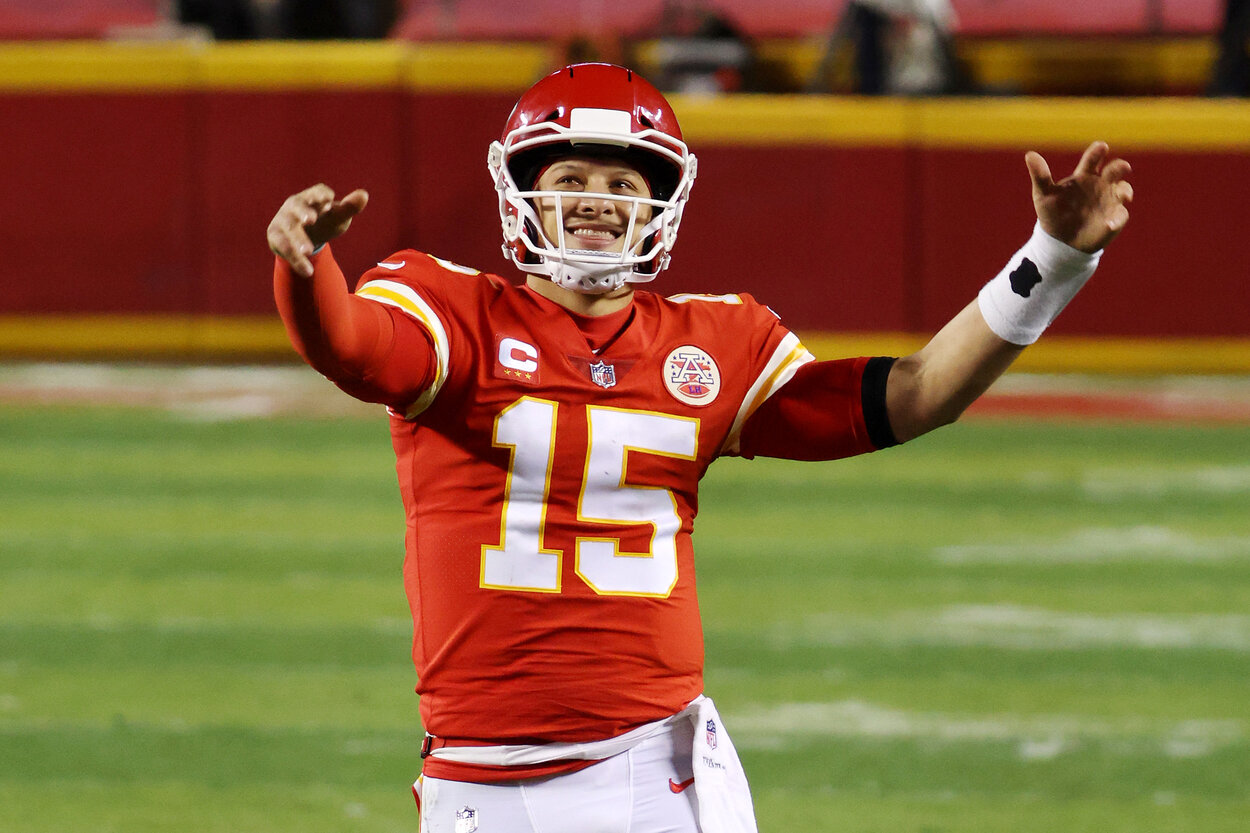 Patrick Mahomes Recently Received a Major Endorsement From NFL Legend John Madden
Kansas City Chiefs quarterback Patrick Mahomes recently received a major endorsement and praise from NFL legend John Madden ahead of Super Bowl 55.
Patrick Mahomes and the Kansas City Chiefs have an opportunity to begin a dynasty.
Mahomes and the Chiefs will face Tom Brady and the Buccaneers in Super Bowl 55. With a victory, Mahomes will become the first quarterback to win consecutive Super Bowls since Brady accomplished that feat in February 2005.
Ahead of the game, Mahomes received a major endorsement from NFL legend John Madden.
Patrick Mahomes and the Chiefs are Super Bowl-bound
Patrick Mahomes and the Kansas City Chiefs are headed back to the Big Game.
Mahomes completed 29 of his 38 passes for 325 yards, three touchdowns, and no interceptions in a 38-24 victory over Josh Allen and the Bills in the AFC championship game.
Tyreek Hill turned nine catches from Mahomes into 172 yards, and tight end Travis Kelce had 13 catches, 118 yards, and two touchdowns.
Kansas City reached the Super Bowl for a second straight year. Kansas City defeated San Francisco, 31-20, in Super Bowl 54 last February.
Before last year, Kansas City had not reached the Super Bowl since January 1970.
Mahomes had another excellent season in 2020
Patrick Mahomes is quickly establishing himself as one of the greatest quarterbacks in NFL history, which at age 25 sounds impossible.
Tell that to Mahomes, who completed 66% of his passes for 14,152 yards, 114 touchdowns, and 23 interceptions in his first three years as a starter. This past season, Mahomes completed 66.3% of his passes for 4,740 yards, 38 touchdowns, and six interceptions in 15 starts.
Mahomes threw four touchdowns to no picks in his first two starts this postseason.
John Madden gave Patrick Mahomes a massive endorsement
NFL legend John Madden has nothing but positive things to say about Patrick Mahomes.
In a recent interview with ESPN, Madden said Mahomes is his favorite player to watch. Madden said he was proud that Mahomes appeared on the cover of Madden NFL 20 in 2019, the video game that bears the former coach's name.
The ultimate praise came later in the interview, when Madden explained why he would want to coach Mahomes if given the chance.
"I've met him. I've talked to him. The kid is a first-class kid and a first-class player. I have talked to Andy Reid about him. There are a lot of guys out there I'd like to coach, but Patrick Mahomes would be the guy."
Madden also said that he enjoys watching Baltimore Ravens quarterback Lamar Jackson. Much like Mahomes, Jackson served as the Madden NFL 21 cover athlete this past season.
Madden added that he believes that Mahomes and Packers star Aaron Rodgers are "probably the two best quarterbacks right now."
"I enjoy just watching these young quarterbacks and the things that they're doing," Madden said. "And then you say, well, how about the older quarterbacks? Well, they are not bad either."
Like Sportscasting on Facebook. Follow us on Twitter @sportscasting19.