Patrick Mahomes Wants Nothing to Do With Any Michael Jordan-LeBron James Comparisons Between Himself and Tom Brady
This all feels like the intro to a bad joke. Patrick Mahomes and Tom Brady decide to meet up with LeBron James and Michael Jordan at a bar. Wait, that's not it. 
Whatever the case, it sounds like the 'GOAT' comparisons people have had for years about James and Jordan are now occurring with Brady and Mahomes. For his part, Mahomes wants nothing to do with any of those conversations.
Patrick Mahomes says don't compare him and Tom Brady with LeBron James and Michael Jordan
In his first three seasons as the Chiefs' starting quarterback, Mahomes shredded defenses for 13,868 yards, 114 touchdowns, and only 23 interceptions while winning 37 of his first 45 starts. The three-time Pro Bowl quarterback has a Super Bowl ring and 17 touchdowns in the postseason. Those are the numbers that fans may eventually recite the way they did Babe Ruth's 714 home runs or Michael Jordan's six rings.
Between his numbers and his abilities, Mahomes is already on pace to eventually reach the Pro Football Hall of Fame if he stays healthy. But is it time to compare him with Brady, who is widely considered the greatest quarterback of all time?
During a recent appearance on First Take, Mahomes confirmed he thinks "it's still early" to even have those conversations.
"You're trying to be the best player on that football field every single day. Tom's done it for a long time, and he's won a lot of Super Bowls. When you're coming up and watching football, you want to go out there and win championships like he's done. I'm going to try to do whatever I can every single year to put us in a position that we can win a lot of championships, hopefully."

Patrick Mahomes
Answers like that are why it is so challenging to root against Mahomes. Even fans of opposing teams in the AFC West Division have to respect his attitude, especially when questions like that are invoked.
Anyone comparing Brady and Mahomes needs to take a serious step back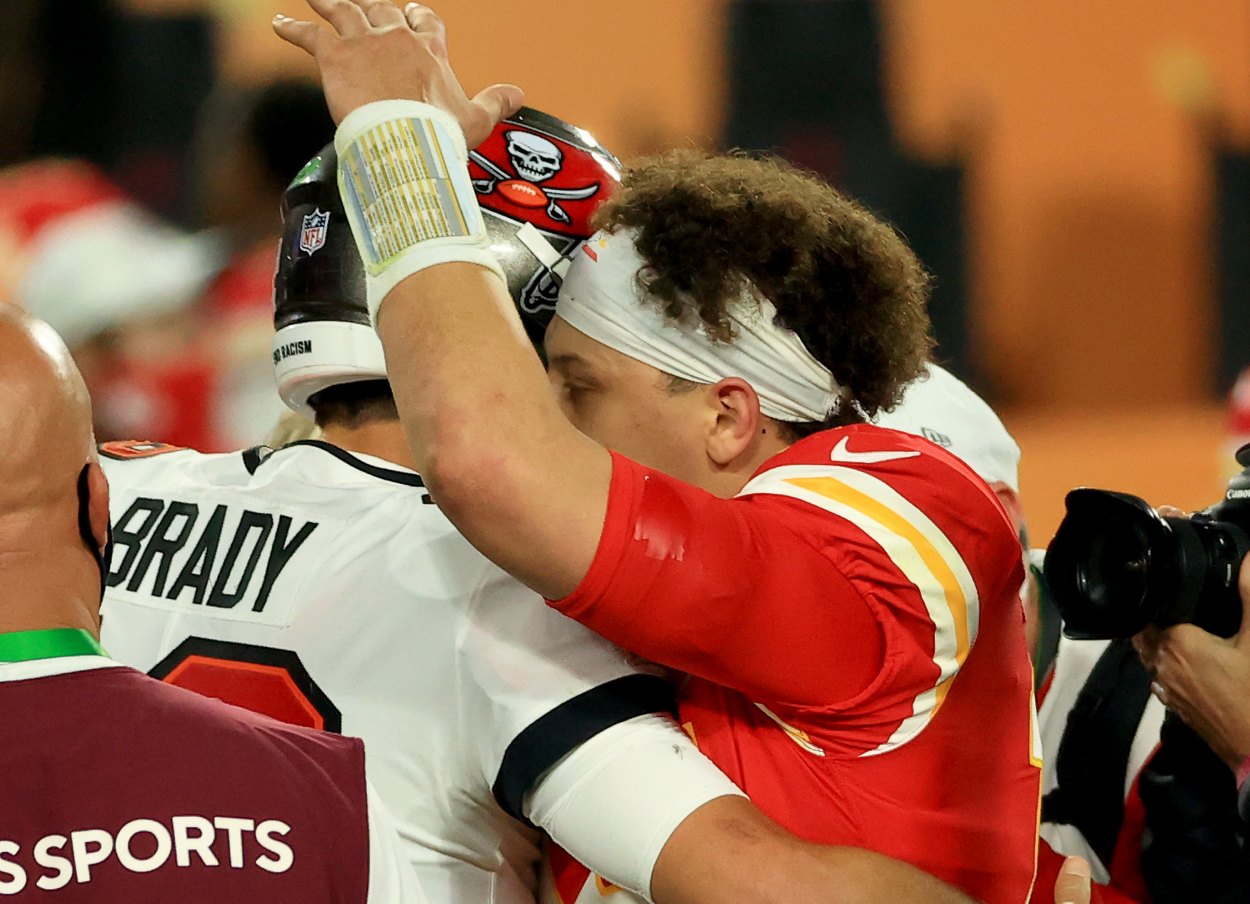 Let's just call it what it is and reveal the truth. Outside of Super Bowl rings, there are zero ways to realistically or intelligently compare Brady and Mahomes at this point in their careers.
Mahomes is a prolific gunslinger and a generational talent at quarterback. His awareness and arm strength have already made him one of the most exciting quarterbacks in NFL history.
Remember, Brady didn't exactly torch defenses each Sunday as a young quarterback. Until his 50-touchdown season in 2007, he played the role of a game-manager with excellent awareness and leadership skills. Think what Baker Mayfield did for the Browns during the second half of the 2020 season.
So comparing the statistics was off the table even before you accounted for the different eras of football. Mahomes has started three seasons in the NFL. When Brady finished his third season as the Patriots' starting quarterback, Mahomes was 8 years old.
Does Mahomes have the talent to become the greatest quarterback in NFL history? Absolutely. But please, for all of our sakes, don't even bring this up now. Let's revisit the conversation in eight to ten years because, at his current pace, Mahomes may very well have a significant challenge to Brady's throne by then.
Please also stop complaining James and Jordan, too
With the Brady-Mahomes comparisons off the table, bar patrons and Twitter users may return to discussing if LeBron James is better than Michael Jordan.
Please, don't have that conversation either. ESPN and Fox Sports have embraced that debate for over a decade, dating back to before James even won his first championship.
James is the greatest player of his generation, and he's easily the best to take the court since Jordan retired for good after the 2002-03 season. Can't that be enough? Why does everything need to be a debate? Those who prefer Jordan will never concede, and those who grew up watching James will almost certainly choose him.
And eventually, perhaps the same conversation will happen with Brady and Mahomes. Those who watched the bulk of Brady's career will argue he's the best, and younger fans who saw every throw Mahomes made will be inclined to choose him. History tends to repeat that way.
Like Sportscasting on Facebook. Follow us on Twitter @sportscasting19.
RELATED: Michael Jordan Reporter Slammed Idea of LeBron James Being an Influencer: 'Nobody Has Changed Anything Because of LeBron James'