Patrick Mahomes May Actually Have a Significant Influence on Whether Justin Fields Plays or Not in His Rookie Year
The Chicago Bears have finally found their franchise quarterback. After trading up from the 20th pick to the 11th, the Bears took Ohio State quarterback Justin Fields, who, for most of the year, was considered the second-best quarterback in the draft. However, while the former Buckeye may not see the field too much in his rookie year due to Andy Dalton being the team's starter, another quarterback could also have a significant influence on Fields' playing time. That QB is 2018 league MVP Patrick Mahomes.
Bears coach Matt Nagy was with Patrick Mahomes and the Chiefs in 2017
Patrick Mahomes has become the best quarterback in the NFL. After winning the league MVP in a 2018 season where he threw for 5,097 yards, an NFL-leading 50 touchdowns, and 12 interceptions, Mahomes helped the Chiefs win the Super Bowl during the 2019 season.
The former Texas Tech QB then followed that up in 2020 by leading the Chiefs to a second consecutive Super Bowl.
Mahomes, however, didn't just come in and start as a rookie in Kansas City. After the Chiefs selected him with the 10th overall pick in the 2017 NFL draft, Mahomes sat behind Alex Smith during his rookie year. He only appeared in one game in 2017 and threw for 284 yards, no touchdowns, and one interception. Mahomes then became the team's starter in his second year in 2018, the same season he won league MVP.
The Bears hired Matt Nagy as their head coach in 2018, so he hasn't been in Kansas City during the years Mahomes has been the starter. He was the Chiefs' offensive coordinator in 2017, though, and saw firsthand how the team handled sitting Mahomes as a rookie.
Now, he is in a similar position in Chicago with Dalton and Fields.
Matt Nagy could follow the Chiefs' blueprint on the Bears with Justin Fields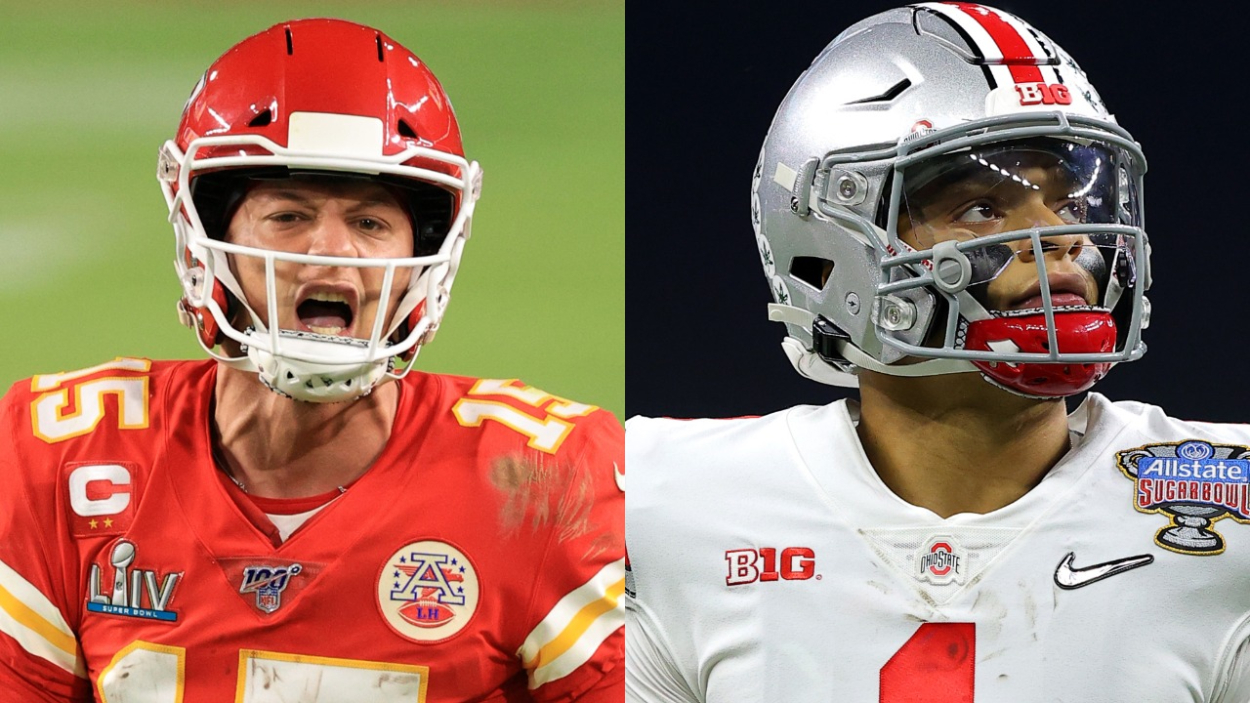 Following the 2021 NFL draft, Nagy recently appeared on The Rich Eisen Show. He then discussed his plans for Fields this upcoming season.
"That is one thing that we gotta be really, really clean with," Nagy said on the May 7 episode. "I understand from the front end, from an outsider's perspective: 'Hey, it's real simple. This kid, how do you not play him? He's so talented. He's gotta play Week 1. He's gotta be the starter Week 1; how do you not do that?' Well, there's a lot of things that go into that."
As expected, it appears Nagy plans to lean on his experience with the Chiefs for this situation. 
"For me, I was fortunate enough to be in a similar — I'm not saying the same — but similar situation with Alex Smith and Patrick," he said. "The blueprint of that of being able for me to be involved in every one of those meetings, every one of those practices, every one of those travel days on the bus and airplane to the hotel; every one of those sideline conversations that we had from Week 1 until the end of the regular season and into the playoffs." 
He continued: "Two people that have different avenues in Alex and Patrick and different personalities. But in the end, it ended up working for both of them. That's at least where we're going to start."
By the looks of it, Fields may not play too much for the Bears in his rookie season. But once he eventually lines up behind center in Chicago, defenses could have a hard time stopping him.
Justin Fields can become a star for the Bears
The reason the Bears picked Fields so high in draft was because of his dominant play in college at Ohio State.
After transferring to OSU from Georgia in 2019, Fields threw for an incredible 3,273 yards, 41 touchdowns, and only three interceptions in his first year as a Buckeye. He also added 484 yards and 10 touchdowns on the ground. This all helped lead the Buckeyes to an undefeated regular season and the College Football Playoff.
In his second year in 2020, Fields threw for 2,100 yards in a season shortened by COVID-19. He also recorded 22 touchdown passes and six interceptions. His play not only led the Buckeyes to the CFP again, but Ohio State also won in the semifinals and reached the national championship game.
If Fields can play anywhere near the level he played at with Ohio State, he can become an absolute superstar for the Bears. It may ultimately be pretty difficult for Nagy and Chicago to sit him his entire rookie year.
Stats courtesy of Sports Reference and Pro Football Reference