Patrick Mahomes' Superstitious Pregame Routine Dates Back to His High School Football Days
The Kansas City Chiefs have been a force to be reckoned with since Patrick Mahomes began leading the team. Many believed he would take KC back to the Big Game this season against the Tampa Bay Buccaneers for Mahomes' second Super Bowl win.
Though that scenario seems unlikely thanks to the Chiefs' 2-2 record and last-place ranking in the AFC West, there's still time for a turnaround. Maybe even Mahomes' superstitious pregame routine can help the team make a comeback.
Patrick Mahomes ranks 1st among NFL quarterbacks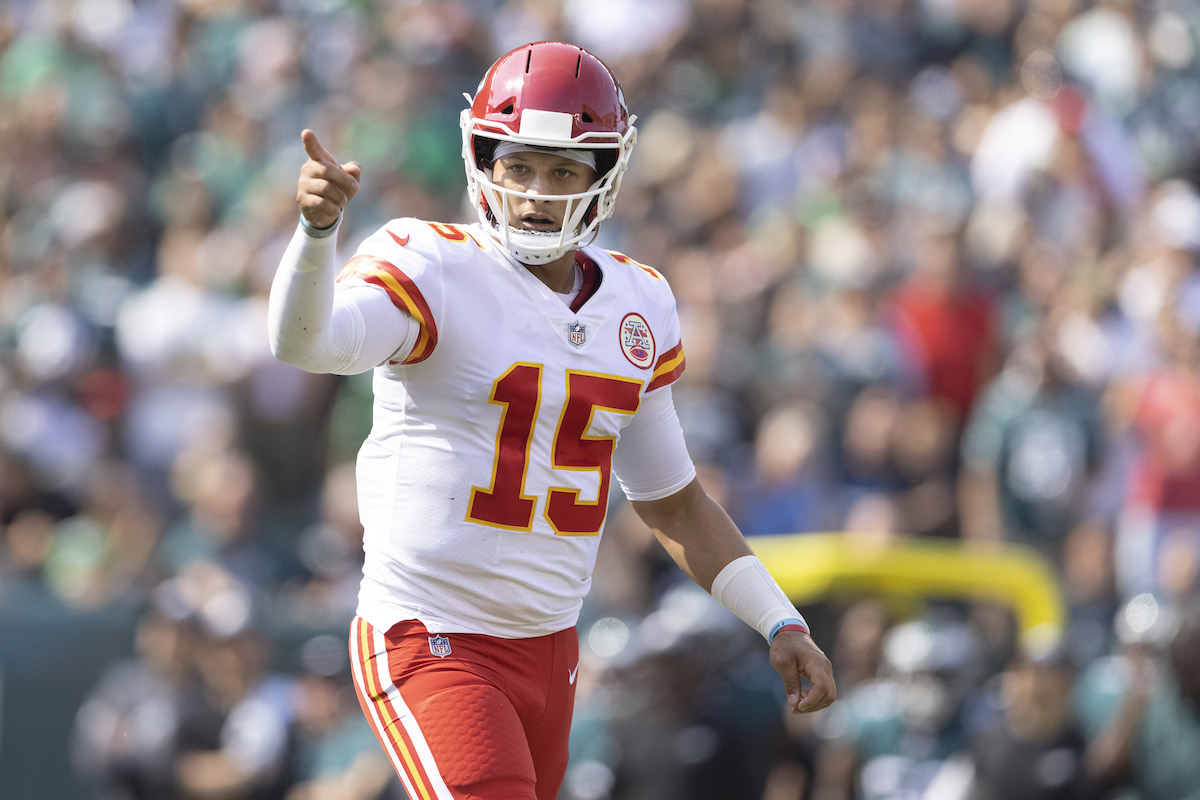 Drafted in the first round as the 10th overall pick in 2017, Mahomes has been anything but disappointing for the Chiefs. Since replacing Alex Smith as Kansas City's starting quarterback, the superstar has taken the team to two Super Bowls. 
That was significant because Super Bowl LIV was the team's first appearance in 50 years. It was also KC's first Super Bowl victory. But that wasn't all.
The up-and-comer led the team right back for another appearance a year later at Super Bowl LV. However, Tom Brady and the Tampa Bay Buccaneers prevailed.
That hasn't held Mahomes back from ranking as 2021's number-one NFL QB, though.
According to Sporting News, "Mahomes is king again at age 25 and may not be dethroned for a long time," following his number-one ranking as an NFL quarterback in 2021. That puts him above Aaron Rodgers and Tom Brady, nearly 20 years older than Mahomes and with fewer games left in their careers. 
The reigning QB has some notable stats from 2020 that led to this ranking. They include "4,299 passing yards, 48 passing TDs, 5 INTs, 121.5 passer rating, 84.4 QBR, 8.2 yards per attempt, 149 rushing yards, [and] 3 rushing TDs."
Even the weather can't stop Patrick Mahomes' pregame ritual
Although he doesn't consider it a ritual per se, Mahomes revealed a sports superstition he has believed since his junior year in high school. 
"I don't necessarily have any pregame rituals, but I've worn the one sleeve in every single game I've ever started. That's pretty much the only superstitious thing I do," Mahomes told Arrowhead Addict.
"It goes all the way back to my junior year of high school when I first started for the varsity team. I was out there with a single sleeve in Denver when it was only 11 degrees."
Now that you know Mahomes wears one short sleeve and one long sleeve in every game, his uniform choice will be impossible not to notice. 
The Kansas City QB almost followed a path to baseball
The Arrowhead Addict interview revealed more than just the athlete's superstitious routine. It also uncovered an alternate path that wouldn't include NFL glory. 
His father, Pat Mahomes, was a talented professional baseball player active between 1992 and 2003. Growing up watching his dad in the sport made a young Mahomes want to go pro in baseball. 
"I always wanted to be a baseball player when I was a kid," Mahomes said. "But as I grew up and started really falling in love with football, I focused solely on that. It was after my junior season, I think, when I pretty much made football first."
No doubt, the superstar athlete would've done well in baseball, but Chiefs fans are glad he didn't. 
RELATED: Patrick Mahomes' Diet Isn't as Strict as You Might Think