Patrick Mahomes Didn't Take a Day Off His Workouts After Making the Playoffs: 'I Had to Find a Way to Make Myself Better'
It was a strange year for the NFL, not least because "Touchdown Tom" once again reminded the world not to count him out. While 2021 may yet face some pandemic-related disruptions, it should be a year defined by a return to normal. And for one player, "normal" implies snatching back the Lombardi Trophy.
Kansas City Chiefs quarterback Patrick Mahomes faces a long offseason. His Super Bowl loss changed the narrative around his predicted dynastic reign over the NFL. Now, he has to prove that the critics had it right before Tom Brady and the Tampa Bay Buccaneers reset everyone's thinking.
The great success and disappointing coda of Patrick Mahomes' 2020 season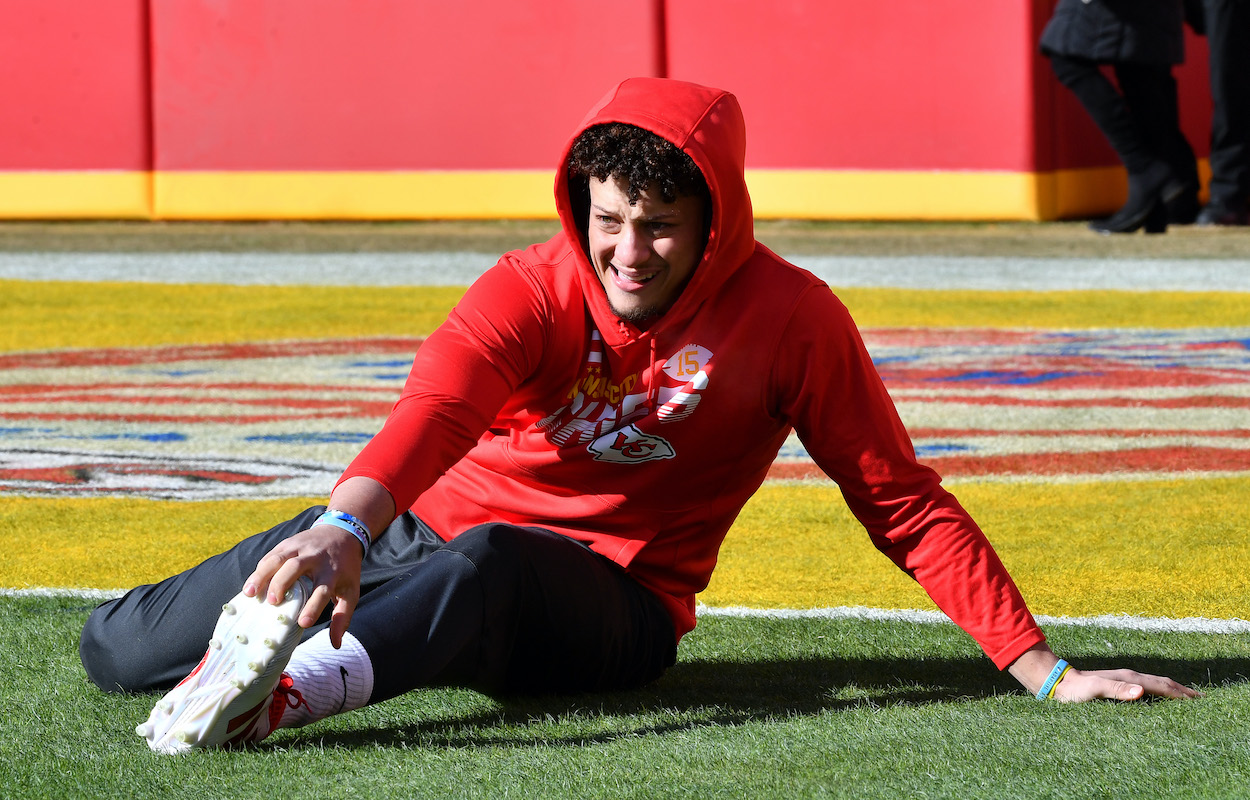 The Chiefs absolutely dominated the AFC West in 2021, as The Football Database reports. They went 14-2, while the rest struggled to finish anywhere near .500. The only hint of how their playoff run would end was in their final game, giving up something of an upset to the Los Angeles Chargers. Big names like Mahomes sat the game out, but the offensive skeleton crew leftover was unable to make it work.
Injuries plagued the offensive line. That B-team vibe of that final regular season game served as a hint for how poorly the remaining crew would fare against the Bucs' shut down defense. One could hardly blame Mahomes for his shocking underperformance. He was run down repeatedly, unable to get anything started. Mahomes,
He landed just 53.1% of his passes, giving up two interceptions. CBS Sports reports that his 52.3 passer rating, in the most crucial game of his career, was his worst ever. The young QB will be the first to take responsibility, and he has a plan for exactly how to make sure a performance like that doesn't happen again.
Mahomes' workout is built to keep him on the gridiron for years to come
Thankfully, Mahomes has proved himself to be more than capable of staying healthy and prepared in the offseason. It helps that his fiancée Brittany Matthews happens to be a certified personal trainer. In terms of his strict diet — which he upholds through the offseason — she's got him in check. CNBC reports that he eats four to five times a day. He eats a diverse array of foods, heavy on protein.
An allergy test showed that he has an adverse reaction to most nuts, which he now avoids to keep food-related inflammation in check. Inflammation in general is a regular concern for athletes looking to extend their careers. A combination of infrared-sauna sessions, massage guns, and NormaTec air-compression boots combine to keep swelling down after both games and general exercise.
A StyleCaster breakdown of Mahomes' exercise routine shows two distinct sides. One is general fitness: medicine ball work, squats, and pull-ups. The other, his football drills, are far more complex. Trainer Bobby Stroupe, who has worked with Mahomes since he was a child, designs new drills constantly. Most are meant to encourage both flexibility and reaction times. The plan of all this is to keep the KC QB1 in the NFL as long as possible. For Mahomes, the only break will be when he finally retires.
Mahomes looks to Dwyane Wade and Kobe Bryant as examples
Mahomes has a built-in excuse for his poor showing in Super Bowl LV. Just as with his worrying knee injury back in 2019, his injured foot isn't something he cares to put much focus on. It's an approach to the game inspired directly by players that game before him, although both are from an entirely different sport.
The NFL's headlining name instead looks to the NBA, according to an interview with Men's Health. His goal is to have a long-running career, overcoming whatever injuries come his way. He sees Dwyane Wade and Kobe Bryant as the type of player he wants to live up to.
Both played into their late 30s. They overcame injuries, in particular Bryant's Achilles tendon tear. They kept playing until the moment they no longer felt they could adjust their game to fit into the NBA. Late career Wade and Bryant didn't play like their younger counterparts. They set their egos aside and changed their game to fit their bodies. Mahomes intends to do the same.
RELATED: Patrick Mahomes' Godfather Gave Him Great Advice Before His 1st Year in the NFL