Patrick Mahomes the Target of Fits of Laughter in the Kansas City Chiefs' Film Room
Kansas City Chiefs quarterback Patrick Mahomes won the NFL MVP award in 2018. He's a Super Bowl champion and one of the most talented quarterbacks the league has ever seen. He doesn't make mistakes often, but when he does, apparently his locker room absolutely clowns him.
To be fair to Mahomes, he's built up enough goodwill in Kansas City to have make mistake or two and come out on the other side largely unscathed. The plays he does make can be incredible at times. He's got a howitzer for an arm and the talent to make impossible-looking plays come across as easy.
He's thrown for 16,039 yards and 132 touchdowns in just four seasons as Kansas City's starting quarterback. Those stats include the 2018 season when he threw an incredible 5,097 yards and 50 touchdowns.
He's great, and that's a major understatement. Still, an interception he threw against the Washington Football team in Week 6 may end up haunting him for some time.
Patrick Mahomes made a silly mistake that he does not usually make
It's a play that will find its place on the very short lowlights reel when Mahomes' career is all said and done.
Mahomes and the Chiefs are normally deadly when facing a third-down and short and in the red zone. There's just so much Andy Reid's offense can do, and with so few yards to gain and the end zone in sight, his playbook is normally wide open.
In this case, the Chiefs were nursing a 13-10 lead with under a minute left in the half. Knowing they got the ball back in the second half, the pump was primed for some agressive Kansas City football.
What resulted was anything but, though.
First, Mahomes fumbled the ball off the snap. He recovered it and awkwardly rolled to his right where he was met by a Washington defender. With two timeouts left it would have made sense for Mahomes to eat the ball and play for the field goal or even a fourth-down conversion. Instead, he threw the ball straight up into the air as he was being dragged down to the ground and Washington came up with an important turnover.
Ultimately the Chiefs won, 31-13, so the play didn't matter in the grand scheme of things. That didn't stop Mahomes from hearing it from his teammates, though.
Mahomes was clowned by his teammates during film study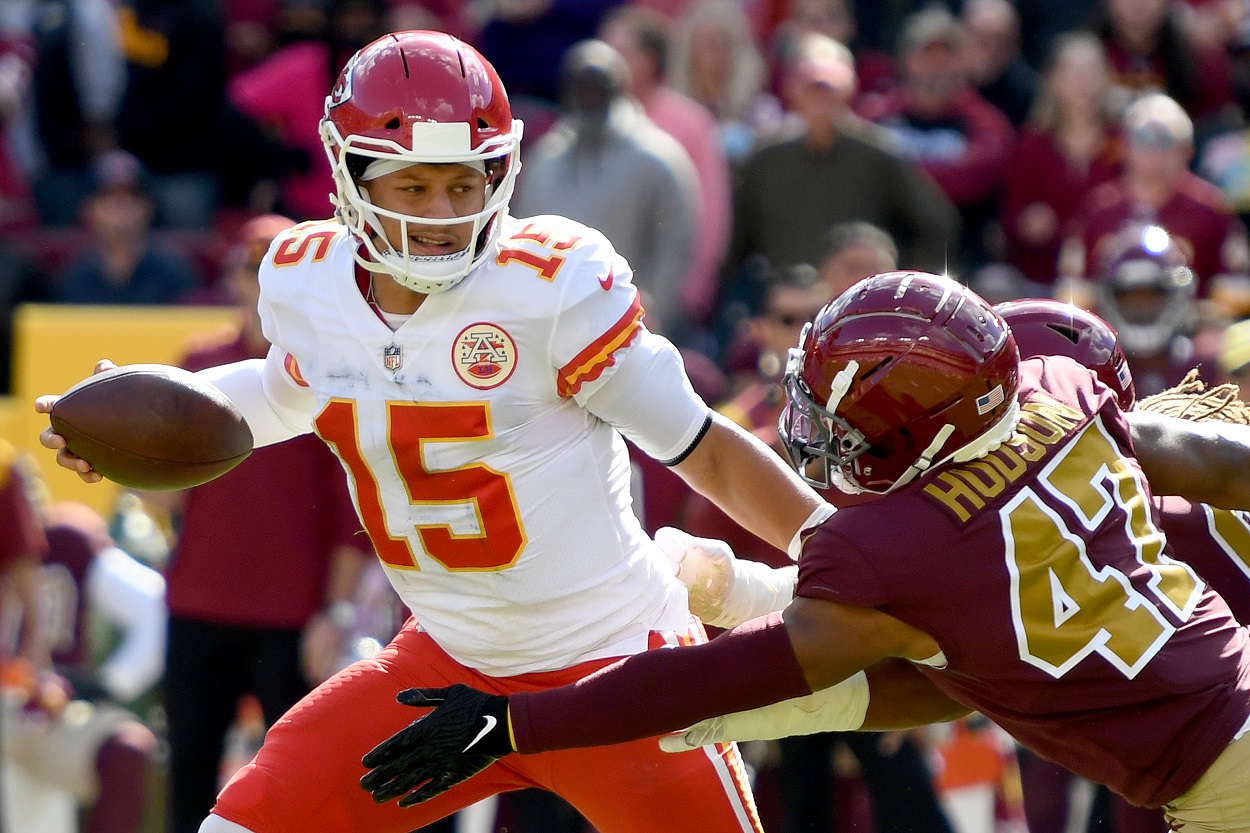 Film sessions for football teams can be a wonderful time of reliving glories. It's also a good spot to get chewed out by a coach for missing an assignment or making a mistake.
Again, Mahomes certainly has goodwill in Kansas City so he didn't draw the ire of Reid or a chewing out from his quarterback coach. Instead, Mahomes relayed, he was laughed at by his teammates.
Everybody just started laughing," Mahomes said according to Sam McDowell, "including myself."
Considering the final score of the game and Mahomes' general high level of talent, looking back on the interception is actually quite hilarious. For his part, Mahomes, ever the professional, said that in the moment he did his best to put it out of his mind and move on.
"There's no excuse you're going to make. There's no rhyme or reason why it happened," Mahomes said. "You just have to move on to the next play.
"That's what I did on the football field, as well. You can't go back and dwell on it. It will probably be shown for a long time. But you kind of just have to move on to the next play. At least I'll be able to say I won the football game."
Mahomes has curiously been struggling with interceptions lately
While the play in question was indeed funny, there is a less funny stat to consider when looking at Mahomes' play so far in 2021.
This is not a "is Patrick Mahomes losing his touch?" article and nothing of the sort should be written. With that said, Kansas City has looked far from the Super Bowl contender we've grown used to, and Mahomes has struggled with turnovers, which is pretty uncharacteristic.
He's thrown eight interceptions this season. For context, he threw six total in 2020. He's also posted a handful of two-interceptions games. He threw two picks against Washington, two against the Buffalo Bills, and two against the Los Angeles Chargers. In fact, the only game Mahomes hasn't thrown an interception was in Week 1 against the Cleveland Browns. He's thrown at least one interception in each of Kansas City's last five games.
Perhaps not surprisingly, the Chiefs are 2-3 over that stretch as a result.
Again, Mahomes has proven to be an MVP quarterback in the NFL and interceptions do happen. Heck, Brett Favre threw 336 in his career and he's one of the greatest quarterbacks of all time.
Mahomes will be fine in the long run, though this recent interception trend is a bit puzzling.
Stats courtesy of ESPN and Pro Football Reference.
RELATED: Patrick Mahomes' Mother Subtly Called Out Chiefs' Receivers and the NFL's Rules While Ignoring the Former MVP's Questionable Decision-Making