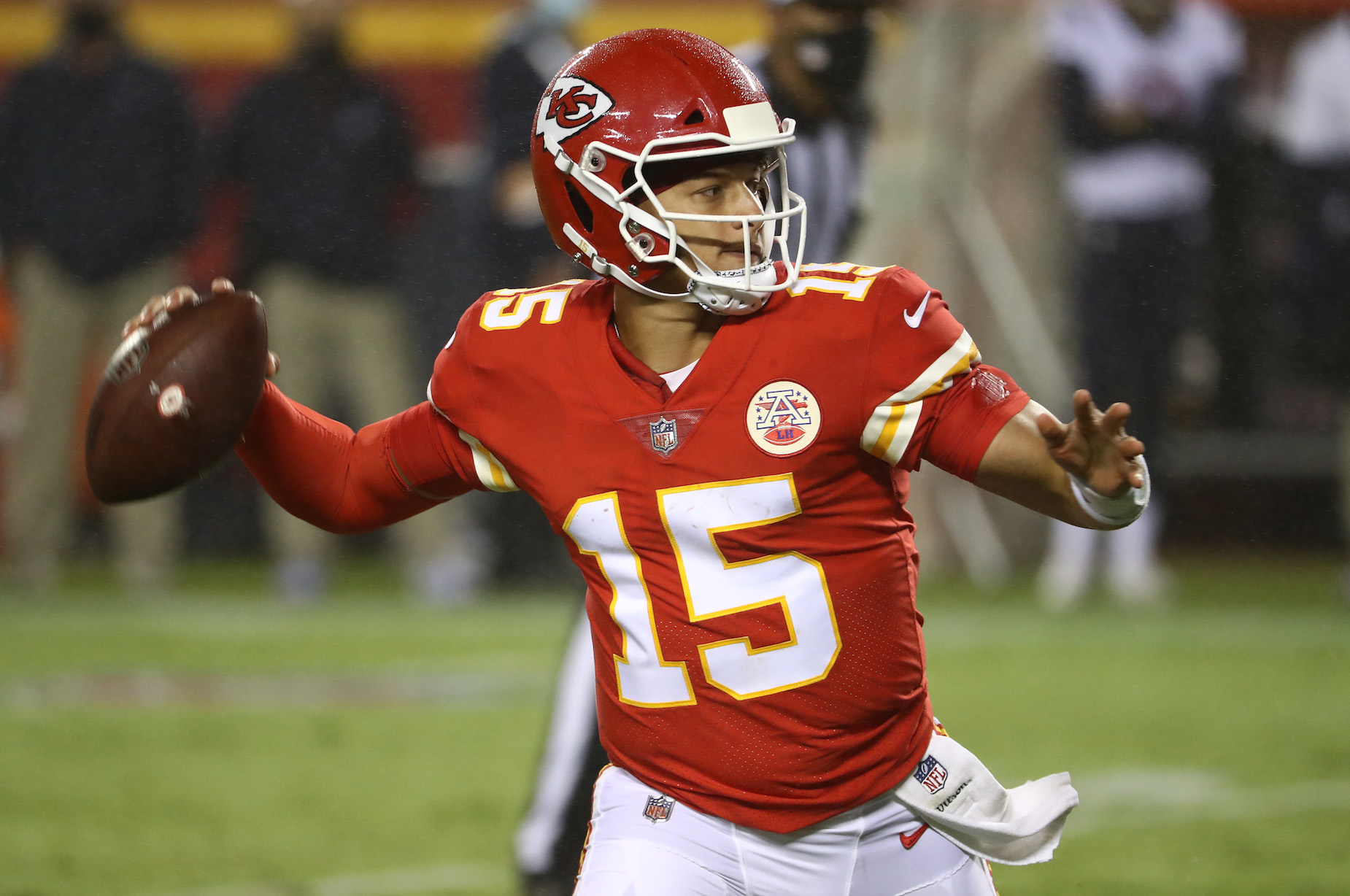 Patrick Mahomes Wants to Make Football Analytics Fans' Dreams Come True
Kansas City Chiefs quarterback Patrick Mahomes is already incredibly popular. In the future, though, he could also win over NFL analytics fans.
During his brief time in the NFL, Patrick Mahomes has already become a fan favorite. Even if you're not a Chiefs fan, the Kansas City quarterback is must-see TV; from left-handed passes to 60-yard bombs, you never know what he'll do next. The young star, however, could become even more popular with one specific subset of football fans.
While NFL analytics might not be advanced as those found in baseball, there are plenty of football fans who are interested in the statistical side of the game. For those people, Patrick Mahomes' latest comments are a dream come true.
Patrick Mahomes has already become one of the NFL's top talents
According to the old cliche, defense wins championships. During his brief tenure as the Kansas City Chiefs starting quarterback, Patrick Mahomes has disproven that conventional wisdom.
After making a name for himself at Texas Tech, Mahomes entered the 2017 NFL draft. Andy Reid and the Kansas City Chiefs brass identified him as their top target; with some help from the Buffalo Bills, they got their man.
While Mahomes didn't immediately claim starting job—he sat behind Alex Smith for a season—took the league by storm once given the chance. As an NFL sophomore, he threw for more than 5,000 yards and 50 touchdowns; the Chiefs fell short in the playoffs, but it was clear that the quarterback was a star.
Although the quarterback's sophomore campaign was a bit less impressive from a statistical perspective, Mahomes still worked his magic down the stretch. He pulled off three-straight playoff comebacks, leading Kansas City to their first Super Bowl title in 50 years.
Hoping to go for it on fourth down
With his arm strength and improvisational abilities, Patrick Mahomes isn't intimidated by any situation. That, apparently, includes fourth downs.
During the offseason, the NFL's owners voted on a proposal to replace onside kicks with a single, 4th and 15-style play; if the offense could secure a first down, the ball was theirs. At the time, both Mahomes and Andy Reid noted that, if the rule passed, the Chiefs would have an advantage.
That proposal, of course, didn't pass. Mahomes, however, is still thinking about fourth-down conversions.
"I want to go for it every time no matter what the situation there is," Mahomes said in training camp, according to Pete Grathoff of the Kansas City Star. "But, no, it's a thing where we trust the coaching staff. We have a great coaching staff, a great analytics department, we have everything to know when and where we should go for it and coach Reid has a feel for the game, which I think is the biggest thing."
Patrick Mahomes could make analytics fans' dreams come true
Being aggressive on fourth down isn't an original idea, though. Long before Patrick Mahomes' press conference, football analysts have supported keeping the offense on the field.
While conventional wisdom states that going for it on fourth down is a major risk that should be reserved for specific situations, modern though has been pushing back against that notion. Without getting into the finer points, the underlying idea is that modern football is different than the one where conventional wisdom became commonplace. When offenses are capable of putting up 35-plus points without batting an eye, there's less reason to give the ball to your opponent and trust that your defense can get a stop; similarly, it's easier than ever to pick up a few yards and move the chains.
In 2014, the New York Times ran an Upshot piece looking at when a team should go for it on fourth down. Without summarizing the entire piece, which is still live and accessible, the data supported keeping the offense on the field far more often than coaches traditionally do.
While it's naive to think that Patrick Mahomes and Andy Reid will follow the New York Times' data to a tee, the Chiefs have gone for it on fourth down in some big moments. Between Mahomes' confidence and Reid's offensive mind, we could see them continuing to push the envelope in the future.
With their wealth of offensive talent, the Kansas City Chiefs are already a force to be reckoned with. If they embrace the analytics about punting, however, they could become even more dangerous.