Patrick Mahomes Will Forever Be Grateful for Alex Smith
After three seasons in the NFL, Patrick Mahomes has racked up some serious accomplishments, including both an MVP award and a Super Bowl victory. That can make it hard to remember that, during his rookie season, Mahomes only played in a single game for the Kansas City Chiefs. Instead, the Chiefs leaned almost entirely on their veteran quarterback, Alex Smith.
A lot of players in Mahomes' position might have developed an adversarial relationship with Smith. Yet Mahomes actually feels a surprising amount of gratitude for the mentorship Smith provided during that crucial development year.
Alex Smith's NFL career so far
The San Francisco 49ers selected Smith with the first pick of the 2005 NFL Draft, placing a high value on his unique combination of intelligence and athleticism. After struggling with injuries during his rookie season, Smith played all 16 games in 2006. He showed a lot of promise, throwing 257 completions for 2,890 yards, with a completion rate of 58.1%.
Yet it wasn't really until 2011 that Smith entered his own as a top-level quarterback. That season saw him throw for over 3,000 yards and connect on better than 60% of his passes for the first time in his career. In all of his seasons since then, he has met or exceeded that standard. In 2017, he threw for a career-best 4,042 yards, while connecting on 67.5% of his passes.
After eight years with San Francisco, the 49ers traded Smith to the Chiefs, where he spent the next five seasons. Smith has earned Pro Bowl selections three times in his career — in 2013, 2016, and 2017. In his career, he has thrown for a total of 34,068 yards and 193 touchdowns, with a completion rate of 62.4%.
A tragic injury
In January 2018, the Chiefs traded Smith to the Washington Football Team, then known as the Redskins. Smith seemed primed to have another huge year, leading Washington to a 6-3 record through nine games. In the 10th game of the season, however, Smith suffered a serious fracture in the tibia and fibula of his right leg.
Smith quickly underwent surgery, only to develop a life-threatening bacterial infection known as necrotizing fasciitis. Doctors predicted that Smith might even have to amputate his leg in order to save his life.
Instead, Smith went through a grueling sequence of surgeries and against all odds, fought his way back into shape. In July 2020, team doctors cleared him to resume football activities.
Patrick Mahomes' gratitude for Alex Smith's mentorship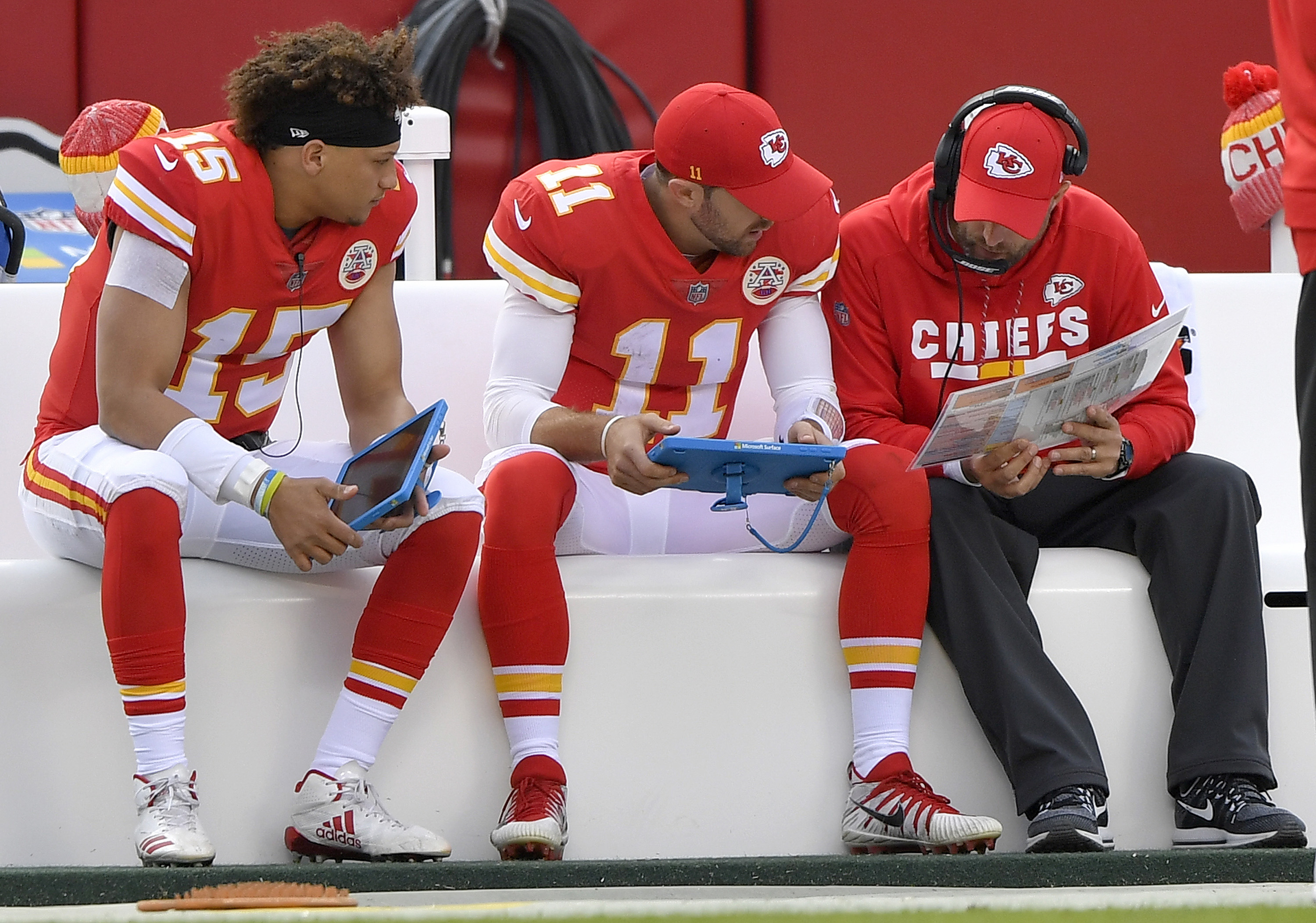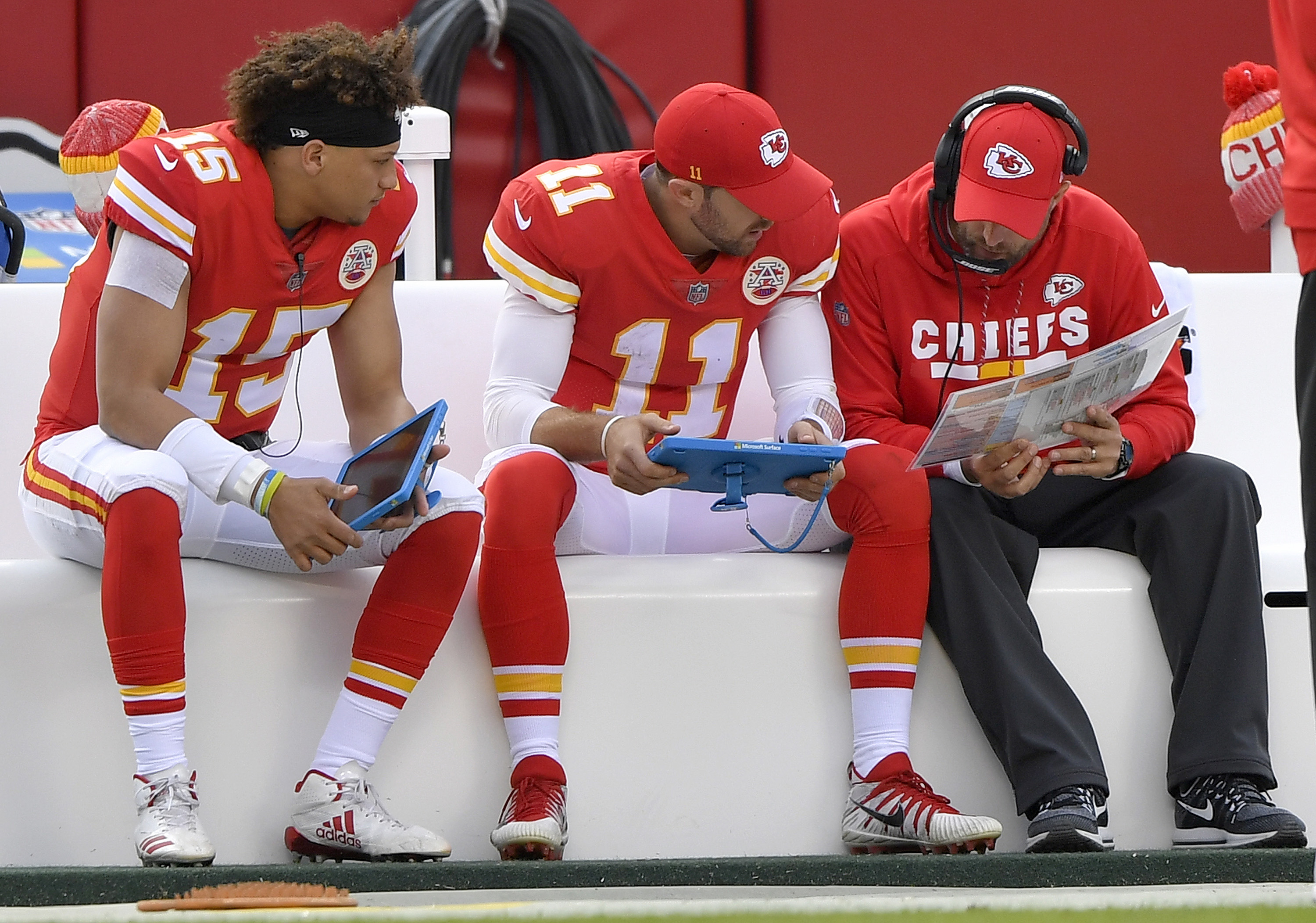 Smith and Mahomes overlapped in Kansas City during the 2017 season. Both men had ample reason to dislike one another. Mahomes had to acknowledge that he was losing out on playing opportunities to Smith. And Smith, meanwhile, could see the writing on the wall — that Mahomes was ultimately going to be the Chief's long-term solution at quarterback.
Yet rather than give way to resentment, the two players quickly formed a strong bond, with Smith willingly taking on the role of mentor. Even though he didn't see much in-game action, Mahomes benefited in incalculable ways from Smith's wisdom and intelligence.
Those around Mahomes haven't been shy about acknowledging the debt that the young superstar owes to his one-time mentor.
Even Mahomes' father has gushed about the positive impact that Smith had on his son. NBC Sports' Peter King recently shared a conversation he had with Mahomes Sr., quoting him as having said that "my son can never repay Alex Smith for everything that he did for him."
At this point, even if Smith can get fully healthy, it's unclear whether he will ever see much action again at the NFL level. Yet the Washington Football Team is undoubtedly still counting on him to act as a mentor to their young quarterback Dwayne Haskins. If Smith's track record with Mahomes is any indication, Haskins should be able to benefit from his elder's wisdom in a huge way.
All stats courtesy of Pro Football Reference