Patrick Surtain II Will Need to Have a Great NFL Career to Be Better Than His Father
Most draft analysts agree that Patrick Surtain II has a good chance to be the top cornerback taken in the 2021 NFL Draft. He's also got a good chance of being a top-10 overall pick, thanks to his stellar three-year career at Alabama. Surtain II possesses the length and leaping ability to make him a perennial Pro Bowl candidate if his career breaks the right way.
All but the youngest NFL fans will likely recognize Surtain's name, which he shares with his father. Patrick Surtain Sr. spent 11 years as a cornerback in the NFL, and offers an intriguing template for the player his son might develop into.
Surtain Jr.'s promising college career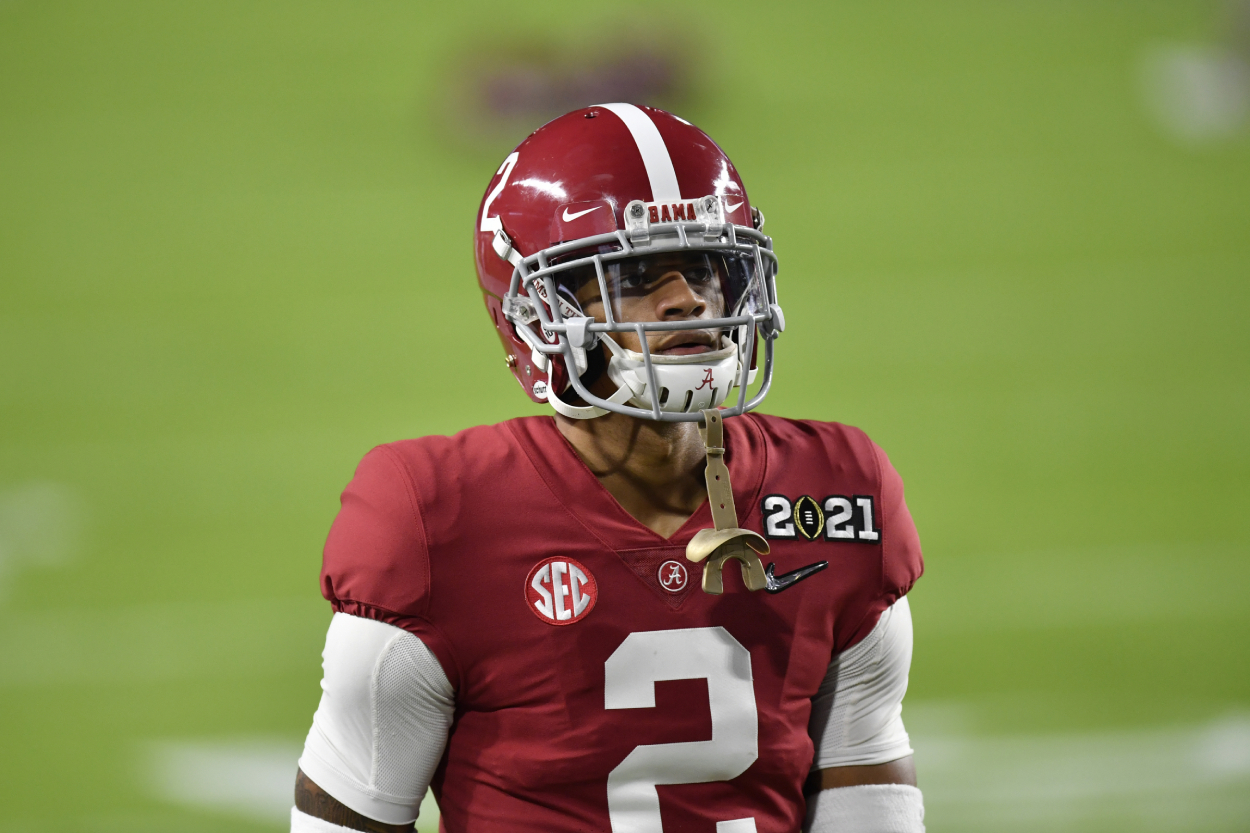 RELATED: Alabama Head Coach Nick Saban Rakes in an Insane Salary
Surtain Jr. was a five-star high school recruit, according to Bleacher Report. After being courted by multiple schools, he ultimately chose to take his talents to Alabama. The 6-foot-2 cornerback was already so mature and physically developed that he slotted into a starting role after just three games as a true freshman.
In 15 total games that season, Surtain Jr. racked up 28 solo and nine assisted tackles, with one interception in seven passes defended, per Sports Reference. He was one of the more important pieces on one of college football's best defensive squads. His strong play continued as a sophomore, with 42 total tackles, two interceptions, and three forced fumbles.
Similar numbers followed in Surtain Jr's third year with the Crimson Tide. His contributions ultimately helped Alabama secure the national championship.
At the end of the season, Surtain Jr. was recognized as a Unanimous All-American. He also won SEC Defensive Player of the Year award, in addition to receiving a First-Team All-SEC selection.
The standard set by his NFL father
The career of Patrick Surtain Sr. got off to a slower start compared to his hyper-athletic son. After four years as a cornerback for the University of Southern Mississippi, the Miami Dolphins selected the 5-foot-11 Surtain with the 44th pick of the 1998 NFL Draft. After spending most of his first two seasons on the bench, Surtain finally took over a starting role in year three.
He quickly proved himself one of the most capable cornerbacks in the league, racking up 54 combined tackles, five interceptions, and two forced fumbles during the 2000 season, according to Pro Football Reference.
From 2002 to 2004, Surtain received three-straight Pro Bowl selections. At that point, the Dolphins decided to sell high, trading Surtain to the Kansas City Chiefs for a second-round pick in the 2005 NFL Draft.
While Surtain didn't make another Pro Bowl in his four years with the Chiefs, he nonetheless remained an impactful player. In 2005, he amassed a career-best 60 solo (and 68 combined) tackles.
After the 2008 season, the Chiefs released Surtain, who then retired. Over his 11-year career, Surtain amassed 547 combined tackles, 37 interceptions, and 7.5 sacks.
How Patrick Surtain Jr. can exceed his father's legacy
The question for many football fans — not to mention front office executives — is whether Surtain Jr. can exceed his father's NFL legacy. Most analysts agree that Surtain Jr. has the skillset to do so.
Unlike his father, he will almost certainly slot in as a starter from day one. Physically, Surtain Jr. has the advantage of being both taller and heavier than his father.
Those attributes put him more in line with the newer generation of press corners favored by more and more defenses. The one question about Surtain Jr.'s game has to do with his speed.
He has occasionally been known to surrender throws deep, leading some commentators to hypothesize that he will ultimately end up as a boundary corner defending the shorter side of the field. Regardless, provided Surtain Jr. can stay healthy, he has a strong chance of exceeding his father's accomplishments at the NFL level.
All stats courtesy of Pro Football Reference and Sports Reference