Patriots' Brandon Bolden Praises Ole Miss' Lane Kiffin: 'I'm a Huge Fan and a Huge Believer'
Article Highlights:
New England Patriots running back Brandon Bolden said he's a "huge fan" of Ole Miss head football coach Lane Kiffin
The two-time Super Bowl champion's alma mater went 15-8 in Kiffin's first two seasons
Not only is Bolden impressed with the Rebels' play of late, but he's pleased with their fashion choices
Whether you love him, hate him, or have him blocked on Twitter, there's no denying Ole Miss head football coach Lane Kiffin incites no shortage of opinions, especially in the college football world.
Kiffin might be provocative, but he gets the job done. The 46-year-old won two Conference USA titles at mid-major Florida Atlantic and turned a perennial loser into a relevant Group of 5 program. Thus far, he's helped Ole Miss get back on the map and assert themselves as a legitimate SEC contender.
Although he never played for Kiffin, New England Patriots running back and former Ole Miss standout Brandon Bolden knows how he feels about the veteran head coach: he loves everything he's seen to this point.
Brandon Bolden says he's a 'huge fan' of Ole Miss head coach Lane Kiffin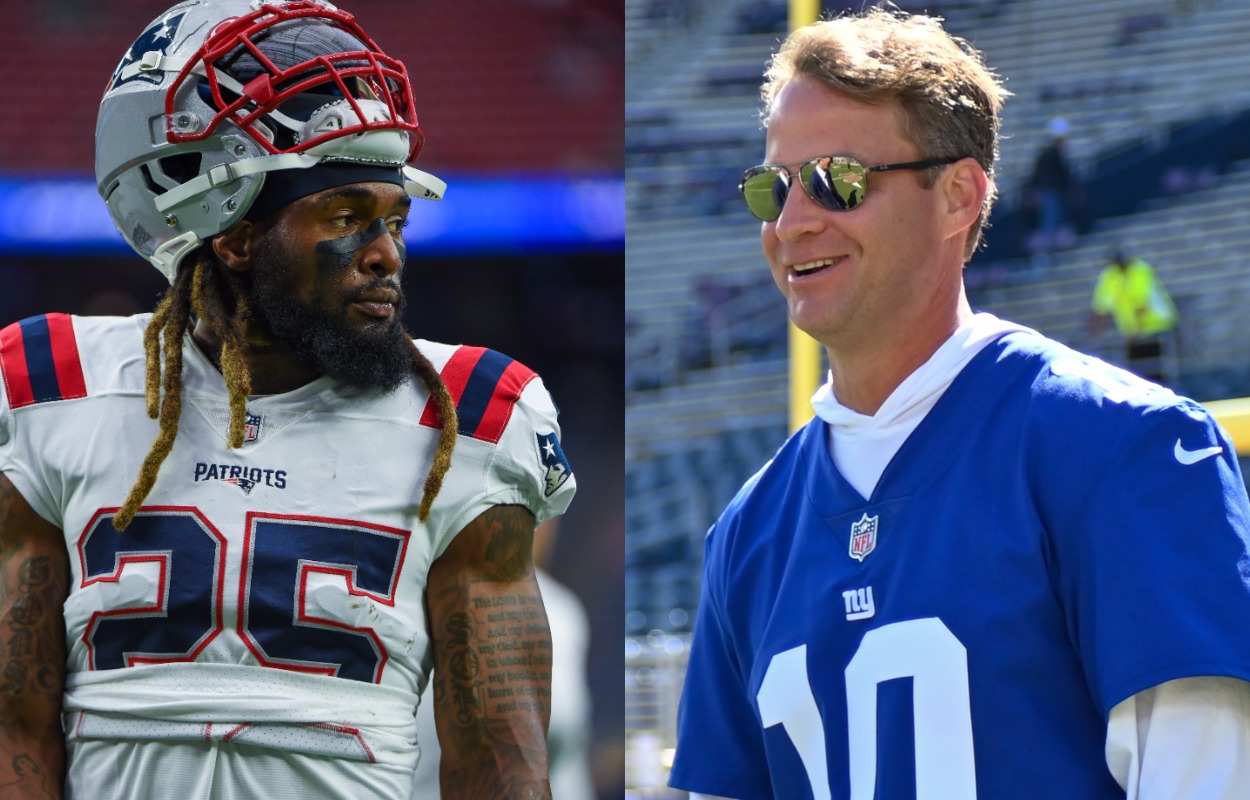 Although Ole Miss went a combined 18-8 in Bolden's first two seasons, the Rebels slumped to 4-8 in 2010 and an ugly 2-10 in 2011, the running back's senior season.
There have been no such slumps or mediocrity in Kiffin's first two seasons in Oxford. After an inconsistent 5-5 finish in 2020 amid the pandemic, Ole Miss went 10-3 and finished last season ranked 11th in the AP Top 25.
Suffice to say, Bolden has seen enough to think highly of Kiffin. In a recent interview with Sportscasting, the two-time Super Bowl champion said he's been extremely impressed with the 46-year-old head coach and loves what Kiffin has accomplished in Ole Miss thus far.
"I'm a huge fan and a huge believer in Coach Kiffin," Bolden said.
Clearly, Ole Miss feels the same way. Kiffin agreed to an extension with the Rebels last December and will earn $7.25 million in salary next season. According to Sports Illustrated, he will also earn an additional $200,000 if the team sells at least 40,000 season tickets.
Considering Kiffin currently boasts over 543,000 Twitter followers, maybe the Rebels should have placed the number at 55,000.
Bolden is especially grateful Kiffin and the Rebels regularly wear powder blue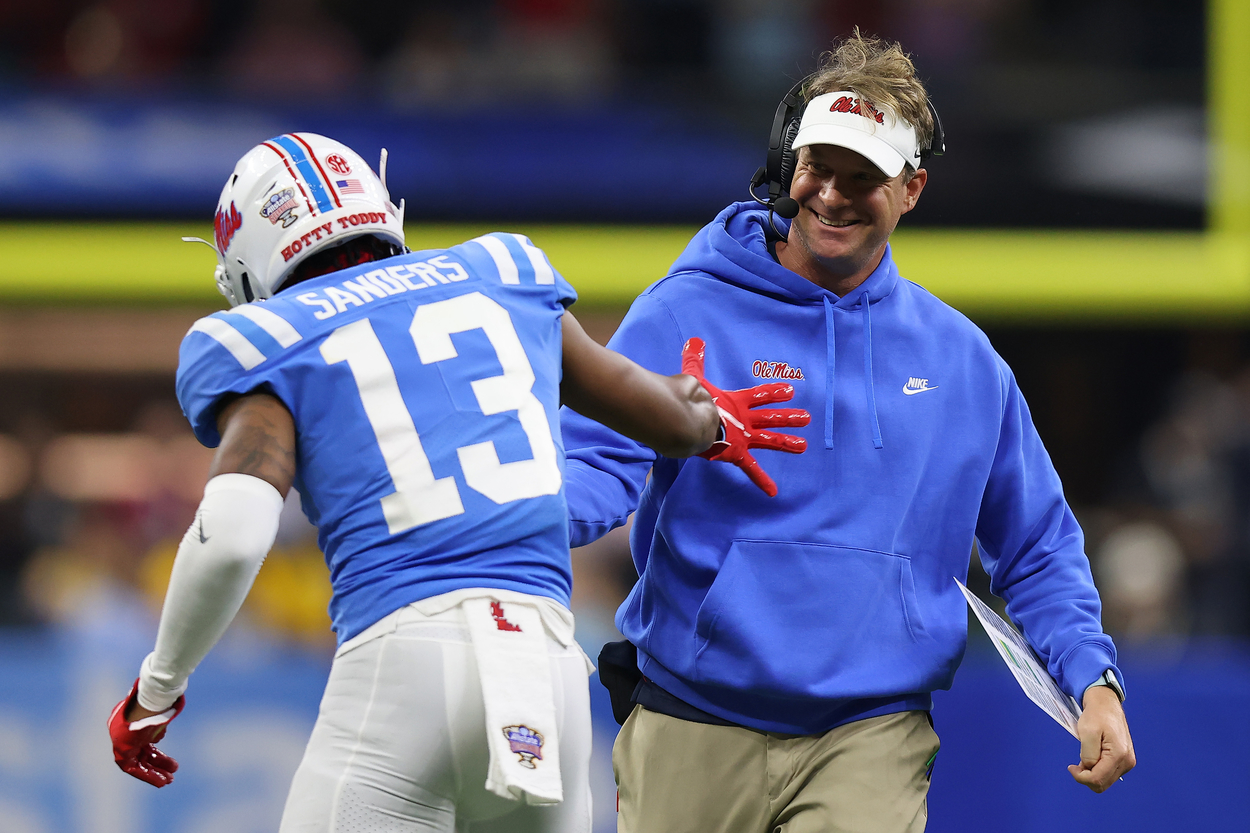 The wins are nice, and Ole Miss' potent offense is certainly enjoyable. However, the Rebels' fashion and uniform choices especially caught Bolden's eye.
Bolden told Sportscasting that he remembered "fighting" to wear powder blue helmets when he played at Ole Miss. The Rebels have regularly worn the alternate helmets and uniforms during Kiffin's two seasons in Oxford.
"They're out there doing that and continuing to win and having decent seasons," Bolden observed.
Diamonds are a girl's best friend, and powder blue helmets were a two-time Super Bowl champion's dream. Who would have thought?
Kiffin has Ole Miss primed for another impressive run in 2022
The bad news for Kiffin is that he lost several starters, including star quarterback Matt Corral and receiver Braylon Sanders, to either graduation or the NFL. Others, including talented running back Henry Parrish Jr., opted to enter the transfer portal.
The good news? For every player who leaves the Lane Train, another three are ready to jump aboard, especially through the transfer portal.
In the past months alone, Ole Miss added Southern California quarterback Jaxson Dart, TCU running back Zach Evans, and ex-Georgia Tech defensive tackle Jared Ivey. 247 Sports considered Ole Miss' 14 portal additions the country's top transfer class.
Not bad for a head coach who once ripped the portal for being "sexy" and suggesting players did it to get attention.
Kiffin will always have his detractors, especially the social media users who suggest he tweets and talks too often. But, at least one ex-Rebel is excited to see what the future holds in Oxford with a visor-wearing offensive mastermind in charge.
Like Sportscasting on Facebook. Follow us on Twitter @sportscasting19.
RELATED: Nick Saban Reveals Why He Changed His Entire Football Philosophy Once Lane Kiffin Came to Alabama