Patriots CB Stephon Gilmore Loves Calling Out His Opponents
Players whine about referees during every game in every sport. When they do it, it is justified, but when others do it, it's considered complaining and a sign of weakness. Every once in a while, players get into it with each other about their complaining to referees even though it happens on every call. The latest example involves New England Patriots cornerback Stephon Gilmore, who had some choice words for Philadelphia Eagles tight end Zach Ertz after a 2019 game.

What happened between Stephon Gilmore and Zach Ertz?
The incident at hand occurred when the two teams met during a Week 11 game in which the Patriots beat the Eagles 17-10. The Eagles struggled to get into the red zone all game thanks in large part to Gilmore and company on defense, and because of that, tensions flared. The play at hand saw Ertz and Gilmore exchanging words after an incomplete pass that Gilmore implies stemmed from a perceived lack of a call.

Gilmore did not hold back talking about Ertz to the press.

"He was crying," Gilmore said to NBC Sports Boston. "He does that on film a lot. If you get into him. If he don't get the ball or he don't get a call, he'll cry. But he's a good receiver. He's a good tight end. He's a great player, but when he don't get his way, he'll complain to the ref. But who don't do that?"

Whether true or not, there is something to be said about athletes who are not able to take responsibility and project anything that doesn't go their way onto others. Ertz struggled to have any meaningful drives all game, and he likely lashed out because of it. The Patriots do, after all, have a knack for getting under opposing players and fans alike, so when a vocal defender and a vocal offensive player get caught at the wrong time, tempers will flare.

Zach Ertz's 2019 season
In some ways, Ertz's production in 2019 is down slightly from last season. After getting 116 receptions last season, he is on track for fewer than 100, although the receptions he does get lead to more yardage. He's scoring less and catching at a lower rate. Although Ertz's season isn't bad by any stretch and nearly justifies his huge paycheck, the Eagles have not been able to rise above anything higher than mediocrity, and that likely takes a toll on the recent Super Bowl champion.

Until the ninth game of the if the season, Ertz had only been targeted more than 10 times once, and the Eagles are yet to be able to string together more than two wins. Likely, his outburst was a conflation of all of this, and Stephon Gilmore happened to be there in the moment.

Stephon Gilmore's stellar season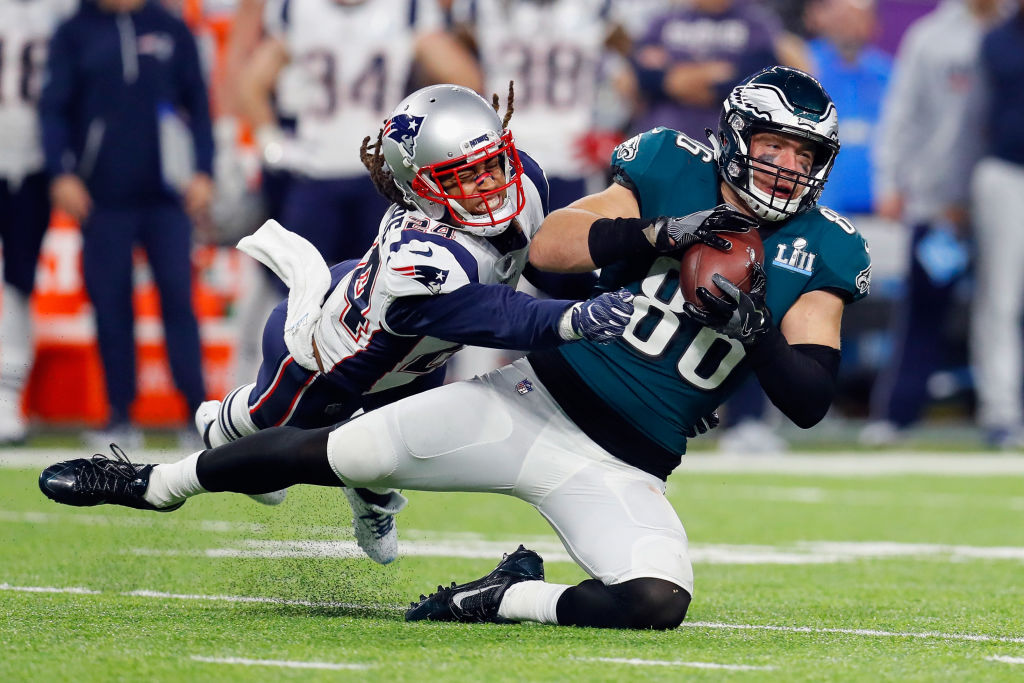 Stephon Gilmore has had a good season, too. After an All-Pro season last year, he might be even better this year. He has doubled his interceptions from last season and could very well get a career-high in that stat. He will likely get around the same number of tackles unless his production takes a drastic dip, and at 29 years old, he might finish with an even better year than last year.

Defensive players tend to enjoy getting under the skin of their opponents, and Gilmore and the rest of his teammates did just that against the Eagles. While the Eagles might have gotten the best of the Patriots in the Super Bowl when the two teams met, the Patriots have continued playing at a high level while the Eagles took a major dip.

Gilmore and Ertz's exchange was minor at a time where another story involves other players beating each other with their own helmets. Still, it serves as a reminder of how things can conflate and how a player's perception can be formed around their actions in a reactionary league.