Patriots Draft Pick Justin Rohrwasser Deserves Fresh Start After Addressing Controversial Tattoo
Justin Rohrwasser should have spent the Saturday of the 2020 NFL draft celebrating being drafted by the New England Patriots. Instead, Rohrwasser earned mass criticism over a controversial tattoo on his arm associated with a ring-wing militia group.
At first, Rohrwasser pleaded ignorance and said he would cover the tattoo. Rohrwasser truly apologized for the tattoo and said he intends to have the art removed.
Not only should Justin Rohrwasser earn recognition for apologizing, but he deserves a clean slate in the NFL.
Justin Rohrwasser's controversial tattoo went viral
A former standout at Marshall, Justin Rohrwasser is from a military background. Rohrwasser was 18 when he got a tattoo featuring a symbol he thought was an "American sentiment."
The tattoo is now associated with "The Three Percenters," a right-wing militia group. Rohrwasser believed the tattoo stood for supporting the military and represented the "percentage of colonists" who fought the British government in the American Revolution.
The tattoo went viral minutes after the Patriots used a fifth-round selection on Rohrwasser. When Justin Rohrwasser virtually met with media members that night, he said the tattoo "evolved into something that I do not want to represent."
In an emotional interview with WBZ-TV in Boston, Rohrwasser said he regretted getting the tattoo.
"As soon as I saw what it was linked to on Saturday, it was exactly that time I knew I had to get it totally taken off my body. I said cover it up [to reporters], but I want to get it removed from my body. It's shameful that I had it on there ignorantly."
Rohrwasser made a strong and genuine apology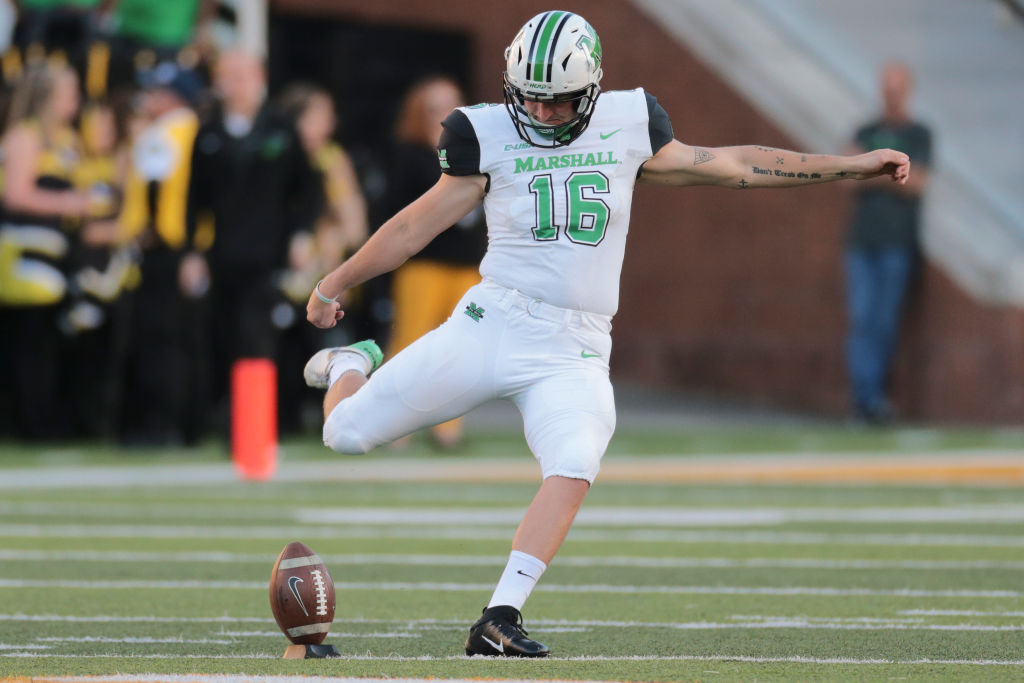 Justin Rohrwasser, and those around him, deserve credit for circling back to the issue with cleaner answers instead of dismissing it. Rohrwasser genuinely, and emotionally, acknowledged he regretted the tattoo.
Rohrwasser repeatedly said he did not know the symbol had ties to a militia group. Political groups have appropriated terms and symbols in recent years.
The Anti-Defamation League ruled last year that a hand gesture which traditionally meant "OK" or "all good" is now a symbol of hate.

Florida Atlantic University, which plays in the same conference as Rohrwasser's Marshall Thundering Herd, has long used that gesture — named "Owl Fingers" — as a symbol of pride.
Justin Rohrwasser's comments showed tremendous maturity. He addressed a problem and urged to become better.

Rohrwasser also thanked the friends and family who defended him.
Justin Rohrwasser should follow in Josh Hader's footsteps
Justin Rohrwasser's tattoo is very similar to players' old tweets and social media posts which went viral in recent years. Rohrwasser, like many of those players, provided a genuine apology and said he would do better in the future.
Several of those tweets, including those from Brewers reliever Josh Hader, featured white players posting music lyrics containing slurs. There was reason to give 8-year-old tweets a pass.
Rohrwasser said the tattoo "never" was an issue at Marshall. He earned Conference USA Special Teams Player of the Year honors last season.
Justin Rohrwasser deserves a clean slate and an opportunity to show football fans he is not a controversial figure. The baseball world quickly forgave players such as Hader who apologized for old homophobic, transphobic, and racist tweets.
It would not be fair for Rohrwasser to not earn the same chance, especially not after a profound apology.