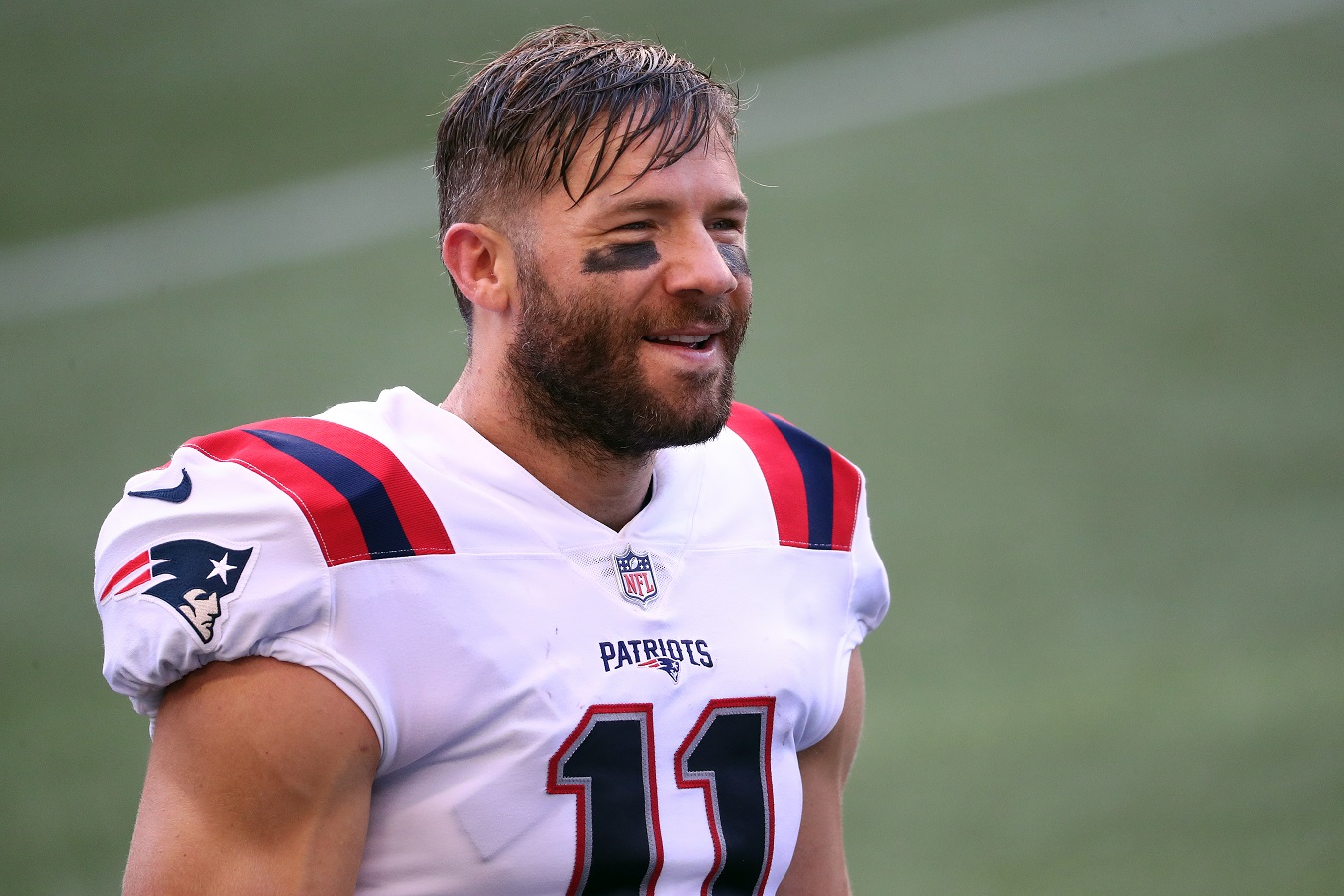 Patriots Fans Should Be Concerned After Julian Edelman's Interview
One more piece of the New England Patriots' dynasty, Julian Edelman, may or may not be on his way out of the NFL.
In 2020, the New England Patriots missed the postseason for the first time in 12 years. It's hard to imagine how they can bounce back anytime soon, as there is still uncertainty surrounding the quarterback position for 2021. This week, it seems like one more piece of the Patriots' dynasty may — and we emphasize, may — be on his way out.
Julian Edelman: "We're not there yet"
On Friday afternoon, wide receiver Julian Edelman appeared on the Barstool Sports podcast Pardon My Take. At one point during the interview, co-host Dan "Big Cat" Katz asked Edelman about his status for 2021, to which Edelman gave a vague and non-explicit answer.
Right now we're being a dad right now and we're sitting back and training, getting our body right for the next year. It's a time to get away from football right now.

I don't know. We're not there yet. This whole year was so jacked up, man. It was so long. I just need to decompress for a little bit. I am out in L.A. right now and taking my kid to school and picking her up, and doing those kinda things that you don't get to do during the season. So I don't necessarily know what you guys are talking about.

New England Patriots WR Julian Edelman, as quoted by NESN
It's hard to tell whether Edelman is leaning one way or the other with this answer. Most likely, he just doesn't want to think about it.
Either way, Edelman is under contract with the Patriots for next season. If he retires, he will leave $4,000,000 on the table.
Edelman's legacy in New England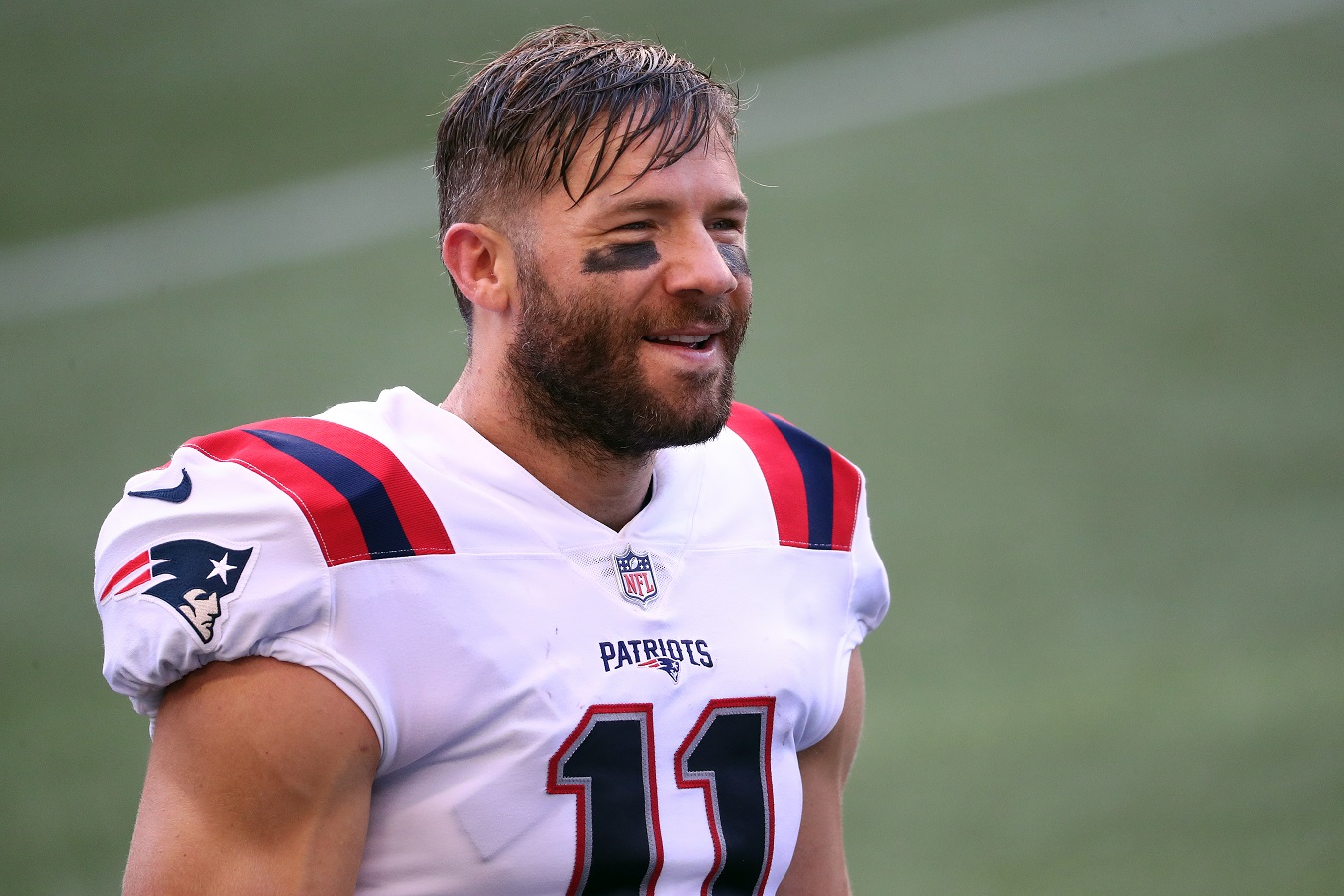 On paper, Julian Edelman has every reason to hang up his boots and leave the game behind. He has already achieved almost everything there is to achieve in football.
In his eleven-year career — all with the Patriots — Edelman will forever be known for his production in the postseason. Only Jerry Rice has caught more passes or picked up more receiving yards than Edelman. Arguably, his finest day came during Super Bowl LIII against the Los Angeles Rams. His ten-catch, 141-yard performance won him Super Bowl MVP honors.
Another tempting reason for Edelman to retire would be his long injury history. He has played all 16 games of a season in only three seasons: 2013, 2016, and 2019. In 2020, he missed the majority of the season after aggravating a pre-existing knee injury.
Regardless of what happens next, Edelman's place in Patriots history is secure.
Where would the Patriots go?
If Edelman chooses to retire, his loss would be a serious blow to a Patriots team already wanting for offensive weapons. After Edelman, the top three wide receivers on the depth chart are Jakobi Meyers, Damiere Byrd, and N'Keal Harry. The three combined for a mere three touchdown receptions in 2020.
Needless to say, wide receiver is one of the holes the Patriots will need to fill for next season. After all, whoever will throw the passes will need someone to throw them to.
The Patriots will have the 15th overall pick in the upcoming NFL Draft — still the middle of the road, but far earlier than the team is accustomed to. There should be some promising wide receivers available at that point in the first round. If they're lucky, they may even land Alabama's Heisman Trophy winner, DeVonta Smith.
Statistics courtesy of Pro-Football-Reference. Financial data courtesy of Spotrac.