Patriots Free Agency: Why New England Must Target Jets WR Braxton Berrios
Article Highlights:
The New England Patriots must pursue New York Jets receiver Braxton Berrios in free agency
Berrios, a former New England draftee, quietly earned All-Pro honors because of his special teams excellence last season
Although the Miami product checks every box the Patriots should have, he must determine if the six-time Super Bowl champions make sense for him
Because the New York Jets remain the NFL's laughing stock, it is often easy for their best players to go unnoticed. Why should anyone have cared about veteran receiver and All-Pro returner Braxton Berrios when the Buffalo Bills and New England Patriots fought it out for the AFC East title?
The Patriots would have been wise to notice all that Berrios accomplished in 2021, and not simply because the six-time Super Bowl champions drafted the Miami product in 2018. Well over two years after giving up on the dynamic slot receiver, New England would be wise to pursue a reunion when the new league year begins later this month.
Braxton Berrios checks every box the New England Patriots should have in a receiver
At 5-foot-9 and 190 pounds, Berrios isn't the most imposing threat at receiver. His lack of size didn't stop the former All-ACC wideout from totaling 46 catches, 431 yards, and two touchdowns in 16 games and one start last season. He also rushed for 40 yards and two touchdowns on seven carries.
Perhaps the best decision first-year Jets head coach Robert Saleh made in 2021, however, was making Berrios the full-time kick returner. The ex-Miami Hurricanes star averaged 30.4 yards per kick return and scored a 102-yard touchdown en route to earning first-team All-Pro honors.
Berrios checks every box the Patriots should still have when targeting receivers. Even if he's not the biggest player, he uses his size and frame to his advantage to elude tacklers. He's a starter who contributes on special teams, albeit as a returner instead of someone who purely sprints downfield on kickoff and punt coverage.
Remember, the Patriots used a sixth-round pick on Berrios for a reason. They saw his potential and the grit he still shows on every down. Advanced statistics might not account much for attitude and spirit, but those personality traits go a long way even in 2022.
Berrios is entering his prime years, which would be ideal for Mac Jones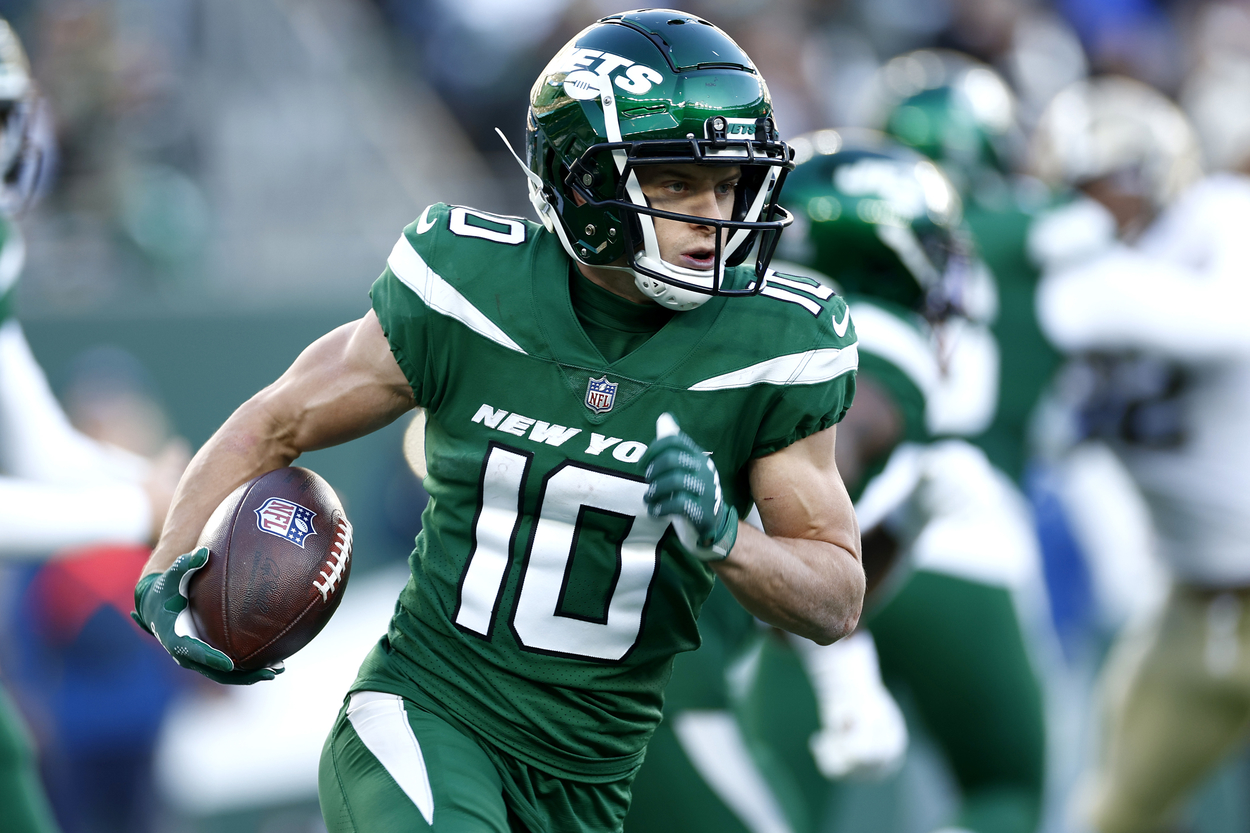 Much like Berrios' 2021 numbers may have been forgotten given the Jets' awfulness, the Patriots' uncharacteristic 2021 spending might have also been ignored. New England guaranteed a combined $77.5 million to four offensive skill players: tight ends Hunter Henry and Jonnu Smith and wide receivers Nelson Agholor and Kendrick Bourne. Yet, the Patriots primarily made the playoffs because of a competent running game and an imposing defense.
Some Patriots fans might suggest the team should avoid guaranteeing even more money to a skill player, especially one who didn't pan out in New England the first time. However, let's not pretend Berrios is on pace to earn a five-year, $100 million contract. Spotrac currently projects the 26-year-old will sign a four-year, $23.6 million this offseason.
Let's assume Spotrac is being generous, and Berrios only gets roughly $4 million per season. New England can absolutely afford to bring Berrios in at that price, especially considering his special teams value. Even if he's not an especially dangerous receiver, his versatility could quickly make him one of Mac Jones' favorite targets in 2022.
It is also worth noting the Patriots are widely expected to finally part ways with veteran receiver N'Keal Harry, who repeatedly underwhelmed in his first three seasons. Although Jakobi Meyers is a restricted free agent, there is currently no indication that he will not return to the Patriots in 2022.
Would the Patriots use Berrios the way the Jets did? And would that matter?
Berrios doesn't currently profile as a receiver who will total 70 catches, 800 yards, and six touchdowns per year. He's an all-purpose threat who can beat teams in the air, on jet sweeps, and on kick returns. There is no shame in that, and he earned All-Pro honors for a reason.
For all of their flaws, the Jets used Berrios correctly. Would the Patriots do the same? As of publication, New England hadn't hired an offensive coordinator, and there is no guarantee the Patriots will officially replace Josh McDaniels, who left to become the Las Vegas Raiders' head coach.
Some might argue the lack of a traditional offensive coordinator might not matter. However, head coach Bill Belichick and offensive assistant Joe Judge, who reportedly could be involved in play-calling, might not decide to use Berrios the way the Jets did, which would be a mistake.
Despite our apparent cynicism, Berrios makes perfect sense for the Patriots. Whether or not they make perfect sense for him is a conversation those two sides need to have in the coming weeks.
Like Sportscasting on Facebook. Follow us on Twitter @sportscasting19.
RELATED: NFL Free Agency: Ranking the 4 Players the New England Patriots Must Target