Patriots WR Kendrick Bourne Reveals Bill Belichick's Unique Message to Him
Bill Belichick has been a head coach in the NFL since 1992, and he's impacted the lives of many players during that span. Kendrick Bourne joined the New England Patriots before the 2021 season after spending four years with the San Francisco 49ers.
The fifth-year wide receiver admits he's learned a lot from Belichick in such a short amount of time. The Patriot Way might not be for everybody, but Bourne bought in from the start. The Portland, Oregon native suggests the legendary coach taught him a lesson about something he neglected early in his career.
Bill Belichick taught Kendrick Bourne lesson about hydration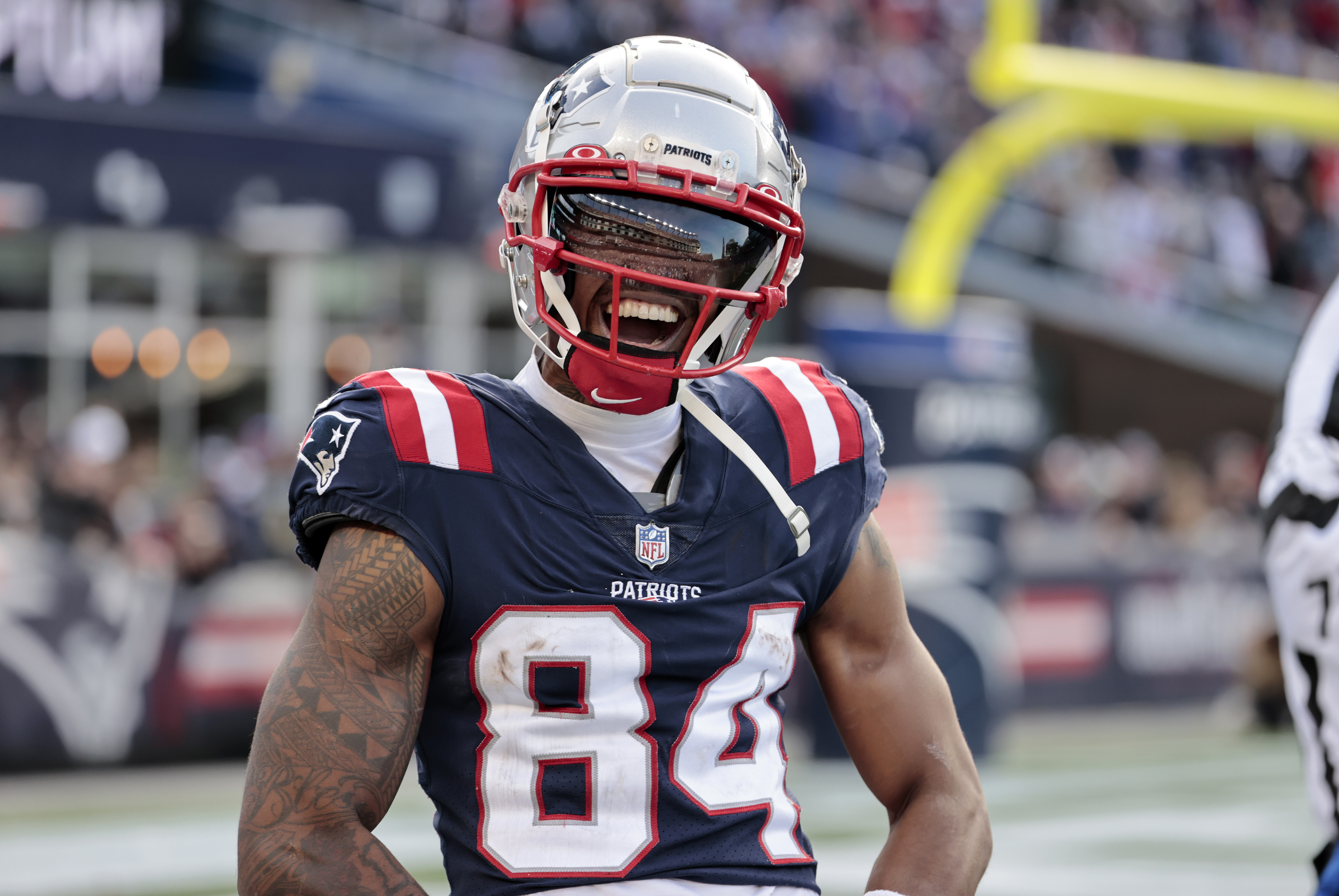 Playing in New England isn't for everyone. Kendrick Bourne certainly didn't mind it too much because he's playing the best football of his career.
After four seasons with the San Francisco 49ers, he enjoyed a breakout campaign with the Patriots. Massachusetts is a long way from the Bay Area, but it's been a smooth transition. Bourne credits Bill Belichick for his early success with the new squad.
The Eastern Washington product recently appeared on Getcha Popcorn Ready with T.O. and Hatch. Bourne told a story of an interaction with Belichick that changed his outlook on football and life.
"He taught me really how to hydrate," said Bourne. "He sat me out of practice, man because I failed the hydration test. This is what I needed, though. I want to buy in and be the best that I can be. This is how they work, so I'm like, I gotta figure this out. I wasn't hydrating in San Francisco at all."
The former 49ers wideout suggested that drinking water regularly wasn't part of his routine early in his career.
"Over time, I just learned how to drink water in the morning, drinking it all up until practice," he added. "I just found myself getting better. Now my body's feeling better. I can make it through practice easy, and I can go longer after practice."
The Patriots wideout calls Belichick the greatest coach ever
Signing with the New England Patriots has paid huge dividends for Kendrick Bourne. He played a role on a good team in San Francisco, but he saw his role expand within the Patriots offense. Not to mention, he got the chance to play under one of the greatest coaches in NFL history in Bill Belichick.
Not only did Belichick teach Bourne a much-needed lesson on taking care of his body, but he also showed him what that extra work could do for his game. As a result, the young receiver gained a great deal of respect for the longtime head coach in such a short span.
"Bill Belichick changed my life," Bourne said. "He is the best coach in the world. Shoutout to you, Bill Belichick. Best coach in the world, hands down."
The 6-foot-1, 203-pound wide receiver hears the public perception of the Patriots coach as a stoic and sometimes stern figure. Bourne appreciates Belichick's personality, though.
"He really is how he acts," added Bourne. "He's the same guy. If he tells a joke, it's gonna be the TV, but he's the same guy every day. He's mean, but once you get a relationship with him, he opens up, man. He shows that side."
Bill Belichick being hard on his players meant more to Kendrick Bourne than he could've expected.
Joining New England was a great move for Bourne's NFL career
Kendrick Bourne wasn't a highly-touted prospect coming out of college. Despite coming off a 1,000-yard season at Eastern Washington, he went undrafted in 2017. The San Francisco 49ers picked him up, and Bourne worked his way to securing a spot on the roster.
Bourne was never the top guy in Kyle Shanahan's offense. However, he knew his role and played it well. The 26-year-old wideout caught 137 passes for 1,769 yards and 11 touchdowns in 58 games with the Niners.
Bourne signed a three-year, $22.5 million contract with the Patriots in 2021, and it turned out to be a great move for his football career. He put together his most productive season in his first year in New England. The fifth-year receiver recorded 55 receptions for 800 yards and five touchdowns. Pro Football Focus gave him a grade of 75.6 on the year.
Playing with rookie Mac Jones allowed him to be part of the young quarterback's development.
"He's showing all the traits to be special," Bourne said. "That's what you want to see. I just want to stay close to him as long as I can so I can grow with him. A receiver and a quarterback with a good connection can almost win a game itself. I want to be that guy."
Kendrick Bourne seems to be fitting in nicely in New England. His relationship with Bill Belichick helped it all come together.
All stats courtesy of Pro Football Reference
RELATED: Patriots' Brandon Bolden Opens up on Cancer Battle and Desire to Be a 'Voice' of Encouragement