Patriots LB Kyle Van Noy Pinpointed the Exact Moment Mac Jones Was Destined for Stardom: 'He Was Balling Against Us'
Article Highlights:
New England Patriots linebacker Kyle Van Noy didn't need long to be impressed with rookie quarterback Mac Jones
The Alabama product took Cam Newton's quarterback spot in late August and never looked back
Van Noy is extremely excited about Jones' future in the NFL
New England Patriots rookie quarterback Mac Jones knew the stakes as soon as he heard his phone ring in late April. Fair or not, the Alabama product would need to face the ramifications and pressure of succeeding Tom Brady as the franchise's long-term quarterback.
After a 1-3 start and turnover issues, Jones has spent recent months solidifying his place as the Patriots' face of the future. Veteran linebacker Kyle Van Noy, who won two Super Bowl rings with Brady on the Patriots, didn't need long to realize Jones would fit in just fine.
Kyle Van Noy pinpointed the exact moment he knew Mac Jones was the real deal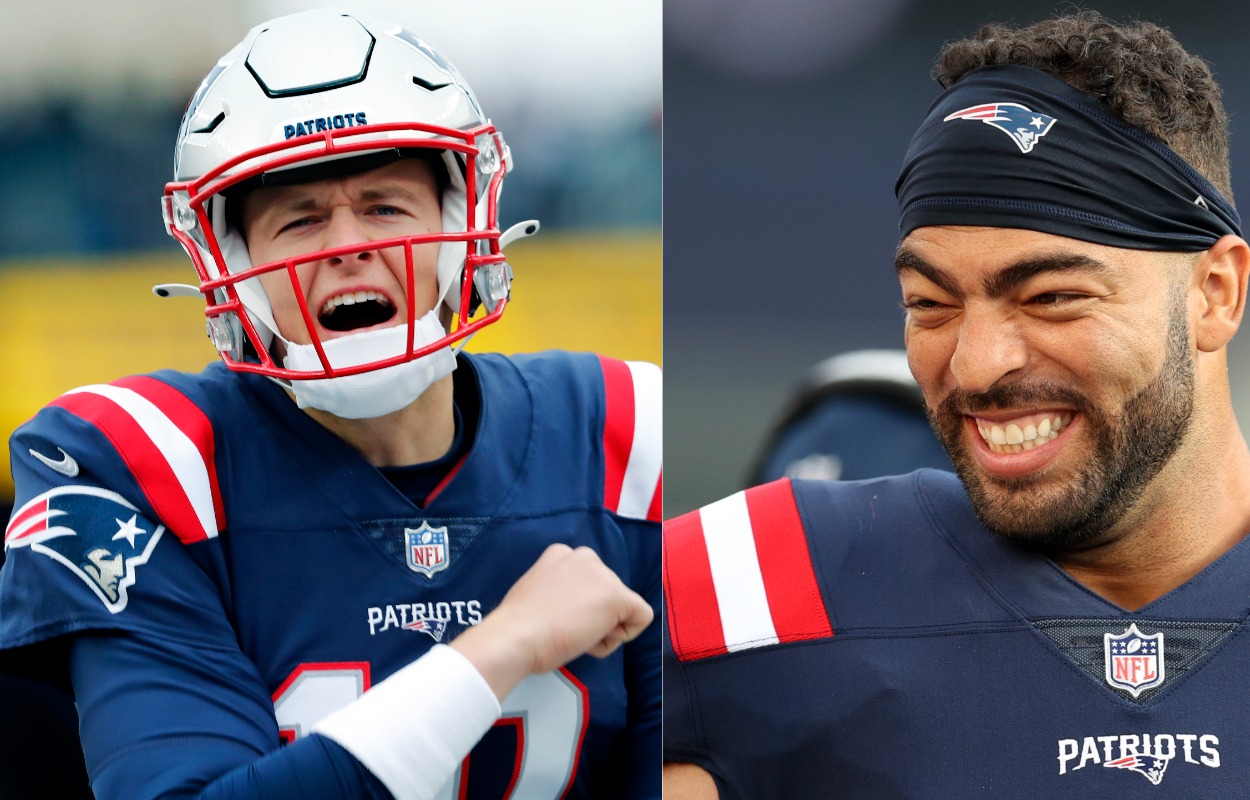 All the way back in August, football fans still weren't sure who would be the Patriots' starting quarterback in Week 1. Although Jones arrived with considerable hype and first-round billing, he needed to fight off Cam Newton, who the Patriots re-signed before the draft.
Jones got his opportunity in late August ahead of joint practices with the New York Giants. Newton, who at the time was unvaccinated, left the team for an approved medical appointment but needed to stay away from the organization for five days in compliance with COVID-19 protocols.
During a recent appearance on the Green Light with Chris Long podcast, Van Noy said Jones' increased action that week sold him on the rookie quarterback. One day before the Giants and Patriots began practicing together, New England's starting defense spent the day facing Jones, not Newton.
"[Jones] was balling against us. It was like, 'Oh, this dude's good.'"

Kyle Van Noy
Those on the Giants likely had similar thoughts later that week. The rookie reportedly completed 35 of 40 passes, including a stretch of 18 straight completions, in an Aug. 25 practice.
Jones took full advantage when he faced the Giants that weekend
Although Newton returned for the Patriots' preseason game against the Giants, he didn't last long. The 2015 NFL MVP started two drives and threw an interception on the Patriots' second possession.
Newton's struggles paved the way for Jones, who completed 10 of 14 passes for 156 yards in a 22-20 victory. The two-time national champion hit second-year receiver Isaiah Zuber for a 17-yard touchdown early in the third quarter.
For all intents and purposes, that Saturday night marked the last straw. New England cut Newton before the regular season began and officially handed the starting reins to Jones, who became the first rookie to start at quarterback for the Patriots since Jacoby Brissett in 2016.
Clearly, the Patriots made the right decision. New England entered Week 14 at 9-4 and owning the No. 1 seed in the AFC. Considering how Newton has played over the last two years, it seems safe to assume (as dangerous as that is) that the Patriots might be far closer to .500 had he spent this season as Bill Belichick's starting quarterback.
Jones and Van Noy have each played significant roles in the Patriots' return to form
Jones entered the Patriots' Week 14 bye owning a 70.3 completion percentage and 16 touchdowns against eight interceptions. He leads all rookie quarterbacks in passing yards (2,869) and touchdowns; he and Jacksonville's Trevor Lawrence, the No. 1 overall pick, are the only first-year quarterbacks who have started all of their team's games this season.
After throwing six interceptions in his first six outings, Jones has only thrown two during the Patriots' seven-game winning streak.
"The more he sees it, he's like, 'All right, I saw it. I can diagnose it again. I'm good,'" Van Noy said of Jones. "The more he can see reps, the better he's going to be. It's going to be impressive to watch, and I'm very, very happy I'm on his team."
Van Noy has more than done his part, contributing four sacks and forcing two fumbles in 12 games and five starts. New England is only allowing 15.4 points per game, nearly seven points fewer than last season.
Luckily for Patriots fans, they appear to have their quarterback of the future. Unfortunately for the rest of the NFL, another dynasty might begin in New England once again. So much for parity and a changing of the guard.