Patriots Legend Rodney Harrison Blasts Carson Wentz and the Colts' Offense: 'Wentz Is Terrible Right Now'
Carson Wentz is off to a shaky start with his new team, the Indianapolis Colts.
Not only are the Colts winless through their first three games of the 2021 NFL season, but one of Wentz's biggest issues (his health) is beginning to creep back into the picture. Wentz had to undergo foot surgery during training camp and suffered two ankle sprains during the Colts' Week 2 loss against the Los Angeles Rams.
Wentz hasn't actually missed any significant game time yet, for what it's worth. However, the three straight losses and multiple injuries are definitely casting a gloomy shadow over Indianapolis right now.
Former NFL safety Rodney Harrison blasts Carson Wentz
While there's still plenty of football left to be played this year, and the Colts' schedule begins to soften up moving forward, that hasn't stopped the critics from attacking Wentz early and often.
Rodney Harrison, a 14-year NFL veteran who won two Super Bowls with the New England Patriots, ruthlessly came after the Indy QB following their Week 3 loss to the Tennessee Titans.
…Carson Wentz is terrible right now. He's just not very good. He's not playing with a lot of confidence, he's not stepping into his throws. And this is the thing that we've talked about. This is perfect for Carson Wentz. He's familiar with the coach, he's got players and playmakers around him — how can you mess this up? How can you mess this up? You've got Jonathan Taylor, you've got all these weapons and you've got good tight ends."

Rodney Harrison via NBC Sports
No sugarcoating from Harrison there — he flat out calls Wentz "terrible."
Has Carson Wentz actually been terrible?
The 0-3 record is alarming. However, it's worth pointing out that Wentz isn't playing as "terrible" as Rodney Harrison claims.
Wentz passed for 251 yards, two touchdowns, and zero interceptions against the Seattle Seahawks defense in Week 1 and followed up with 241 passing yards, one touchdown, and one interception against the Rams in Week 2. By no means are these eye-popping, MVP-caliber numbers. However, he's not turning the ball over three to five times per game like some of the other quarterbacks around the league are.
Wentz's recent performance against the Titans was definitely lackluster. However, he was playing on two sprained ankles and was more or less forced to play through the pain due to the lack of a serviceable backup option on the Colts.
The largest issue with the Colts at the moment, which Harrison fails to mention, is the state of the offensive line. Starting right tackle Braden Smith is out with an injury, left guard Quenton Nelson isn't 100%, and left tackle Eric Fisher is coming off an Achilles tear.
Carson Wentz ranks top-5 in pressure faced this year, which is obviously a recipe for disaster regardless of who's under center.
What next for the Colts?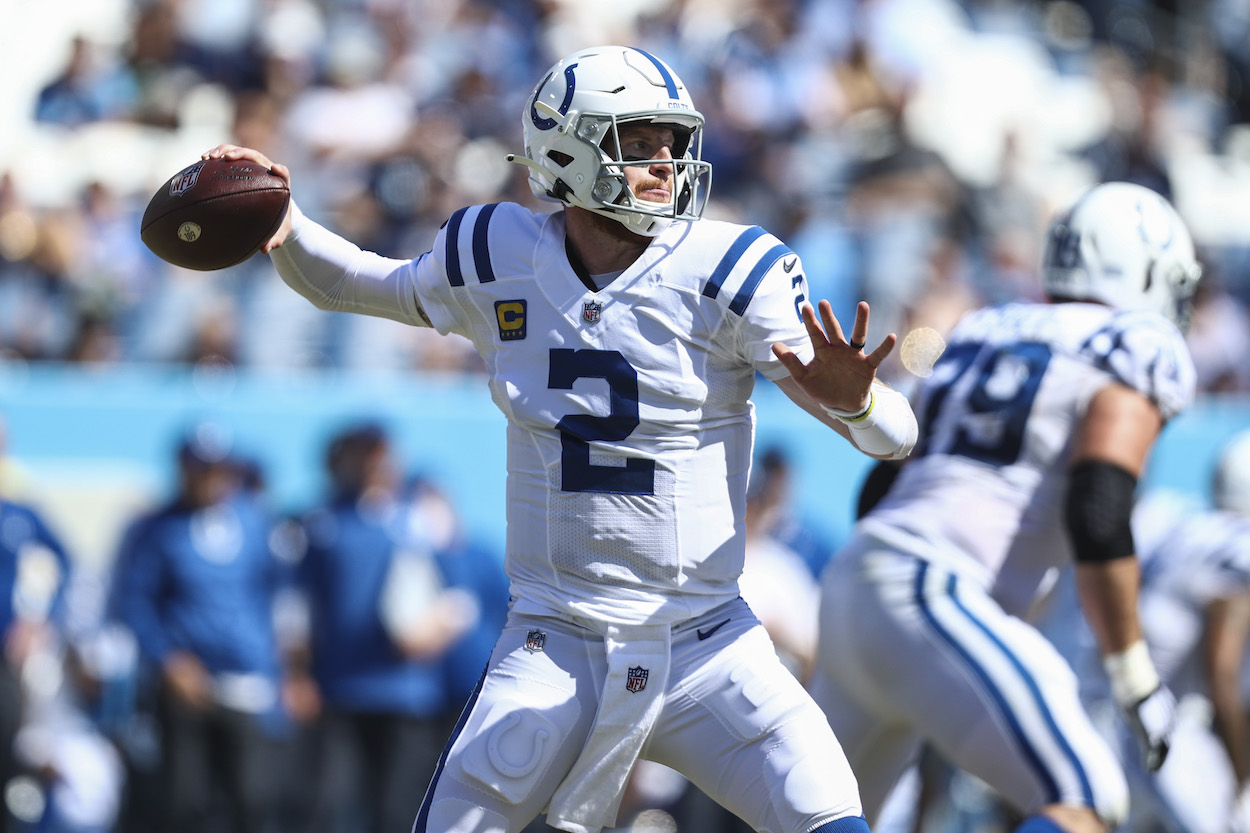 One of the arguments that Harrison makes, which actually has a lot of truth to it, is that Colts head coach Frank Reich isn't doing a great job of game-planning and play-calling at the moment.
Wentz is injured and is coming off a shortened offseason. The last thing he needs is to be thrown into the deep end with 30-plus pass attempts right off the bat.
"I've got Jonathan Taylor, I've got a huge offensive line, one of the top five offensive lines in all of football. And [Taylor] was probably in the top three last year in terms of total yards as a running back. Run him. Turn around and give him the ball 20-25 times. What about Nyheim Hines? He was a dual-threat; he could run the ball, he can come out of the backfield," said Harrison.
The hobbled offensive line makes running the football a challenge, but Harrison is correct in his assessment here. The Colts need to get a tad more creative with their offensive scheme until reinforcements arrive.
So, what's next for the Colts? They're presumably going to stay the course. They have a winnable game against the Miami Dolphins in Week 4, and the team should slowly get healthier as the year progresses. Wide receiver T.Y. Hilton is another key player on the offense who is out at the moment.
Only then will the Colts make a final assessment on Wentz being (or not being) their franchise quarterback of the future.
All stats courtesy of Pro Football Reference.
RELATED: The Indianapolis Colts Have a Major Problem Worth Worrying About That Has Absolutely Nothing to Do With Carson Wentz's Ankles