Patriots Legend Tedy Bruschi Says Cam Newton's Success Is Fully Dependent on Panthers OC Joe Brady: 'This Is 1 of the Best Running Backs in the League at Quarterback'
Article Highlights:
New England Patriots legend Tedy Bruschi says Carolina Panthers offensive coordinator Joe Brady is the key to Cam Newton's success
The 2015 NFL MVP scored two touchdowns in his first game for the Panthers since 2019
Brady and Carolina head coach Matt Rhule would be wise to listen to Bruschi's analysis
Cam Newton is back and scoring touchdowns for the Carolina Panthers, which is exactly the type of sentence you thought you'd read when November started.
Only days after rejoining the Panthers, Newton scored two touchdowns — one rushing, one passing — in a 34-10 upset victory over the injury-ravaged Arizona Cardinals. ESPN analyst and New England Patriots legend Tedy Bruschi has an idea on how the 2015 NFL MVP can thrive in his return to Carolina.
Tedy Bruschi believes Joe Brady is the key to Cam Newton's success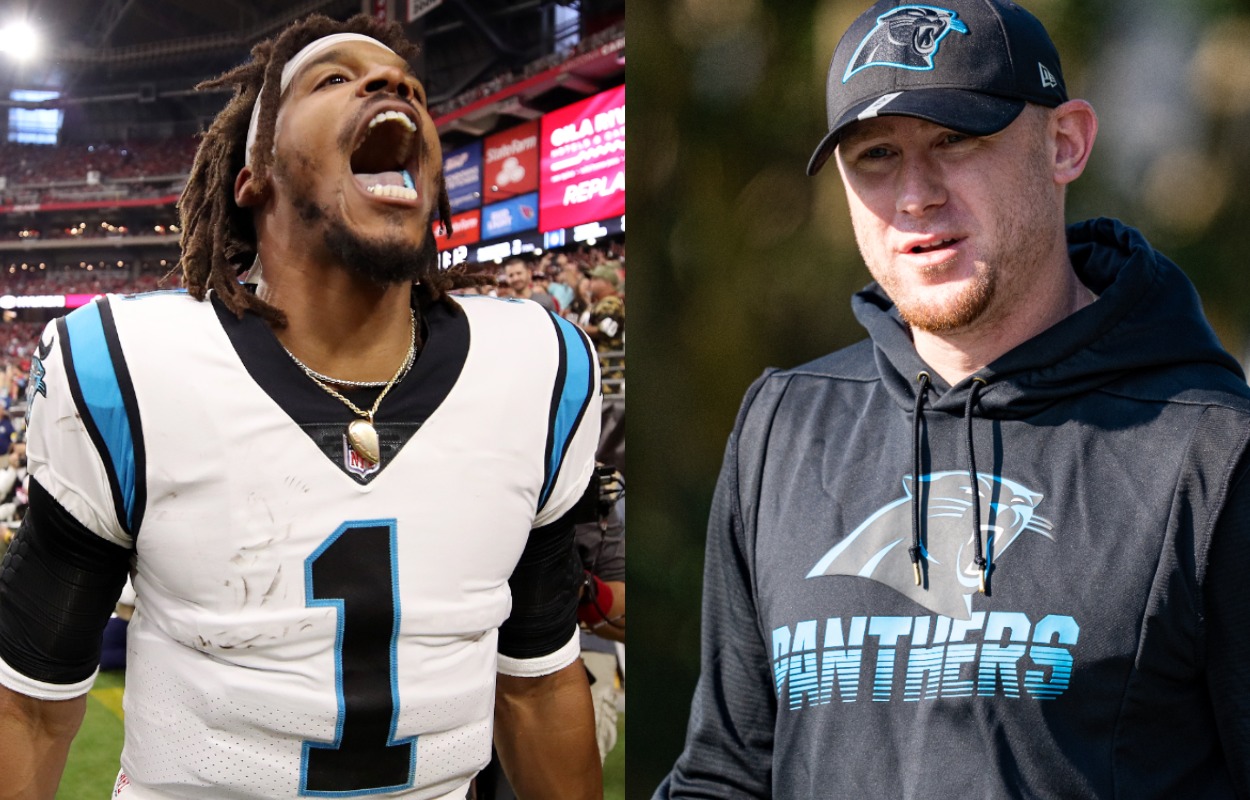 Every snap that Newton took as the Panthers' starting quarterback from 2011-19 occurred with Ron Rivera as his head coach. Remember, the Auburn product was on injured reserve when the team fired Rivera late in the 2019 campaign.
We bring this up because although Newton rejoined the Panthers organization, things have drastically changed since the organization cut him in March 2020. Rivera is now coaching the Washington Football Team, and Matt Rhule is in his second year leading the Panthers.
On the Nov. 14 episode of Sunday NFL Countdown, Bruschi said he believes Newton's biggest hurdle is adjusting to the new regime. The three-time Super Bowl champion added he believes that Panthers offensive coordinator Joe Brady is the key to whether or not the 32-year-old quarterback will succeed or fail over the coming weeks.
"[Newton] has a specific skill set. This is one of the best running backs in the league at quarterback because you're playing 11-on-11 football; it's how they utilized him in New England; the play-action pass and Joe Brady has to cater to that. If he's trying to ask Cam to throw it all over the place, you will fail."

Cam Newton
Bruschi creatively said the Panthers spoke Spanish, in terms of offensive language, during Newton's first stint with the team. Now, the veteran quarterback (and for this exercise, proficient Spanish speaker) is playing for a team that speaks French.
"When you're the quarterback, when you're in charge of giving out the information and it's not a language you're proficient in yet, that makes it a lot more difficult," Bruschi said.
Brady and the Panthers knew what they were doing with Newton in Week 10
If Sunday marked Newton's first French pop quiz, he passed with flying colors. In nine offensive snaps, Newton completed three of his four passes for eight yards and a touchdown against the Cardinals. He also ran for 14 yards, including a goal-line touchdown in his first play back with the organization.
Officials also penalized Newton for unsportsmanlike conduct after removing his helmet and yelling "I'm back" into a Fox camera. Not that the overjoyed quarterback seemed to care too much.
As for one afternoon, Brady and the Panthers used the veteran quarterback masterfully. They didn't need him to take over a drive at their own 30-yard line and try throwing deep or running a play-action pass to move the chains. Newton came into the game and looked fine running the ball and throwing short passes.
Again, let's view his Week 10 outing as a pop quiz, and we'll see how he fares on his first test.
Newton might be with the Panthers beyond the end of this season
When the Patriots cut Newton in September, we wouldn't fault anyone for thinking he played his final NFL down. So much for that idea.
Barring anything unexpected, Newton should finish the 2021 season in Carolina. Although he's on a one-year contract, don't be surprised to see the Panthers bring him back in 2022 if things work out over the next few months.
Carolina insisted on playing quarterback musical chairs after cutting Newton and awarding All-Pro running back Christian McCaffrey a risky and lucrative contract extension. Neither Teddy Bridgewater nor Sam Darnold has worked thus far, and we'll see what P.J. Walker can do if he gets another start in Week 11.
If the Panthers start Newton instead of Walker on Nov. 21, the three-time Pro Bowler will get an opportunity to finally face Rivera and the Washington Football Team. When the season began, who would have guessed that a random November between Carolina and Washington had the potential to be so intriguing?
Like Sportscasting on Facebook. Follow us on Twitter @sportscasting19.