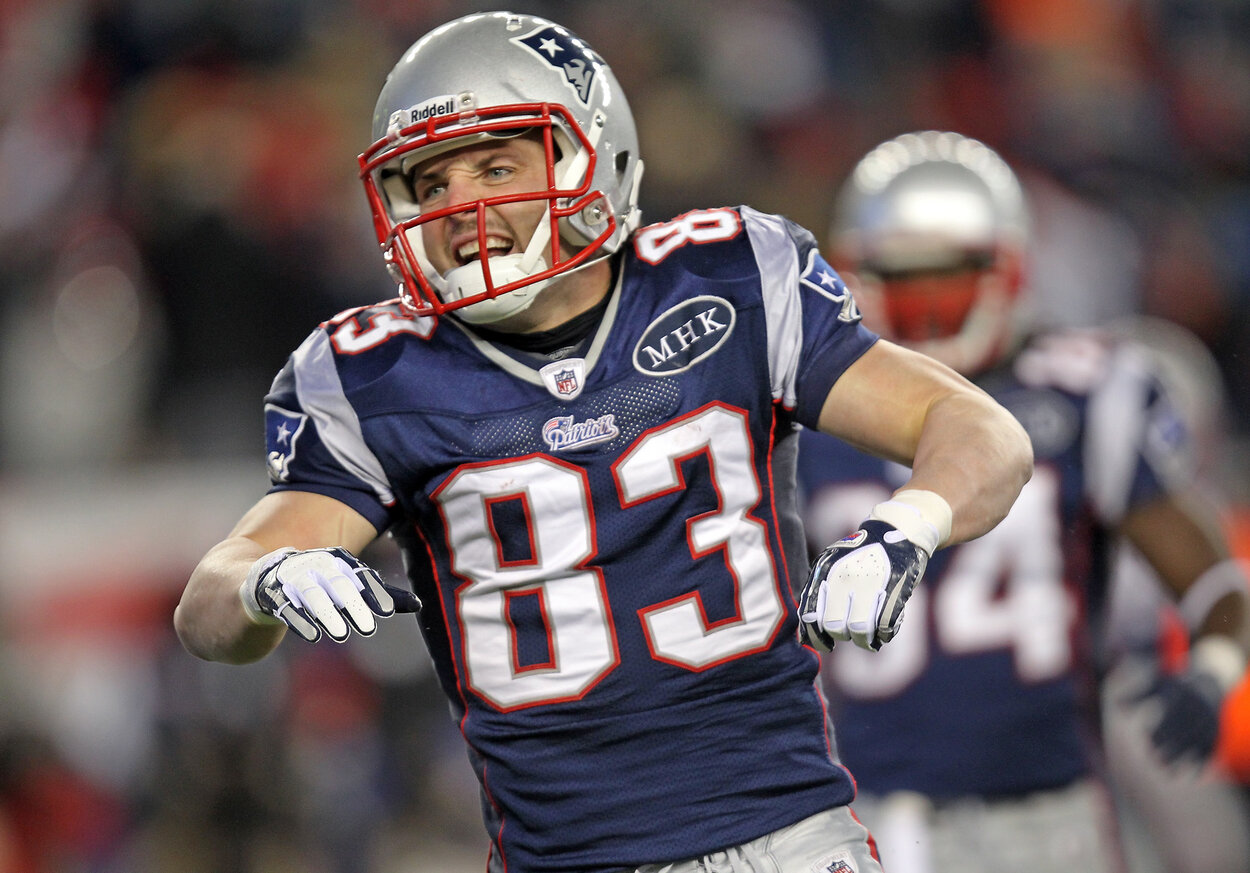 Patriots Legend Wes Welker Recently Gave His Old Team a Major Assist From Across the Country
Wes Welker hasn't played for the New England Patriots in nearly a decade, but he just gave his old team a big assist in the form of Kendrick Bourne.
The New England Patriots haven't employed Wes Welker for nearly a decade, but he's still finding ways to score for them.
Although Cam Newton would probably enjoy throwing to Welker, a five-time Pro Bowl selection who retired after the 2015 season, Newton will have to settle for Kendrick Bourne. But if Bourne becomes the dangerous offensive weapon the Patriots lacked at receiver last year, Newton and Bill Belichick will owe Welker in a big way.
Wes Welker helped Kendrick Bourne sign with the Patriots
Bill Belichick and the New England Patriots went on an uncharacteristic spending spree in the early days of free agency.
Among the new arrivals is Kendrick Bourne, who played the first four years of his career with the San Francisco 49ers. Bourne signed a three-year deal with the Patriots worth $22.5 million, including $5.25 million in guaranteed money. 
Bourne met with Patriots reporters on Monday, March 22, and explained how a familiar face led him to New England. Wes Welker, who earned All-Pro honors in four of his six seasons with the Patriots from 2007-12, is the 49ers' receivers coach. 
According to Mass Live, Bourne said Welker provided an in-depth assessment of what Bourne could expect in New England.
"I had a talk with him, told me: great place, great decision I picked and how they work hard there. Everything is earned. That was the biggest thing when I heard that come to a place where you can earn everything, go out there and play and showcase and earn your keep. It was a no-brainer."
The Patriots' contract offer certainly helped, too. Bourne said no offer came close to what the Patriots put on the table. 
Welker thrived with Tom Brady on the Patriots
Bill Belichick took a calculated risk on acquiring Wes Welker in the spring of 2007, and things — as they often do with Belichick — worked out just fine.
In six seasons with the Patriots, Welker hauled in 672 catches for 7,459 yards and 37 touchdowns. Welker reached the Pro Bowl every year from 2008-12, and earned first-team All-Pro honors after the 2009 and 2011 campaigns.
Welker received second-team All-Pro status in his first two seasons with the Patriots.
A capable postseason performer, Welker hauled in 69 receptions for 686 yards and four touchdowns in nine playoff games as a member of the Patriots.
What does Kendrick Bourne bring to New England?
If Kendrick Bourne can do even half of what Wes Welker did, then the New England Patriots will celebrate this signing for years to come.
Bourne, who stands 6 feet 1 inches and 203 pounds, will bring a needed outside presence to the Patriots' receiving group. The former Eastern Washington standout had 49 receptions for 667 yards and two touchdowns last year despite the 49ers' ongoing quarterback carousel.
Bourne brings experience and size to the Patriots' offense. A durable wideout who has only missed one game in the last three years, Bourne also moves the chains; 88 of his 121 catches, or 73%, resulted in a first down.
Bourne and Nelson Agholor, another new arrival, will be expected to start outside. Agholor, a first-round pick of the Eagles in 2015, is also capable of sliding inside.
It is not yet known if Julian Edelman, the Patriots' longtime starting slot receiver, will return for the 2021 season. Edelman missed most of last year with a knee injury.
Given how badly the Patriots' offense struggled without Edelman, one can understand why the team brought Agholor and Bourne in. Bourne will play the entire 2021 season at age 26 and is just now entering his prime.
Like Sportscasting on Facebook. Follow us on Twitter @sportscasting19.