Patriots Owner Robert Kraft Doesn't Have to Worry About His Nude Videos Anymore Thanks to a Big Legal Break
Robert Kraft has led the New England Patriots to a ton of success as the team's owner. He helped them become one of the most dominant dynasties of all-time. However, while the team has been in trouble for things like SpyGate and DeflateGate over the years, Kraft has been in some trouble of his own — legal trouble. This came when police allegedly videotaped him at a massage parlor during a prostitution sting.
Robert Kraft is one of the most successful owners in sports
RELATED: Bill Belichick Might Have Just Had His Biggest Flaw Exposed
According to Forbes, Robert Kraft purchased the New England Patriots in 1994 for a total of $172 million. Kraft has since helped the Patriots become worth an estimated $4.1 billion.
Not too long into Kraft's ownership, the Patriots reached the Super Bowl during the 1996 season with Bill Parcells as head coach and Drew Bledsoe at quarterback. The team, however, lost to the Green Bay Packers in the Super Bowl, 35-21.
Bill Belichick later became the Patriots' head coach in 2000, and New England ultimately became one of the most dominant dynasties of all-time. They won their first Super Bowl in 2001 with Belichick and quarterback Tom Brady. They then won three Super Bowls in four seasons from 2001 through 2004. New England then went to two more Super Bowls but lost in 2007 and 2011.
Additionally, from 2014 through 2018, the Patriots then went to four Super Bowls in five years and won three of them.
Overall since Kraft has been the team's owner, the Patriots have made 10 Super Bowl appearances, winning six of them. They have also played in 14 AFC Championship Games.
He allegedly paid for sex acts at a spa
RELATED: The Houston Texans Just Made Bill Belichick and the New England Patriots' Worst Nightmare Come True
In February 2019, Kraft was charged "in a multicounty investigation of massage parlors that included the secret installation of video cameras in the spas' lobbies and rooms," according to ESPN. Police have reportedly said that the recordings show Kraft, as well as other men, partaking in sex acts with women, as well as paying the women.
ESPN reports that police have said that video allegedly shows Kraft "paying for sex acts at the Orchids of Asia spa on consecutive days in January 2019." He ultimately pleaded not guilty to solicitation, though.
"I am truly sorry. I know I have hurt and disappointed my family, my close friends, my co-workers, our fans, and many others who rightfully hold me to a higher standard," Kraft said in a statement in 2019, according to NBC News.
He continued: "Throughout my life, I have always tried to do the right thing. The last thing I would ever want to do is disrespect another human being. I have extraordinary respect for women."
However, in September, the solicitation charge was dropped. This came after the appeals court decided that the videos could not be used as evidence in the case.
The videos of Robert Kraft must now be destroyed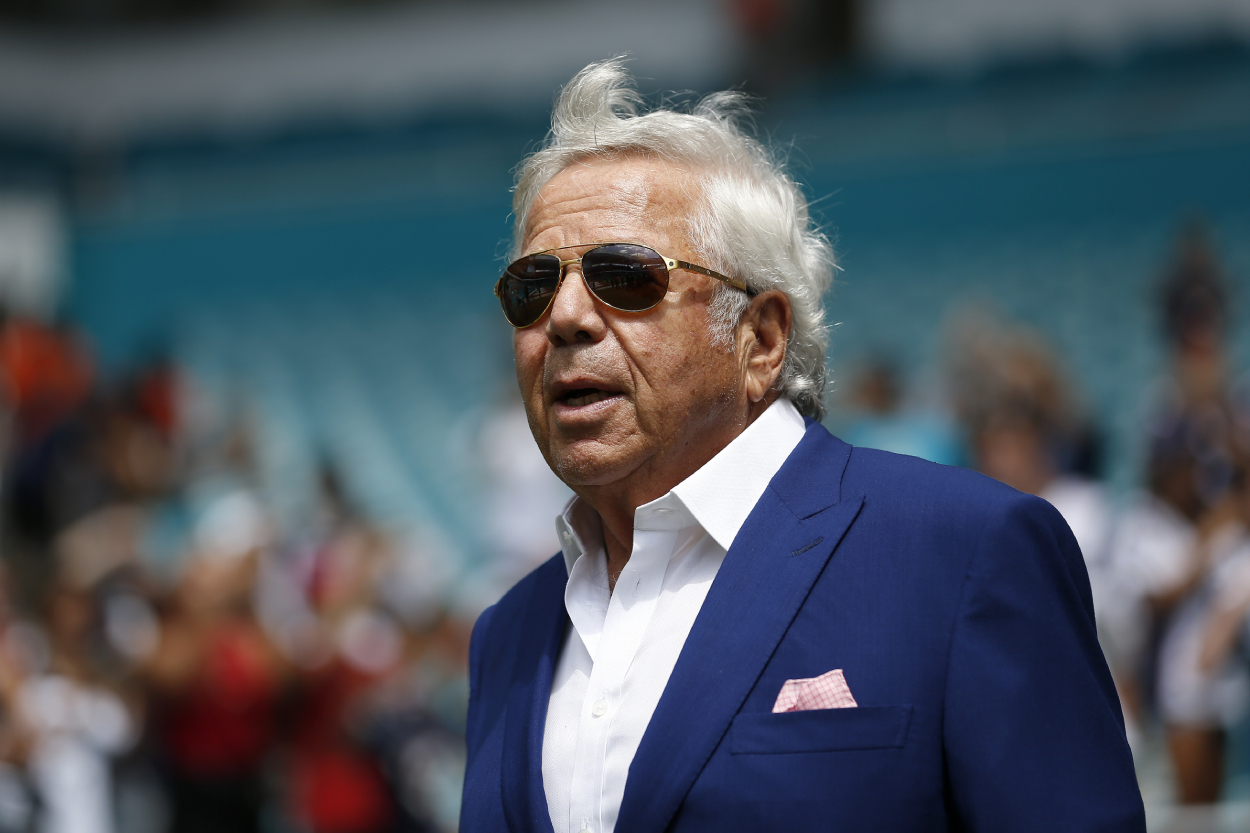 RELATED: Bill Belichick Has Potentially Found His Replacement as King of the AFC East
According to the South Florida Sun-Sentinel, the police surveillance was ultimately declared unlawful, as the cops also reportedly recorded four people who were actually getting massages. Because of this, the legal team representing Kraft then pushed for the destruction of the tapes. Kraft was reportedly afraid that the footage of him nude would ultimately reach the internet.
It appears that Kraft is getting his wish, too. ESPN reports that a federal judge ordered for the video of Kraft allegedly "paying for massage parlor sex" to be destroyed.
"Considering that the videos never should have been created according to judicial rulings that are binding and conclusive, the videos should be destroyed so that they can never be subject to any misuse, intentional or otherwise," attorneys Frank A. Shepherd, William Burck, and Alex Spiro wrote, according to the South Florida Sun-Sentinel.
After two years, it appears that Robert Kraft's infamous spa trip saga is officially over.
Stats courtesy of Pro Football Reference