Patriots Owner Robert Kraft Throws Bill Belichick Under the Bus for Their Team's Poor Drafting
The New England Patriots have been the talk of the NFL offseason for their massive free agent signing spree. Robert Kraft and Bill Belichick went wild this March, throwing out a whopping $165 million in guaranteed money in response to a disappointing 7-9 campaign in 2020. Despite this, they'll need to correct a glaring negative trend in the upcoming NFL Draft to secure a positive future for the team, and Kraft knows it.
Robert Kraft calls his shot for the 2021 New England Patriots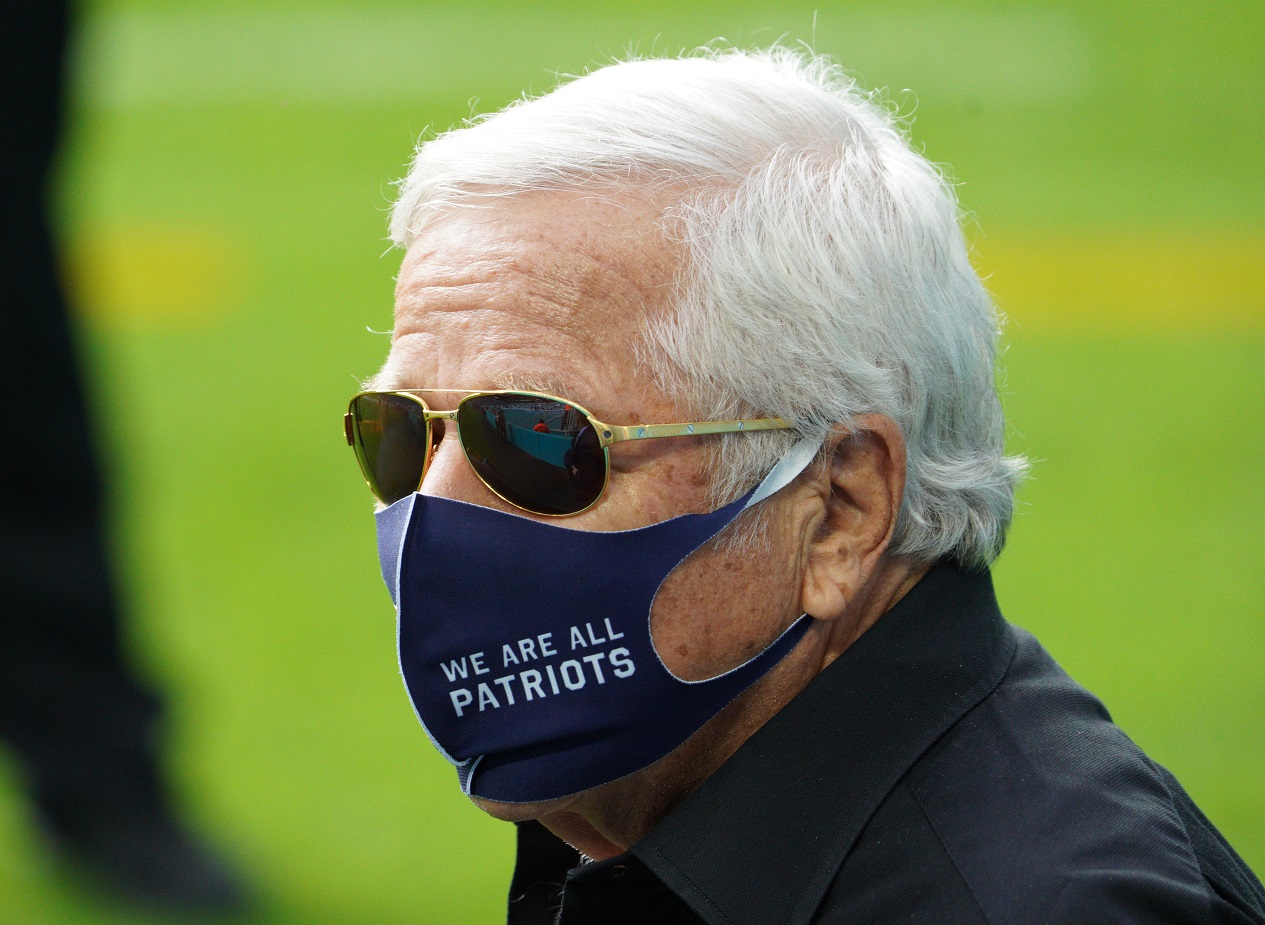 RELATED: Patriots Offensive Lineman Justin Herron Saved a 71-Year-Old Woman's Life by Putting a Stop to a Terrifying Situation in an Arizona Park
At the NFL's owners' meeting, New England Patriots owner Robert Kraft took questions from the media for the first time since the conclusion of football season. There were plenty of questions to answer regarding his team's recent free agency spending spree.
In 2020, the Patriots suffered their first losing season in 20 years. With Cam Newton replacing Tom Brady at quarterback, New England finished 7-9 and missed the playoffs. In response, the Patriots spared no expense in improving its roster. Among their acquisitions are Hunter Henry, Jonnu Smith, Nelson Agholor, Kendrick Bourne, and Kyle Van Noy, players who will fill important holes.
Still, Kraft knows that free agency is only a temporary means to an end.
"In the end, if you want to have a good, consistent, winning football team, you can't do it in free agency. You have to do it through the draft," said Kraft, via ESPN. "I don't feel we've done the greatest job the last few years and I really hope, and I believe, I've seen a different approach this year."
The New England Patriots have not drafted well in recent years
RELATED: Why Aren't Bill Belichick and Robert Kraft Talking?
It's not hard to read between the lines of Kraft's statement and interpret it as a veiled shot at his head coach.
Yes, it is undoubtedly true that the New England Patriots have whiffed on their draft picks in recent years. To say otherwise would be a flat-out lie. In the past three seasons, the Patriots have had a whopping 27 draft picks. Other than Super Bowl hero Sony Michel, hardly any of those players has made a meaningful contribution to the team.
The architect of those failed draft picks? None other than six-time Super Bowl-winning head coach Bill Belichick, who also serves as general manager. While the Patriots did well to plug some holes through free agency, another bad crop of draft picks will set the team back severely.
The Patriots' quarterback situation is still up in the air
The New England Patriots made great strides to improve themselves across the board in free agency. However, the position of greatest concern is the most important position on the field — quarterback.
The Patriots re-signed Cam Newton to a one-year deal on March 12th, but he may find some competition for the job. During his press conference, Kraft kept the possibility alive that Jarrett Stidham could still compete for the starting role. He praised Stidham for showing "great initiative" by organizing off-season workout sessions with Patriots receivers in Southern California.
"I think he's a great young man, and I know that he's eager to compete and look for an opportunity to play," said Kraft, via NESN.
It's still possible that the Patriots could choose a quarterback in the first or second round of the draft. If they do, it's most likely that their target would be either Justin Fields of Ohio State or Trey Lance of North Dakota State.