Patriots Were Smart to Sign Brian Hoyer After Tom Brady's Departure
Potentially the first quarterback to start for New England in the post-Tom Brady era is the future Hall of Famer's former backup. Veteran Brian Hoyer, who spent last season with the Indianapolis Colts, agreed to terms on a one-year contract with the Patriots on Sunday. The 34-year-old Hoyer had two previous stints with the Patriots and was Brady's backup as recently as 2018, a season that culminated in New England's sixth Super Bowl victory.
Although Brian Hoyer is far inferior to Tom Brady, who remains arguably the greatest quarterback in NFL history, the Patriots were right to bring the veteran Hoyer back to Foxborough. Here's why New England won't regret signing Hoyer.
Brian Hoyer is familiar with "The Patriot Way"
Patriots coach and de facto general manager Bill Belichick has brought in no shortage of talented players over the last 20 seasons. But almost all of the great Patriots in that time, from All-Pros acquired through trade to late-round draft picks, thrived because they understood Belichick's philosophy and mantras. Belichick wants his players to do their job and follow the Patriot Way, which is putting the team above all else.
While it is unfair to speculate about how other veteran quarterbacks would have fared in the Patriots' locker room, there have been enough instances of players outright acknowledging Belichick's methods weren't for them. Eagles offensive lineman Lane Johnson even once called the Patriots a "fear-based organization."
It was important the Patriots brought in a quarterback familiar with, or at least mature enough to understand, the way things are run both on the field and in the locker room. Brian Hoyer perfectly fits that mold.
No one expects Hoyer to be Tom Brady's long-term replacement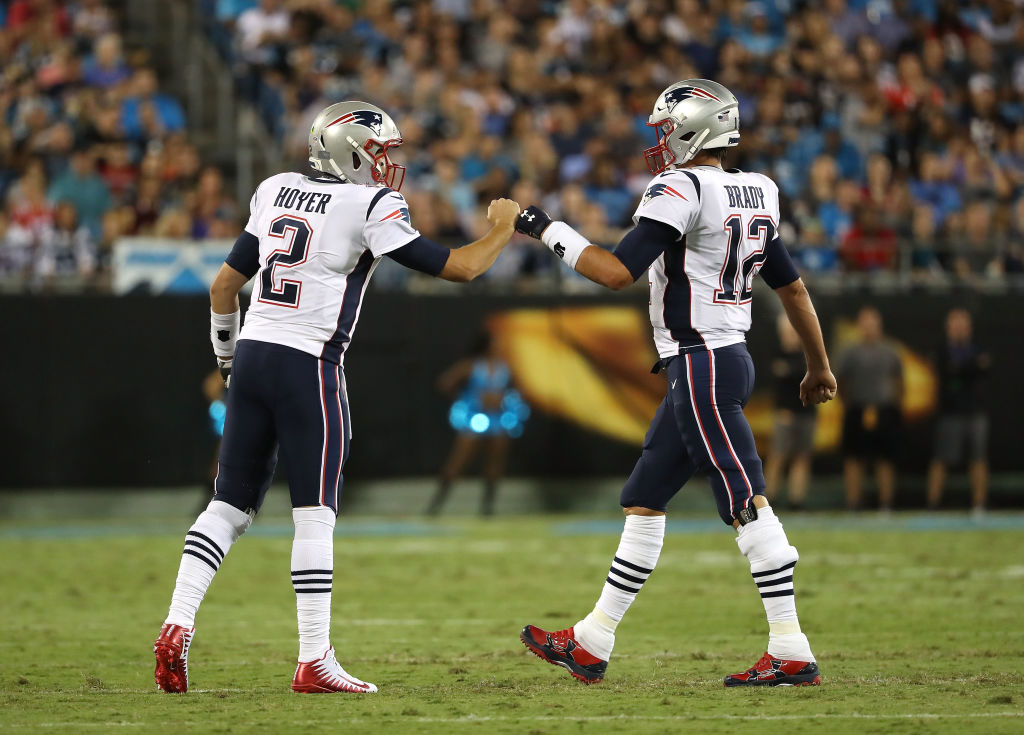 Brian Hoyer joined the Patriots as an undrafted rookie free agent in 2009. Hoyer spent his first three seasons in New England and rejoined the Patriots midway through the 2017 season. Hoyer spent the first half of that season with the San Francisco 49ers but was released after the 49ers traded for Patriots quarterback Jimmy Garoppolo.
Brian Hoyer isn't a quarterback who will reinvent the wheel in New England. He's a competent journeyman quarterback who avoids controversy and is good for some spot starts. Although Hoyer has proven himself as a winning quarterback in Cleveland and Houston, his offenses there had more talent than the 2020 Patriots are expected to field.
With Hoyer in the mix, New England can patiently look for a younger option
By bringing Brian Hoyer back for a third stint in New England, the Patriots don't have to rush into the draft or trade market and try reaching on the wrong quarterback. Barring a trade up or unexpected draft luck, the Patriots are unlikely to wind up with Alabama's Tua Tagovailoa, LSU's Joe Burrow, or Oregon's Justin Herbert; all three are expected to be selected in the top 10 of April's NFL draft.
New England drafted Auburn's Jarrett Stidham in the fourth round last year. The Patriots could potentially open 2020 with Hoyer as the starter and, if Hoyer's on-field play demands a change, move to Stidham midseason. It wouldn't be ideal, but Bill Belichick has never strayed away from making the difficult moves.
Of course, Tom Brady's true replacement may not be on the Patriots until 2021. A bad season would put New England in the running for Clemson's Trevor Lawrence, the presumptive No. 1 overall pick next year. Houston Texans star quarterback Deshaun Watson is considered the odds-on favorite to be the Patriots' starting quarterback in 2021.