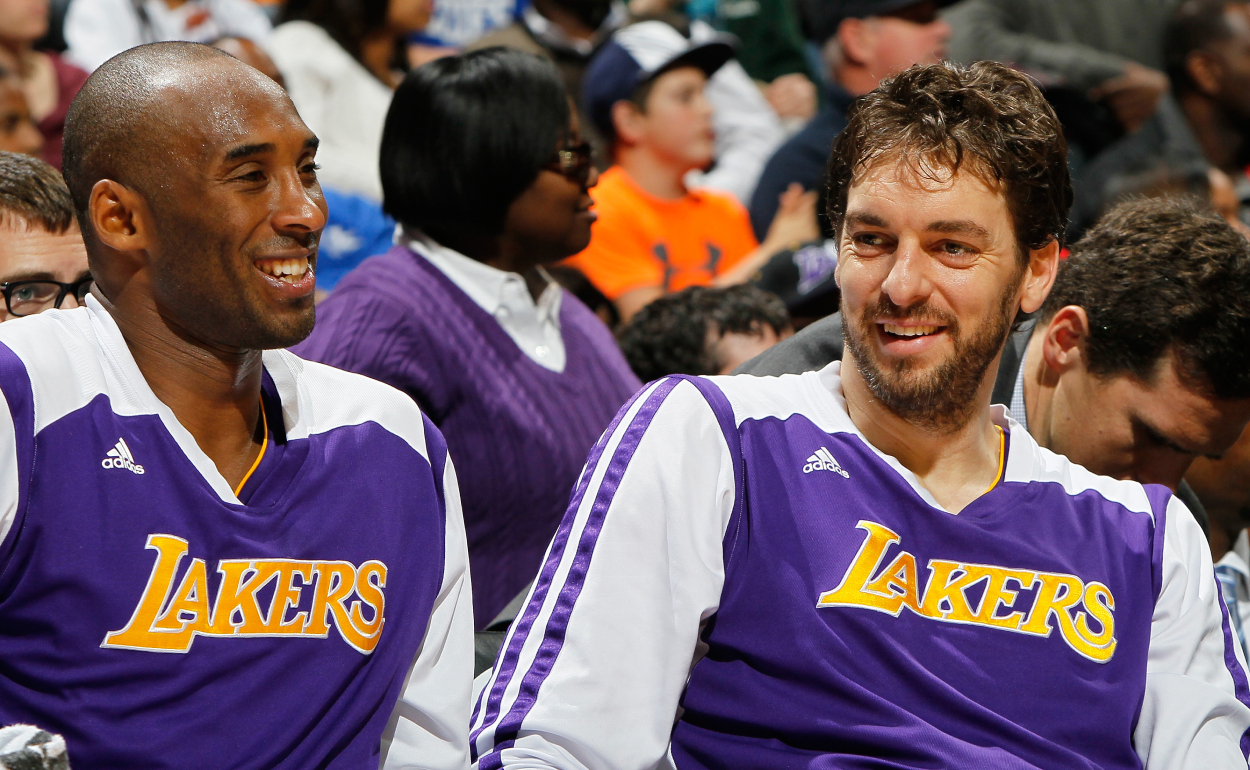 Pau Gasol's Revealing Comments Show Just How Crucial He Was to Kobe Bryant's Legacy
Pau Gasol became Kobe Bryant's perfect teammate on the Los Angeles Lakers. Gasol recently made comments that showed just how much he meant to Bryant's legacy.
After his well-documented breakup with Shaquille O'Neal on the Los Angeles Lakers, Kobe Bryant struggled to get back to the mountaintop. His team either missed the postseason entirely or failed to get past the first round in each of the first three years that followed O'Neal's trade to the Miami Heat.
However, everything changed when LA acquired Pau Gasol from the Memphis Grizzlies. The Lakers went from a middle-of-the-pack Western Conference squad to the team to beat, reaching three straight NBA Finals and winning two championships.
Gasol recently discussed his time in LA, and his comments helped reveal just how much he meant to Kobe's iconic legacy.
Kobe Bryant and Pau Gasol won two championships on the Lakers
As mentioned above, after Kobe Bryant won three championships and reached four Finals in five seasons with Shaquille O'Neal on the Lakers between 2000 and 2004, Shaq went to the Miami Heat during the 2004 offseason. He then succeeded immediately, winning a title with the Heat in 2006.
Kobe and the Lakers, on the other hand, had a losing record during the 2004-05 campaign. They then lost in the first round of the playoffs in both 2005-06 and 2006-07.
However, LA acquired Pau Gasol from the Grizzlies in February 2008. Pau had already become an All-Star with Memphis and was having a nice season, averaging 18.9 points and 8.8 rebounds through his first 39 games.
His presence down low was precisely what the Lakers had been looking for after trading Shaq, and it turned out to be the perfect trade.
LA finished the season 27-9 after the trade and clinched the No. 1 seed in the Western Conference with a 57-25 record, helping Bryant win the only MVP of his career. Gasol and Kobe then led the Lakers through the playoffs and to the NBA Finals before losing in six games to the Boston Celtics.
They eventually figured things out the next two seasons, though. The Lakers went to two more consecutive finals with Gasol and Bryant, and they won back-to-back championships in 2009 and 2010.
Pau Gasol discussed his trade to the Lakers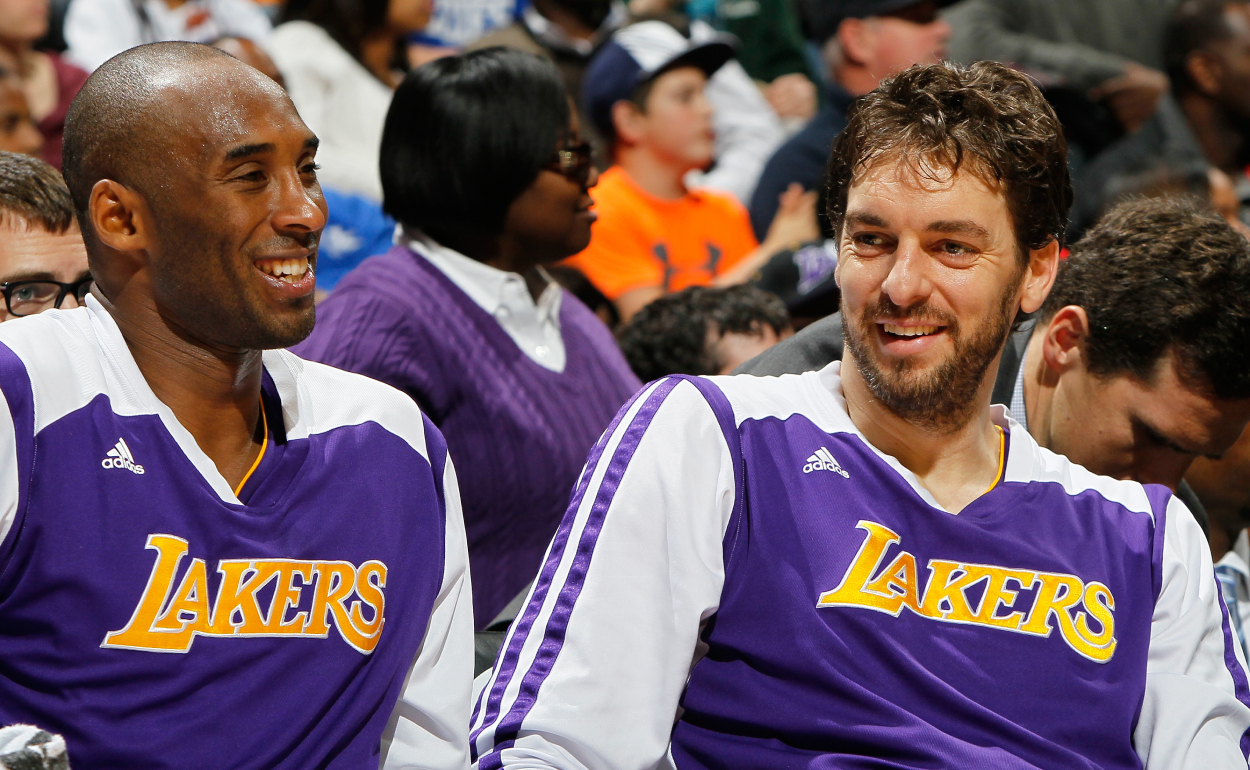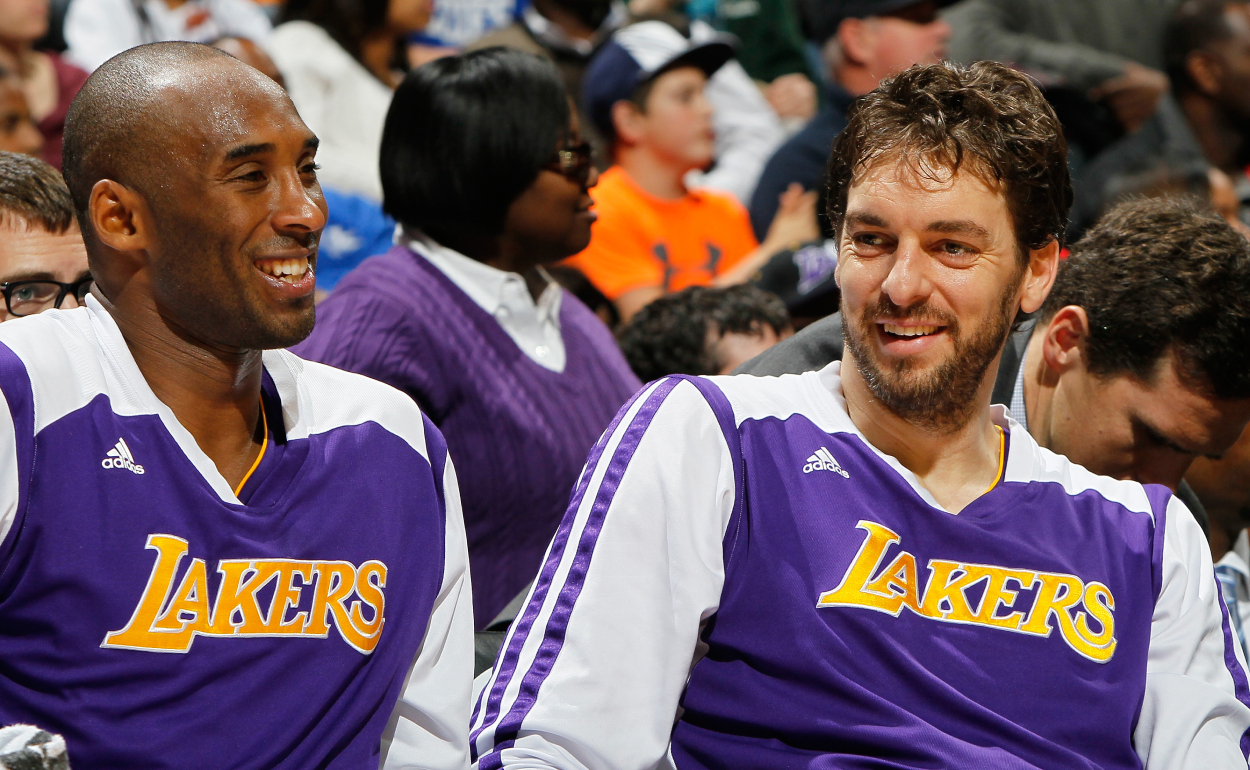 Pau Gasol earned three All-Star selections on the Lakers and played with Bryant in LA through the 2013-14 season. He finished his career with the Chicago Bulls, San Antonio Spurs, and Milwaukee Bucks, but he remained close with Kobe throughout Bryant's life.
And Gasol recently reflected on the trade that sent him to LA.
"He (Kobe) acknowledged … that that was his chance; that was gonna be his shot to try to win it again," Gasol said on the March 25 episode of The Old Man and the Three podcast.
The No. 3 overall pick in the 2001 NBA Draft then said that Bryant wanted to meet with him as soon as he could after the trade became official, even despite it being late at night and the team having a noon game the next day.
"He texted me and said, 'Hey, whenever you get to the hotel; whenever you're done with your interviews, whatever they have you doing, call me, I'm coming up to your room,'" Gasol recalled. "… He came up, and from the very beginning, he's like, 'Look, I'm very happy that you're here. Let's acknowledge that. I'm very happy; I'm very excited that you're here. But now, let's go win a title. Let's go win this thing. … This is it. This is our opportunity. We gotta go seize it. We gotta go after it.'"
They went after it, indeed.
Pau Gasol was crucial to Kobe Bryant's legacy
After all the struggles following Shaquille O'Neal's departure, Kobe Bryant knew he needed someone he could rely on every night he took the court.
Pau Gasol became that guy.
While Bryant was the team's main scorer during its playoff runs, Gasol was just as important. He averaged 18.3 points and 10.4 rebounds during their three straight trips to the NBA Finals, and the offense simply ran more efficiently. The Lakers averaged 102.4 points on 46.5% shooting during their 23 playoff games in 2009, and 101.1 on 46.0% in 23 games in 2010. During their playoff appearance without Gasol in 2007, they averaged just 98.0 points on 44.2% shooting.
Gasol was also dominant on the defensive end, recording 2.0 blocks per game during their Finals runs. LA had an atrocious 114.8 defensive rating without him in the 2007 playoffs before registering a 103.5 rating in 2009 and 108.6 in 2010.
Pau was the missing piece the Lakers needed to become legit title contenders, and Kobe knew it. Had LA never acquired him, Bryant may have only won three titles instead of five.
Pau Gasol was more than just a talented Lakers big man. He played a major role in helping solidify Kobe Bryant's legacy as one of the greatest players of all time.
Stats courtesy of Basketball Reference