Pau Gasol Proved Just How Close He Was to His Dear Friend Kobe Bryant
The death of Kobe Bryant and his daughter Gianna broke the hearts of millions of NBA fans influenced by the Black Mamba. One person particularly hurt by the loss of Bryant was Pau Gasol. The two players had an intense relationship while playing together in LA, but they remained friends. Gasol remains close to Bryant's family, offering them vital support as they grieve. Recently, he expressed his love for the Bryants.
It wasn't always fun, but their time in LA was very successful
RELATED: LeBron James Thought His Lakers Teammates Were Joking When They Told Him About Kobe Bryant's Death
Pau Gasol arrived in LA as the desperately needed sidekick who could bring another title to the Lakers. He accomplished that goal, even if his contributions to those victories went underplayed in the moment. Gasol was brought to LA via a trade that produced anger and conspiracy theories among fanbases of every other NBA franchise.
Before the 2008 trade deadline, the Memphis Grizzlies traded him to the Lakers for Kwame Brown, Javaris Crittenton, Aaron McKie, his brother Marc Gasol, and two first-round picks. (Those picks eventually landed the Grizzlies the vaunted duo Darrell Arthur and Greivis Vásquez.) At the time, and even now, people can make little sense of this trade. Sure, Marc became an all-time great Grizzly. But no one expected a dude who looked like this would ever turn into an elite center. 
Gasol's impact was immediate. LA went 22-5 for the rest of the regular season and made the NBA Finals. Gasol was second on the team in points, rebounding, and assists per game. But the Lakers came up short against the Celtics in the Finals. They got the job done in 2009 and 2010 — the first team to repeat as champions since Shaq and Kobe's teams of the early 2000s.
Being Kobe's sidekick highly benefited Gasol's career. But the Spanish athlete's role in those wins didn't always earn him the credit he deserved. When the team's results went south, Gasol faced trade rumors, most notably in the aborted Chris Paul trade. But Bryant always made it clear that he was appreciative of Gasol's efforts. 
Pau Gasol and Kobe Bryant were closer than many realize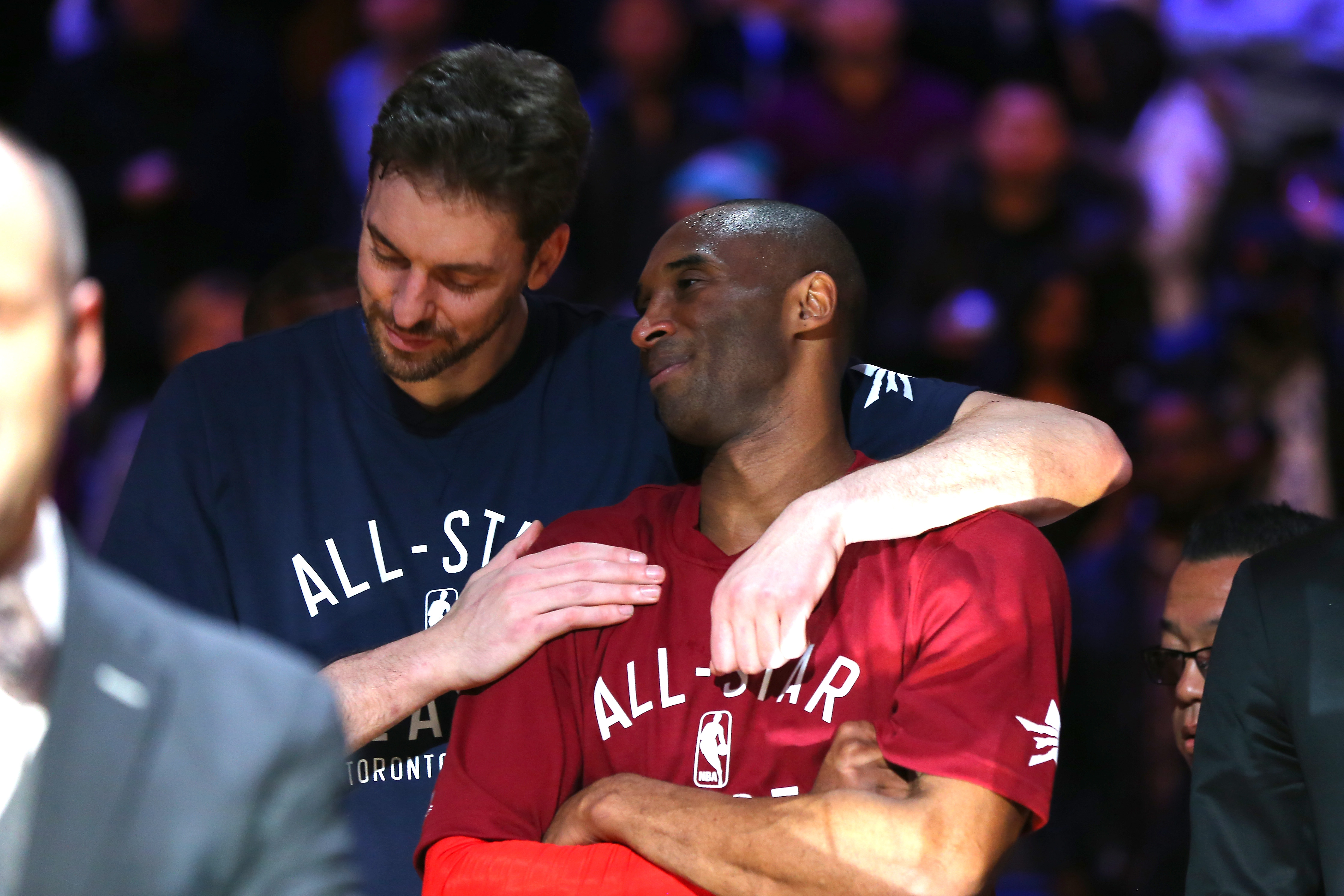 RELATED: Kobe Bryant Will Be Immortalized in Video Game History
Bryant was notoriously tough on his teammates, and Gasol wasn't immune to this. KB regularly showed frustration with Gasol's perceived lack of intensity. He once tried to motivate Gasol by putting his Olympic gold medal, won against Gasol's Spain, in his locker. As we all know, Bryant was a student of the Michael Jordan School of Leadership.
Both players were the most demanding of teammates. Perhaps Bryant didn't go about it in the right way, but this is how he showed respect to people. And it didn't keep the two men from becoming great friends. Bryant and Gasol remained friends after retirement. In 2018, Kobe even stated that Gasol's jersey should be retired sooner rather than later. 
Gasol spoke highly of Bryant both as a player and a person in an interview with ClutchPoints: "First, as a teammate, he made me a better player," Gasol said. "He brought the best out of me on the basketball court. He helped me grow as a player and a person, but then it was more like an older brother where I could reach out and have dinners when we would be in the same city. We would make time to make sure that we saw each other." 
Gasol's done his part to help Bryant's family during this time
Gasol's relationship with Bryant's family didn't end after his death. He spent his 40th birthday hanging out with Kobe's children and his widow, Vanessa, as The Sports Rush reports. Gasol also sent a cake to the family on what would've been Gigi's 14th birthday this May, giving her a shoutout on Twitter in the process.
No one outside of the Bryant family can truly understand the hardships they've experienced in 2020. But it's great to know they're being supported by the people who knew them through their relationship with Bryant.